Guess What Article for October 2006
By Bob Cahn, "The Primitive Man"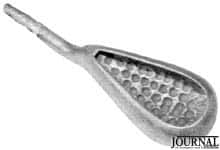 The monthly meeting of the Semantic Society will come to order. Do we have a handle for a missing object – or an object with a missing handle? We're confident you can handle it.
A piece of useless information: it's English. We knew it wouldn't help, but we never hold anything back; hardly ever, occasionally, rarely, sometimes, once in a blue moon.
This month's GUESS WHAT features what looks like a shoe horn for a misshapen heel – or possibly a litter box poop scoop. With no moving parts to describe, all the action is pure manpower.
We'll give you the usual size reference – and you can start the guessing. [5 inches long by 1 1/2 inches across the bowl.] Is it:
Cracked corn pounder /de-huller
Tea bag rest and winter grog muller
Ice cube crusher/pulverizer
Button sewing storage and pin tray
Omelet griddle butter spreader
Sock mending darning egg
Bartender's beer poker dice holder
Leather worker's metal sewing needle palm pusher /protector
Golf shoe spike mud scraper
Dog groomer's nail buffer.
Time's up, pencils down – the answer's hiding in the mix. Reveal next month. Till then!*
* Thanks to Tom Madden of Carlsbad, Calif.
Answer to September's Guess What?
All good skaters – a category for which you readers qualify –need this device, a vise – to be on their game. It's an ice skate vise sharpening clamp. It pivots in two positions (up or down) to allow one to approach the blade (with the sharpening file) from any angle when honing.
Other versions that we've seen allow both skates to be worked on simultaneously. We tried to show an ice skate in position, but found the clamp this Summer – not a good time for ice skates.*
* Thanks to Cyrus Quam, W. Fargo, N. Dakota.