Ken's Korner: Ali's childhood home brings $70K
Ken's Korner
News and Views from the World of Antiquing and Collecting
by Ken Hall
You could call it a one-of-a-kind Muhammad Ali collectible and a true piece of the boxing legend's past. The modest childhood home in western Louisville, KY, where the then-Cassius Clay lived with his parents and brother, has been sold to Las Vegas real estate investor Jared Weiss (himself a huge Ali fan) for $70,000. The house had been under private ownership and was assessed at $23,000, and its former owner was asking $50,000. Weiss upped the ante for a chance to own the small white house in need of repair.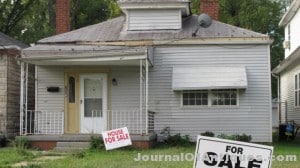 The home had a historical marker identifying it as Ali's boyhood home and mentioned the fact that the Clay boys attended public schools while living there. Weiss said he is unsure what he will do with the house now that he owns it, but he's ruled out renting it to anyone. Two possibilities include turning the home into a museum or using it for a charitable function. Ali and his wife Lonnie have multiple residences, but none are in Louisville. The city is home, however, to the Muhammad Ali Center, a popular tourist spot.