Ken's Korner: Armstrong's Corvette is getting a restoration
News & Views From the World of Antiques & Collectibles
By Ken Hall
The 1967 marina blue Corvette Sting-Ray that once belonged to Neil Armstrong, the first man to walk on the moon who died this past August at age 82, has been purchased by a Florida collector, who is in the process of restoring the car to its original glory. Joe Crosby of Merritt Island, Fla., bought the coupe from a Georgia man in February 2012 for an undisclosed price. He initially placed it on eBay, where he said it drew offers of more than $250,000, but he changed his mind and decided instead to fix the car up.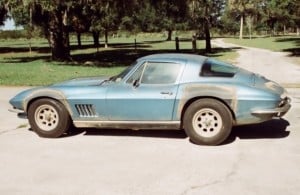 The Georgia owner had kept the vehicle in climate-controlled storage since 1981, and the only things that needed replacing right away were the fenders, water pump and mufflers. Crosby spent two months locating four fenders in Texas, Nebraska and North Dakota. They cost him a combined $3,000. The car's body is showing its age, too, and will need to be refurbished. The odometer reads just 38,148 miles, but the speedometer cable broke in the 1970s. Armstrong drove the car for a year before trading it for a 1968 model.