Ken's Korner: Edward R. Murrow papers gifted to Tufts – The Journal of Antiques and Collectibles – May 2006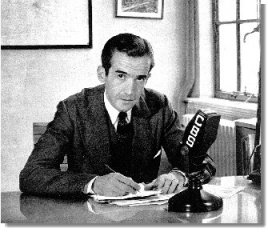 In the 1980s, CBS-TV's London bureau was cleaning out some files when a producer spotted an old brown envelope thrown into a box of other files. When he opened it, he found scripts and other papers from the World War II broadcasts of Edward R. Murrow, the legendary newsman and subject of the current film, "[amazon_link id="B000H1RFJQ" target="_blank" container="" container_class="" ]Good Night and Good Luck[/amazon_link]." When the producer, Mark Harrington, died, his widow Kyle decided to donate the materials to the Edward R. Murrow Center at Tufts University.
CBS has audio records of Murrow's work, but no original documents. The materials in the envelope give a glimpse of Murrow's early years, when he was just coming into prominence. Murrow was born in North Carolina in 1909 and joined CBS in 1935. In 1937, he was transferred to London. When war came, he gave detailed, emotional broadcasts, often with bombs exploding in the background. Later, on TV, he achieved greater fame, notably for his attacks on Sen. Joseph McCarthy.