Ken's Korner: Francis Crick lots bring $8 million+
News & Views From the World of Antiques & Collectibles
By Ken Hall
Remember Watson and Crick from high school science class? They were the two guys who (along with Dr. Maurice Wilkins) discovered the molecular structure of nucleic acids and its significance for information transfer in living material – or what would become known as DNA. Recently, two items pertaining to Dr. Francis Harry Compton Crick were sold by two different auction houses, with the result for both ending in the millions of dollars. Evidently, interest in the men who discovered DNA is still strong, 60 years later.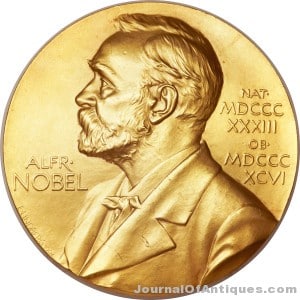 Crick's 1962 Nobel Prize for Physiology or Medicine was sold by Heritage Auctions on April 11 in New York City for $2.27 million. The medal was consigned by Crick's heirs and was bought by Jack Wang, CEO of Biomobie, a China-based biomedical firm. Also, a handwritten letter from Crick to his son Michael, signed "Daddy" and dated March 19, 1953, in which Crick outlined the discovery and function of DNA, sold at Christie's on April 10 in New York for over $6 million. It was a new world auction record for a letter.