Ken's Korner: Hitler in the news: teapot, aide's diary
News & Views From the World of Antiques & Collectibles
By Ken Hall
Adolf Hitler was in the news recently, not once but twice, first with the rather bizarre report that retailer J.C. Penney was selling a teapot that bore a striking resemblance to Der Fuhrer, for $49.99. Once the similarity was pointed out, Penney (which already has enough to worry about, having posted net losses last year of $985 million) severed all ties with the kettle's designer, Michael Graves, and pulled down the online listing. But now, with the teapot sold out, collectors are paying $100-$200 each for them on eBay.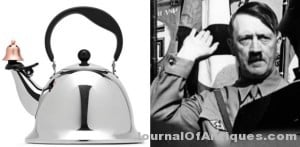 Then there was the news that about 400 handwritten pages from the wartime diary of Alfred Rosenberg, a key Nazi adviser to Hitler, had been recovered after a 17-year search for the documents. Officials said Rosenberg's diary was smuggled into the U.S. after the war, probably by Robert Kemper, a government lawyer during the Nuremberg trials. Rosenberg played a role in the slaughter of millions of Jews and other non-Aryans. He also helped orchestrate the looting of artwork and other valuables from Nazi-occupied territory.