Ken's Korner: McCartney helps restore historic Motown Steinway
News & Views From the World of Antiques & Collectibles
By Ken Hall
Two years ago when he was in Detroit during a concert tour, ex-Beatle Paul McCartney toured the Motown Historical Museum, in the legendary building known as "Hitsville, U.S.A." While there, he came upon a piano that was on exhibit but could no longer be played it had gone through so much degradation. It was an 1877 Steinway grand piano, used in songs recorded by such soul giants as Stevie Wonder and Marvin Gaye. McCartney, who recorded Motown songs in his early Beatle days, decided he had to do something.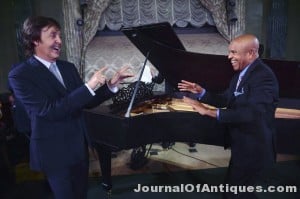 So, with the blessing of Motown Records founder Berry Gordy, McCartney paid to have the Steinway removed from the museum and completely refurbished back to original, playing condition. Work on the 9-foot Victorian rosewood piano was completed last August. Only recently, though, was it installed in a former recording studio in its museum home. But before it was, McCartney and Gordy sat down and played the piano together, during a September charitable event at Steinway Hall in New York City.