Ken's Korner: Fat's Domino's piano is recovered, restored
News & Views From the World of Antiques & Collectibles
By Ken Hall
The white Steinway grand piano belonging to music legend Fats Domino that was submerged in water for weeks after Hurricane Katrina decimated his Lower 9th Ward home in New Orleans has been restored to its original classic look and will serve as the centerpiece of an exhibit in the city's famed French Quarter. The restoration was painstaking, years-long and expensive, costing $30,000 (a portion of which was donated by Paul McCartney). Despite all the attention it was given, the piano is still unplayable.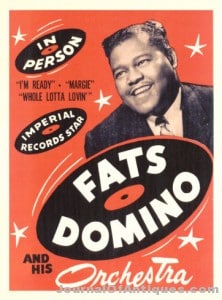 The Steinway was officially unveiled recently at the Old U.S. Mint, now a museum in the French Quarter. It will be part of the Louisiana State Museum's music exhibition, scheduled to open in 2014. Another Steinway piano belonging to Fats Domino is on permanent display at the Presbytere Museum, in an exhibition titled Living With Hurricanes: Katrina and Beyond. Fats Domino was born in New Orleans in 1928 and still lives there. The pianist, singer and songwriter sold more than 65 million records from 1950-1963.