Ken's Korner: Rare 1913 nickel could fetch $5M
News and Views from the World of Antiquing and Collecting
By Ken Hall
A rare 1913 Liberty Head nickel – one of only five known to exist – is expected to sell for more than $2 million and possibly as much as $5 million at an auction slated for April 25 by Heritage Auctions in Chicago. For the last 10 years, the coin has been held at the American Numismatic Association Money Museum in Colorado Springs, Colorado. The sellers are four Virginia siblings, who have never let the coin escape their grasp (even when it was declared a fake). They will split the final winning bid four ways.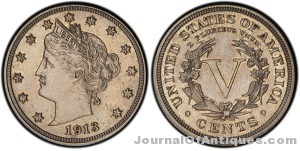 The nickel was minted in Philadelphia in late 1912, the final year of the Liberty Head's issue, but it showed the year 1913 (the same year the Buffalo nickel was introduced). A mint worker named Samuel Brown was suspected of producing the coin and altering the die to add the 1913 date. No one knew of the coin (or the other four he struck) until Brown offered all five for sale at the American Numismatic Convention in Chicago in 1920 (after the statute of limitations had run out). For years the coins were believed fake.