Ken's Korner: Sale of Hopi masks protested in France
News & Views From the World of Antiques & Collectibles
By Ken Hall
In April, the Drouot auction house in Paris, France offered 70 Native American Hopi masks from the late 19th and early 20th century, advertising the sale as one of artwork and culture. But protesters from the Hopi tribe continually interrupted the auction while it was underway, arguing that the masks aren't art at all, or items to be bought and sold, but have a special status and represent their dead ancestors' spirits. Further, they claim, the masks may have been illegally taken from a Hopi reservation in Arizona in the 1930s and '40s.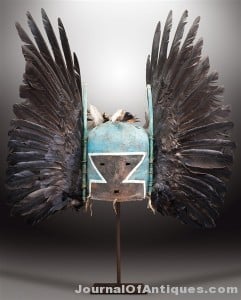 Even the U.S. Ambassador to France, Charles Rivkin, tweeted on the day of the sale, "I am saddened to learn that Hopi sacred cultural objects are being put up for auction today in Paris." By the time the chaotic auction was over, $1.2 million had been spent, with the top lot being the "Mother Crow," a mask from about 1880 that realized $209,000. Nearly all the masks were Katsinan (or "friends" masks). If the sale had been halted by, say, court order, it could have paved the way for French museums to empty their collections.