Ken's Korner: 'Three Shots' exhibit on view at Newseum
News & Views From the World of Antiques & Collectibles
By Ken Hall
An exhibit of more than 100 artifacts, all relating to the assassination of President John F. Kennedy, is on display at the Newseum in Washington, D.C. The centerpiece of the Three Shots Were Fired exhibition is the collection of never-before-seen items belonging to JFK assassin Lee Harvey Oswald: the shirt he was wearing that fateful day in November 1963 at the time of his capture in Dallas, Tex., his wallet containing a Social Security card and family photos, and the blanket Oswald used to wrap the murder weapon (a rifle).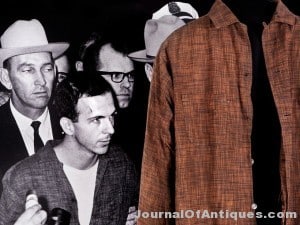 Also displayed is Oswald's jacket found at a gas station near the Texas Theatre, a movie house where Oswald was finally captured. After the assassination, Oswald left the Texas School Book Depository building and hopped a bus. He became impatient that the bus was moving too slowly and he got off, deciding to hide from police in a darkened movie theater. But the police swept the area and flushed Oswald out, after a brief skirmish. Between assassination and capture, Oswald encountered and killed Police Officer J.D. Tippit.