Ken's Korner: Up to 50,000 Wisconsin quarters have an error – The Journal of Antiques and Collectibles – April 2006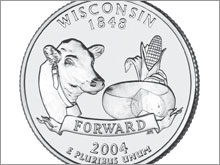 As many as 50,000 of the Wisconsin state quarters made at the Denver Mint in 2004 have a flaw and may be worth hundreds or even thousands of dollars each. The flawed coins appear to have an extra leaf on the left side of an ear of coin, on the coin's reverse side. At first, it was thought only 1,000 or so of the blemished quarters were struck. But now it appears as many as 50,000 flawed quarters were produced. Initially, the coveted coins turned up in Tucson and San Antonio.
Mint officials think they know how the error occurred. According to a U.S. Mint report, a press operator at the Denver Mint noticed blemishes on coins produced at one of five presses he was operating. He stopped the machine and left to go on a lunch break. When he returned, the machine was running again and he assumed somebody else changed the die. But the die was not changed and the press likely ran for about an hour and a half, producing up to 50,000 of blemished quarters.