Ken's Korner: Map suggests China may have discovered America – The Journal of Antiques and Collectibles – April 2006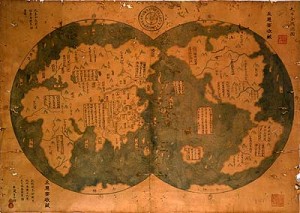 An 18th-century reproduction of a map dated 1418 that suggests a Chinese fleet sailed to America decades before Christopher Columbus has gone on display in China, refueling the debate over just who did discover America. The 1763 copy was bought for $500 in 2001 by Liu Gang, a Chinese lawyer and art collector. Liu said he didn't realize the significance of the map until he read the 2003 bestselling book "[amazon_link id="0965731286″ target="_blank" container="" container_class="" ]1421: The Year China Discovered America[/amazon_link]," written by Gavin Menzies.
Menzies postulates that Chinese admiral Zheng He led 300 ships to America as part of an expansion of China's influence during the Ming Dynasty. But skeptics say there are inconsistencies in the book, among them the fact that the map uses language that doesn't fit with the style of Ming China. Whatever, the debate is sure to rage on. If it is proven the Chinese were here first, it will add to an already long list of Chinese discoveries, one that includes gunpowder, paper and the compass.