Christmas bone china
Story & Photos by Donald-Brian Johnson
Most of the year, it's kept safely tucked away in drawers, or on display behind the locked glass doors of a dining room cabinet. And then the holiday season is upon us. Those fragile china cups and saucers blink their way into the spotlight, emerging from off-season hibernation to be filled to the brim once again with tea, coffee, or Christmas cheer.
Bone china dates from the mid-1700s, and china decorated with holiday motifs has been a consumer favorite since the 1930s. Christmas china received a caffeine-like jolt with the 1982 publication of Tom Hegg's A Cup of Christmas Tea. Easily readable in five minutes tops, Hegg's Night Before Christmas-like story in verse exerted a massive tug on America's heartstrings. A harried modern visits his housebound great-aunt, and finds the true "spirit of the season" as the two share "a cup of Christmas tea". Accompanying the story: Warren Hanson's simple, evocative illustrations, including several of great-aunt's cherished china tea set, liberally festooned with decorative holly sprigs.
Officially-licensed Christmas Tea sets soon filled store shelves, complete with mini-editions of the book that inspired them. The tea leaves had spoken. By the dawn of the twenty-first century, it "just wouldn't be Christmas" without new or vintage holiday bone china.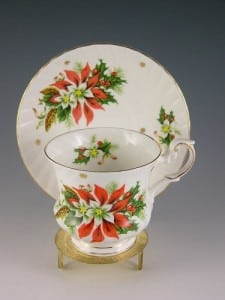 Bone china was the 1748 brainchild of London porcelain-maker Thomas Frye. To create what he billed as "fine porcelain", Frye added bone ash to his china clay formula. Animal bones were crushed, reduced to ash at high heat, and mixed into the clay. The result: finished china of superior translucency and whiteness.
Frye had easy access to the raw material needed – there was a stockyards nearby – but despite favorable comparisons with imports from the Continent, his version of bone china never really caught on. That had to wait for refinements incorporated by one of the best-known names in pottery, England's Josiah Spode.
In the early 1790s, Spode developed what remains the standard for bone china: a combination comprised of roughly 25 percent kaolin (china clay), 25 percent china stone, and 50 percent bone ash. While objects with a lesser percentage of bone ash are sometimes marketed as "bone china", true English bone china must include at least 50 percent bone ash.
The greater the percentage of bone ash, the greater bone china's translucence. Hold a finely made bone china cup up the light, and the outline of your fingers will be clearly visible.The ivory sheerness of bone china's coloration separates it from the blue-grayishness of untreated porcelain. A primary difference between china and porcelain is that china is only fired once. The second firing required by porcelain results in a harder surface, but one more brittle, and more difficult to decorate.
Early English bone china production was centered in Stoke-on-Trent, not so coincidentally the locale of Spode. Major manufacturers over the years have included Royal Doulton, Wedgwood, Worcester, Royal Crown Derby, and, in the United States, Lenox.
Nearly every example of bone china boasts decoration of some sort. The decoration is generally underglaze, giving it more permanence than decoration done on the glaze surface, and greater clarity than decoration permeating the glaze itself.
Early examples of decoration on "everyday" bone china, dating from the 1800s, show lavish use of color and gilding – sometimes overly lavish. Today, bone china intended for year-round use tends toward the less ornamental: a central floral image, for instance, on the cup exterior, repeated as a border on the interior cup rim and saucer edge.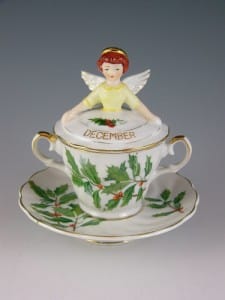 Thanks to its status as a seasonal novelty, Christmas-themed bone china has more visual leeway. There are sleighing scenes; arrays of flickering candles, rustic "Santas"… plus, of course, the big three: Christmas trees (forests of them), bough after bough of sprightly holly, and a greenhouse-full of poinsettias.
The Tree.
A symbol of Christmas since the days of Martin Luther, (he was supposedly inspired by a forest fir surrounded by twinkling stars), the tradition of the Christmas tree was brought to prominence in the 1840s by Queen Victoria's consort, Prince Albert. By 1850, the idea had traversed the ocean, becoming a new holiday tradition in the United States.
One of the best-known tree depictions on bone china came courtesy of Spode. In the late 1930s, Spode designer Harold Holdway was instructed to come up with a Christmas tree illustration. Never having seen such a tree (well, that's the story), Holdway's initial drawing showed a tree with wrapped presents hanging from its branches, and Santa Claus perched at the top. Apprised of his error, Holdway moved the presents to their customary spot at the tree's base… but Santa stayed at the top, a defining element of the Spode interpretation.
The Holly.
Back in medieval times, superstitious folk marveled at holly's ability to remain green, no matter how cold and biting the winter winds. A symbol of good luck?  Better "deck the halls" with a holly bough or two, just in case.
Holly's repetitive horizontal alignment is ideal for border trim on bone china. In addition to "greens only", the holly patterns are often festooned with ribbons, pears, apples, or, (as in A Cup of Christmas Tea), berries.
The Poinsettia.
The winner in the bone china holiday sweepstakes is the poinsettia. This once-a-year floral favorite adorns literally hundreds of china cups and saucers. Poinsettias themselves made their way to the United States in 1828, thanks to Joel R. Poinsett, Ambassador to Mexico. The Christmas connection is based on Mexican legend: on Christmas Eve, a poor boy brings his only gift, green branches, to lay at the Manger. Brightly-colored, star-shaped petals burst forth, in recognition of his heartfelt offering.
While complete dinnerware "sets" of generically-decorated bone china have a long history as gifts for newlyweds, holiday-themed bone china is produced (and collected) on a more selective basis. A complete seasonal set might include just a teapot, creamer, sugar, and cups-and-saucers for six or eight. Narrowing the field are the many collectors who focus their sights on acquiring "singles" – a single cup-and-saucer in a particular holiday pattern, and as many different patterns and stylings as possible.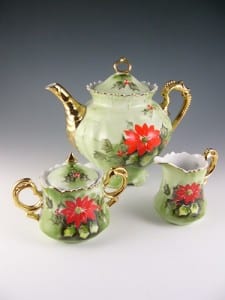 Prices for holiday bone china remain affordable: in the $25 range for a cup-and-saucer "single", up to $50 when a tea or coffee pot is included. Even with sugar, creamer, and other accessories added, the total rarely tops $100. As these were often gift items for special occasions, good secondary sources for finding them are garage and estate sales.
Although bone china by major manufacturers is usually clearly marked, the markings may have worn off (or never existed) on older pieces and imports. In these cases, translucence is a good bone china indicator. Some collectors also swear that bone china has its own unique "ring" when a cup's rim is (carefully) flicked. Does it work? Well, if it isn't bone china, at least you've acquired something you'll enjoy!
This Christmastime, why not set your table entirely with holiday china in different patterns Ö and actually use it? Then, give your own great-aunt a call, and invite her over for "a cup of Christmas tea".
Happy Holidays!
China courtesy of Patty & Barney Deden. Photo Associate: Hank Kuhlmann
Donald-Brian Johnson is the co-author of numerous books on design and collectibles, including "Postwar Pop", a collection of his columns, and an upcoming second volume. Please address inquiries to: donaldbrian@msn.com
Come Fill The Cup: Christmas Bone China