Story & Photos by Donald-Brian Johnson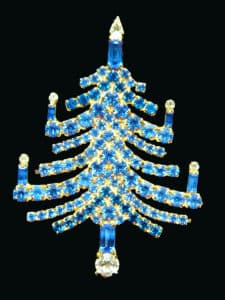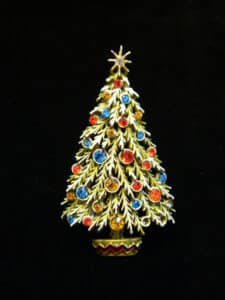 What do you do on the day after Thanksgiving? Some folks start baking Christmas cookies (or eating them). Others begin unraveling myriad strings of Christmas lights in preparation for the annual holiday decorating marathon.
And then there are those who don their first Christmas tree pins of the season.
If sweaters festooned with sequined reindeer aren't quite your cup of Christmas tea, Christmas tree pins provide a more subtle, yet equally sparkly, salute to the season. Since the mid-twentieth century, their glittering blend of brilliant metal and glistening gemstones has made them yuletide's most popular jewelry (just check out the thousands—yes thousands—listed for sale daily on eBay.)
No two Christmas tree pins are quite alike. Season after season, from Thanksgiving right up until Christmas Day (and spilling over into those twelve days after), collectors can pin on an entire forest of Christmas tree pins, without ever once being stabbed by a repeat.
They're quite literally the gift that keeps on giving.
But long before the pins came the trees that inspired them.
Timber! The Christmas Tree
According to legend, the Christmas tree was a Martin Luther brainstorm. Sparkling stars, seen through the limbs of a forest fir, prompted Luther to place candles on the branches of a tree at his own home, recapturing the starry effect.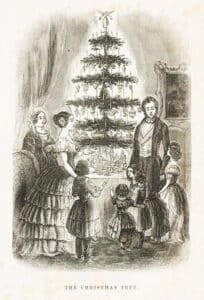 Prince Albert, the German husband of Queen Victoria, brought the Christmas tree tradition to England. An 1848 Illustrated News holiday portrait of the Royal Family, complete with a decorated tree gave the custom widespread attention; by 1850, its popularity had spread to America.
For those whose childhoods spanned the 1950s and '60s when Christmas tree pins were enjoying their first heyday, the most familiar Christmas tree was a traditional towering green one. Laden with tinsel, dripping with ornaments, and bedecked with ungainly colored light bulbs, the green tree was the baby boomer's ideal.
Unlike today, most green trees of the period were "real," although artificial trees had been introduced as early as 1950 by the Addis Brush Company. (Addis also manufactured a best-selling line of toilet brushes, and its "Silver Pine Brush Tree" utilized the same basic stylistic concept and machinery. This may explain why it never really caught on.)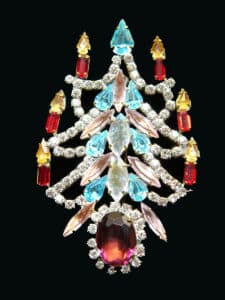 When the swinging 1960s swung in, so did the "flocked" tree. The intended overall effect was that of a snow-covered moonlit evergreen, enhanced by hundreds of tiny twinkle lights peeping through artificial snow. White flocking was the norm, but eerily phosphorescent blue trees and Pepto-Bismol pink ones also had their fans. Home flocking kits were available for ambitious folk with plenty of patience (and plenty of clean-up help). Fortunately, for the less skilled, pre-flocked trees were on sale everywhere.
Another staple of the 1960s and early '70s was the silvery aluminum tree with pom-pom branches. The aluminum tree came with built-in disadvantages, which limited its longevity. First off, it couldn't tolerate electric bulbs against all that metal. Additionally, aluminum trees not only looked lightweight, they were lightweight, thus prone to tipping. This meant they wouldn't hold many ornaments. The aluminum tree was more a modern-age idea of a tree, rather than anything remotely or realistically tree-like. But still, under a rotating color wheel, it looked terrific.
Early trees were illuminated with candles, but today only determined firebugs would brave that option. In the late 1800s, the candles were affixed to the tree branches with melted wax. Candleholders came into use in the 1890s. Edward Johnson, a Thomas Edison employee, first brightened a tree with electric bulbs in 1882, but for several decades the process was too cumbersome and costly for home use.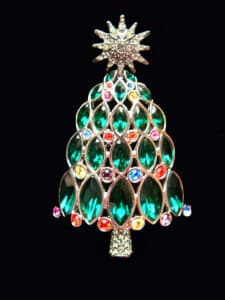 Then, in 1917, Albert Sadacca, (just 15 at the time), invented the "safety Christmas light," prompted by a candle-lit tree tragedy in New York. Albert's invention became the cornerstone of the NOMA Electric Company, the world's largest supplier of holiday lighting, and leading manufacturer of those big bulbs fondly remembered from the '50s.
Another '50s favorite: "bubble lights," tubes of fluid attached to globular plastic lighted bases, which called to mind the "tree candles" of earlier eras. While the first tubes sometimes leaked or refused to produce bubbles, less trouble-prone modern versions have enjoyed a resurgence.
"Twinkle lights" arrived relatively late in the game, first captivating consumers in the 1960s. Their tiny size focused attention on the illumination, rather than on the bulb – sort of what Martin Luther had in mind in the first place.
Of course, twinkling lights and abundant greenery can only go so far in transforming a tree. Décor adds the defining touch. Apples, gilded candies, twists of colored paper, and even flowers were all early versions of Christmas tree ornamentation. By the early 20th century, homespun eye-catchers, such as strings of popcorn and berries, had been joined by painted glass ornaments, both imports and domestic. Whether ball-shaped, star-shaped, cone-shaped, or any-shape-imaginable, these are the colorfully fragile bits of Christmas cheer that baby boomers treasure. "Theme" trees (all red bows; all designer ornaments; all single-hued oversize globes) may have had their day in the decorating sun, but the most popular Christmas trees—and certainly the most vivid source materials for Christmas tree pins—are the trees where decorating imagination ran deliciously rampant.
Pining For Pins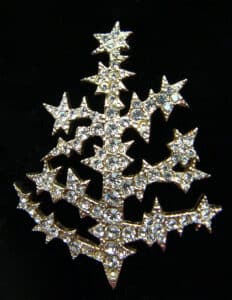 Although Victorian jewelry included some tree brooches, the first mass-produced Christmas tree pins stretched their branches skyward in the 1940s. That came courtesy of such manufacturers as Weiss, Hobé, and Hollycraft. However, the pins achieved their greatest popularity during the 1950s and '60s, when nostalgia for Christmases past was overlaid with a "modern" artistic interpretation of that nostalgia.
Since Christmas tree pins were essentially costume rather than fine jewelry, almost every costume jewelry design firm included at least several tree pins in its inventory. In addition to the early seedlings of the '40s, other prominent pinmakers of the times included Eisenberg, Gerry's Creations, J.J. (Jonette Jewelry), Art, Lisner, Monet, and Mylu. Soon, however, everyone was whirling aboard the Christmas tree pinwheel. Hattie Carnegie and Liz Claiborne designed Christmas tree pins. So did Miriam Haskell, and (for a limited Franklin Mint edition) Kenneth J. Lane. The tree trend has continued into the present, with new names, including Swarovski, Tancer-II, Kirks Folly, Gale & Friends, Lunch at the Ritz, and many more joining the roster. Pin designers face the heady challenge of adapting their individual stylings to the depiction of a single common theme: the Christmas tree. Some realizations are traditional, some abstract, but variety ensures their seemingly limitless collectability.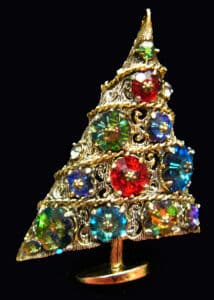 Like the full-size trees they represent, Christmas tree pins twinkle and shimmer, though the effect here is due to rhinestones, crystals, or other brilliants, rather than by way of electric lights and shiny ornaments. Application of these sparklers marks the final step in the creation of a metal Christmas tree pin, which is first cast in a rubber mold, then polished and electroplated. Following attachment of the clasp mechanism by metal press or soldering, the pin is hand-enameled, and, at last, its tiny gleaming gems are firmly affixed. The result: a Christmas tree pin that's proudly present-worthy.
As with much costume jewelry, it's often impossible to credit every Christmas tree pin to a specific designer. Many were the work of European craftsmen, immigrating to the United States after World War II. Used to working with precious stones and metals, but going where the jobs were, they adapted their talents to the creation of superior costume jewelry.
While some tree pins, such as those by Weiss, bear clearly engraved markings, others were identified only by labels or paper tags that have long since disappeared.
Additionally, import replicas of many authentic pieces continue to pop up with unfortunate regularity. Happily, avid collectors have managed to track down the sources of many original pins. That information is now readily available in collector guides and on such websites as Pinterest. Although it's still a "buyer beware" market, the novice pin buyer now at least has a fighting chance.
Branching Out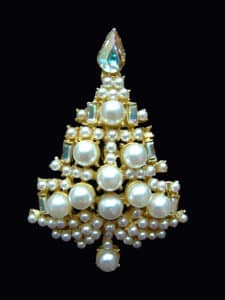 Once upon a time, Christmas tree pins could easily be found among the jumble of inexpensive costume jewelry on a dealer's "make me an offer" table. Many were, after all, pieces that were originally sold in dime stores, often for less than a dollar. Nowadays, most dealers know what they have, and most collectors know what they're looking for, so prices reflect this. While it's still possible to find lovely vintage pins for under twenty dollars, unique pieces, such as Alexis Bittar's jeweled Lucite trees, can run into the hundreds. Rare vintage pieces may sell in the thousands. Those looking for pin bargains, however, can still often find them at garage sales of personal belongings (although you may have to elbow aside other determined collectors and eagle-eyed dealers). Regardless of the source, condition is all-important. While missing rhinestones on an inexpensive pin can easily be replaced without affecting the value, dented, bent, rusted, or extensively paint-flaked Christmas tree pins have little monetary or visual appeal.
Christmas tree pins are the ideal collectible for those who don't like to see good things come to an end. Don't worry: you won't. Thousands of pins were made, and, as noted, thousands remain readily available. And, no matter how many you have, tree pins don't really seem to take up much room. Most average just two inches in height and can be conveniently stored in drawers on flat cushioned trays. Those who'd like to enjoy their pins on a daily basis can display them in velvet-lined shadow boxes or pin them on vintage dress forms.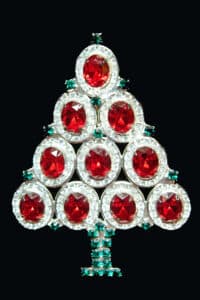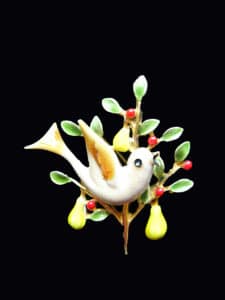 Thanks to the internet, what was once a seasonal hobby now provides collecting fun year-round. So, if you find yourself brimming with Christmas spirit on the 4th of July, just go online, and let the tree hunt begin!
You might, however, find yourself temporarily distracted by other bright shiny objects: tiny standing jeweled trees; framed trees created from abandoned fragments of costume jewelry; and, of course, plenty of other holiday-themed pins. Santas, Snowmen, Carolers, candy canes, and partridges perched (where else?) in pear trees. With so many choices, you may want to start donning those holiday pins a bit earlier … say, perhaps, on the day after Christmas.
Happy Holidays!
---
Photo Associate: Hank Kuhlmann
Christmas tree pins courtesy of De Wittstruck
Donald-Brian Johnson is the co-author of numerous books on design and collectibles, includingPostwar Pop, a collection of his columns. Christmas is, hands down, his favorite holiday. Please address inquiries (or holiday greetings) to: donaldbrian@msn.com