by Jessica Kosinski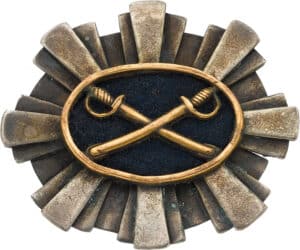 As modern humans, we are used to conflict; whether in the form of a small disagreement with a neighbor or a full-scale war. There is evidence that such conflicts existed well before well-documented eras. Archaeologists indicate that, in the earliest days of humanity, the population was too low for large battles to occur often. However, as population density increased, so did disputes. Eventually, such disputes led to the organization of various military groups. Within those groups, there has long been a need to differentiate between leaders and lower-ranking members. Military badges, in some form or another, have been used to differentiate between different rankings in all branches of armed services for thousands of years. Let's take a peek at how they have evolved, the types of information they can convey, and how to collect them.
Badges Versus Insignia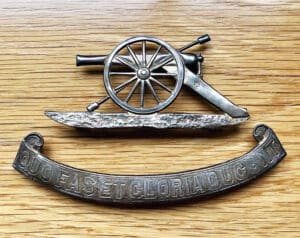 The first thing to address when collecting military badges is the difference between the term "badge" and the term "insignia" when referring to the military. Insignia are typically badges that denote a branch of service or the rank within a branch of service. In the United States, the type of insignia worn is important, and so is the positioning of it on a service member's uniform. For instance, in the Navy, some members are required to wear their insignia on the left breast, while others wear it on the right side.
In many military forces, members may also wear badges denoting particular departments of service or special achievements, which are not generally referred to as insignia. For example, a member of the navy who is a captain wears insignia denoting his or her rank. He or she may also wear a badge indicating the department or function he or she has, such as a recruiting officer's badge.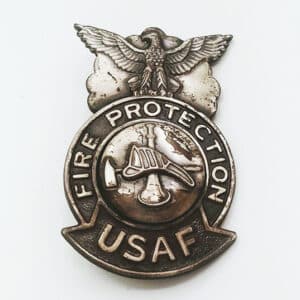 Although the above are U.S. Navy-related examples, similar practices are carried out in other branches of the U.S. military and organizations, including the Army, Coast Guard, National Guard, and Marines. Each one has its own badge and insignia systems. Similar practices are also carried out in military branches in most other countries because it is important for ranks and departments of service to be clear at all times to fellow members. Many military branches in various countries also have badges to indicate skills members have. For example, military members who fly airplanes often have badges featuring wings or otherwise referencing flight. There are also badges for surgeons, divers, and other special skills in various military branches.
The Earliest Versions of Military Insignia
The concept of wearing military insignia goes back many centuries. It isn't new. However, in the early days, actual badges did not exist. Instead, whatever methods were handy at the time were used to denote military rank in various countries out of a sense of necessity. For example, soldiers in various armies were known to wear special sashes around their waists, special hats, or even adornments like feathers to show their ranks. Some even carried specific types of weapons to make them stand out from other members of their military groups.
The Push for Clear Insignia and Badges in the United States
Differentiating between leaders and subordinates was absolutely essential. In the United States, the modern push for proper military badges can be traced back to the Revolutionary War. When the Continental Army couldn't afford uniforms, George Washington made a plea to at least get them some sort of badges. After the Revolutionary War, certain branches of the military here in the U.S. adopted badge systems similar to those used by the British. However, other branches chose to develop their own unique badge systems.
Changes to U.S. Badge Systems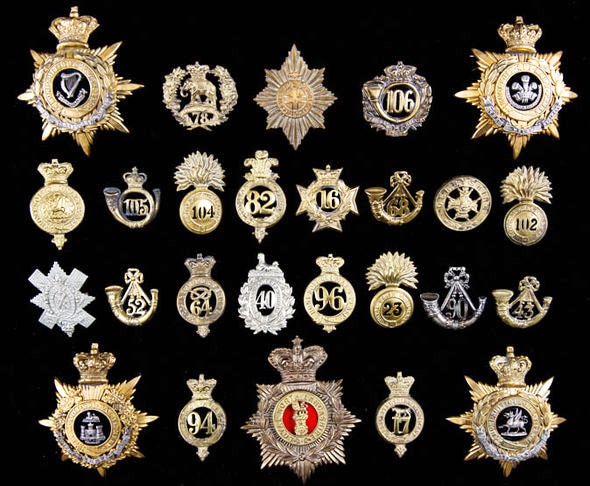 An important thing to know when collecting U.S. military badges in particular is that you can moderately pinpoint the ages of badges based on changes to badge systems within military branches. For example, Army second lieutenants were given insignia known as "butterbars" in 1917. It is important to note that many changes to U.S. military ranks and badges occurred in connection with specific conflicts. As an example, the U.S. Navy Commodores did not exist until the Civil War. Oak leaf, eagle, and one and two-star epaulets were the insignia worn by the various Navy members.
Which Military Badges You Should Collect
There are many ways to decide which military badges you should collect. For example, you might have family members in certain branches of the U.S. military. If so, those badges may interest you the most. You could also have an interest in badges from a particular war or era. You might even opt not to collect U.S. military badges at all. Rather, you might focus on another country of interest or even badges from places or military branches that no longer exist. For example, the Soviet Union obviously no longer exist, but badges worn by its military members are still available for collecting.
Locating the Best Military Badges for Your Budget
One of the fastest ways to find military badges these days is online. However, you can often come across some inexpensive badges in local shops or at auctions and estate sales. Sometimes, you might even make a lucky find at a flea market or yard sale. When looking for military badges on a budget, keep in mind the condition doesn't necessarily matter in the same way as it does with other collectibles. Some collectors actually prefer badges that show some wear because they are more likely to have been worn in combat. Indicators that are more likely to impact the price of military badges are: its age, rarity, and relation to either a particular historic battle or a military group or rank that no longer exists. When going through someone's estate, look in the small tins and button tins – you never know the history you'll find!
---
Jessica Kosinski has been a freelance writer specializing in writing short articles for 15 years. She is also an avid collector of both antique books and Star Wars memorabilia. Although she is not in the antiques industry professionally, she has learned a lot about antiques over the years by periodically helping out at her mom's antiques shop in Greenville, NH. She currently balances maintaining the antiques shop's Facebook page, www.facebook.com/MallofNE, and working on various freelance writing assignments. She can be reached at dementorskiss77@yahoo.com.