Yuletide is a-coming!
By Pamela E. Apkarian-Russell


The smell of fresh pine in the house and cookies baking in the oven are some of the happiest memories we have of the Yuletide holidays.  Fresh cranberries cooking on the stove with just a hint of orange peel to be used to marinate and baste the fat old goose or the turkey add their aroma. Cloves in the ham add to the cinnamon, and pumpkin or apple pie spices a deliciousness.  And what of the apples as they sit in the old burl bowl looking fresh, crisp, and shinny in the reds and greens of the holiday? What a spicy magical season this is. Our cakes are cooking and you can smell all the fruit and brandy and liquors the fruit was marinated in. The smells excite us and make us rush to bring in the live tree as well as the tinsel and artificial trees so we can decorate the house with lights and angels, mangers, and antique or collectible ornaments and figures of father Christmas.  Why is it that holidays make us nostalgic for our youth and those that have passed …all those memories of Christmas's past that we treasure so and are brought to life for a moment as we pull out the old photos and the ornaments we had so carefully packed away last year just as we have done for so many years.  The ghosts of Christmas past need to be unpack and enjoyed. Sometimes those ghosts are whispering stories of years before our time and sometimes of those we have loved and cared about who have gone on. They are all part of our memories… and isn't that what antiques are memories…yours and mine…and those from generations gone.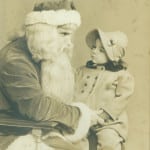 Punch kneeling under a bough of the evergreen laden with nuts and cookies, woos the bisque doll, the most beautiful of all the toys.  Teddy is  being dragged up the stairs to the bedroom to slumber the cold night away while you dream dreams of the stocking Santa will fill if we have been kind and good all the year long. Happy children finishing their meal as the cat watches and the Christmas pudding with the holly on top is brought to the table. The bringing of holly to lay about the crèche of the child who is the heart and soul of this celebration and was born so many years ago.  Where have the nut crackers marched off to? The fairies are flittering in the tree adding tiny magical lights. While the Yule log burns we delight in the anticipation of the holy night and day.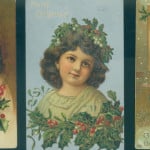 Many of us, especially those who cherish and live with their antiques and heirlooms, feel that much of the graphics and commercializing of holidays  today are crass, unimaginative and  out of keeping with traditions and the inspirations and meaning of the holiday. Why do the stores start selling Christmas items in June? Wouldn't they sell more items and generate more income by dedicating the space to the current holiday? A month or two yes, but over half the year? Years ago, Thanksgiving night all the Christmas lights came on and mysteriously every store on the next day, would be full of the glitter and tinsel which we all so long for . It was magic…one day it wasn't there and the next it was. There was an excitement about seeing the Salvation Army Santa and the animated windows in stores like Macys.  Do you remember the wonder of standing in front of the windows on a cold windy day, with snow on the ground and your nose pressed against the painfully cold window glass? We never could get close enough as we wanted to become part of this winter wonderland and visit the North Pole and Santa's work shop.  These figures do turn up individually at auction, often with the motor burned out and for $75 to $500 you can add them to your own display. Size and the working condition dictate the price of the figure. And do you remember the crèche or manger? How many of us wanted to be there carrying a young lamb to give to the child, born under a star so bright its light has never died. Fantasy, whimsy, nostalgia, yearning, and euphoria were what these windows inspired. Today windows are only to sell more stuff.  What is Christmas today, except  a time to sink deeper in debt purchasing things nobody really wants, needs, or cares about?  Perhaps, that is why the collecting of vintage pieces and holidays as they once were are at an all time high.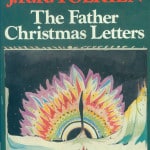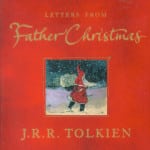 How is it that we all suffer through the many versions of Charles Dickens's "A Christmas Carol" and then happily watch the two original versions? Nostalgia which sometimes we have absorbed through osmosis can be very real and important. I remember spending my first Christmas in England and how devastated I was that the Victorian England I expected and desperately wanted to see had long since past. Only going to see the mummers dance cheered my nostalgic soul.  Is it time for us who love and live with antiques to rebel and give only vintage and collectible, decorative and delectable gifts? Cheese with a sterling handled cheese spreader or a fancy china handled cheese scoops make super gifts. What about vintage jewelry or a lovely serving dish with homemade sweets on it? You can find inexpensive Limoges dishes or hand panted china very inexpensively.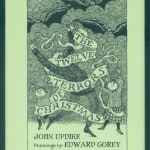 Children love picture books and there is a wealth of wonderful vintage books at the shows and shops. The old Christmas ones are especially a treat. It is almost like giving a heirloom to go out and find something vintage that we know and loved and pass it on to another generation. Vintage linens, Christmas ornaments, trains, and battery operated toys catch the interest of multi-generations.  Looking at the images of Yuletide with the idyllic and angelic looking children and scenes may not be high tech but next year when that phone or computer is no longer  high tech or worse obsolete, the gift will be totally forgotten but  nostalgic  items cherished and kept are treasures.
Looking at the Scandinavian cards done for the holidays I can look longingly at the little red horses or the elves and gnomes which decorate the homes of those emigrants and their descendents who came from those Nordic countries. Every country has its traditions and how lovely to be given part of that tradition to add to your own?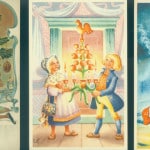 The Ghost of Christmas Present incorporates the Ghost of Christmas Past.  Most of us no longer go and sit on Santa's lap but why not bring out those old photographs and put some in frames or in plastic with tinsel on it so you can hang it on the tree?
Looking at the old prints and postcards of ladies dressed in billowing fancy dresses complete with hoops, being courted by nattily attired gentlemen who chivalrously help them over the slick spots of ice or through the snow can only drum up romantic thoughts.  No one wants to go back to the days of perilous live candles that decorated trees but the decorating with greenery and Yule logs  makes one  breathe deeper  and smell the wood smoke wafting out from the chimney or the cinnamon and nutmeg in the cider heating on the hearth. Wood stoves and fireplaces give a warmth and a place to display ones cast iron and copperware.
When was the last time you went Christmas caroling? Years ago the banks were not so Scroogified as they gave out small carol books which only sell for a few dollars today. Corsages of tiny bulbs and pipe cleaners holding leaves and glittery figures of snowmen cost a whole dollar years ago and the fancy tie on tags were .29-49 cents a package. Woolworths, JJ Newbury and Grants were exciting places to go as everything was glittering with fake snow made of Mica or worse asbestos which is so detrimental to you health but looked so pretty. When the manger was up and the lights around it ,the angels hair would go over the lights and the pretty sparkling asbestos over it all. How totally unhealthy.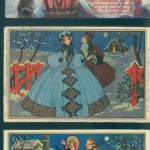 Once upon a time children used sleds and built snowmen. Some of us opened gifts at midnight while others Christmas morning. The Italians had Befana the Strega or witch who brought the presents at Epiphany. The Russians, who until the time of Stalin, who banned Christmas, once had Baba Yaga the witch delivering the presents but converted to Father Frost on New Years day. Then there are those like the Armenians who adhere to the old calendar and the original date January 6th to celebrate.  Traditions and the date of the celebration bring with them the flavor of that ethnicity and the art and collectibles vary accordingly.
Mexican ornaments made from tin and manger figures of painted clay can add wonderful color to your display and the tin ornaments are delightful to tie on to the top of a present. These are very affordable and can be used later to hang on the tree year after year.
Art Deco greetings, place cards and tally cards are still to be found in quantity and are still less expensive, on the whole than if you went into a store and purchased a card. They are vibrant in color and the designs are whimsical. Sending someone one today is a gift from the past and it will stand out and be cherished because it is not just a card but a gift especially if placed in a hard plastic protector.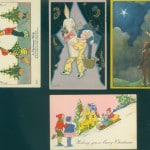 Christmas sheet music and magazines are easy to frame "and can be the answer to those ten dollar gifts. " I'm Dreaming Of A White Christmas" with Bing Crosby, and "Is Dat You Santa Claus" with Louis Armstrong, are just a few while the magazines are endless. Going to a paper, ephemera, or book show during the year can unearth many wonderful wall decorations.
Believe it or not there are still old Christmas seals, gift wrap and ephemera out there. Antique people are seldom boring so it is up to us to creatively contribute to those who have not been as fortunate. In a way it is opening a door to a magical land they might not be aware of. Another way is to do as I do using old tins.  I bake and send off food packages.   These are also, great for using for yourself, especially the more expensive ones and some of them can get quite expensive. I particularly love the ones  from Harrods in London. The Huntley & Palmers miniature or sample tins which were to be placed in the stockings are colorful and are worth keeping out all year long They are pre WWI. Of course you can not put more than a thimbleful of anything in them, maybe two marbles, but the lithography and designs  are grand. Unfortunately these begin in price at one hundred dollars and go up from there depending on condition and design.
Christmas is also, a good time for trotting out those Currier and Ives winter scenes and putting them up on the wall. It is amazing how others become aware of art and collectibles when they see it tastefully displayed in the homes of others.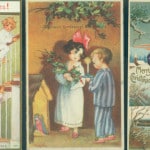 With the many sizes of trees especially those in tinsel colors you can have small theme trees in every room and it is only limited by your imagination what appears on them. I know people who lovingly begin the decoration process in November and are barley done by December 25th; These are the same people who are reluctantly taking them down and still putting them away the beginning of February.
How many Christmas cook books do you need? You can never have enough especially those with an ethnic theme which tell about the customs and celebration in other countries. How many copies of "A Christmas Carol" do you need? As many as there have been produced with illustrations by great artists of all eras from Rackham to the little pop up I found last year at the flea market. Of course the Ghost of Christmas Present is the personification of the Green Man which is how he is personified in the original edition is the face in the tree. The mistletoe, the evergreens, and the Yule log are all symbols of the Green man and of ancient Druids.
One collector of old records decorates his whole place in Christmas Albums. Remember those Firestone Tires Christmas albums you saw this summer in every stack of records? They might only sell for a dollar or two but the music is divine.
With the economy as tight as it is and the quality of what is in the stores at enormous prices it is time for us all to give vintage gifts. I know I have for years whenever possible added to the magical cache I decorate with from shows and auctions.  Is some of it tacky? You bet it was but it is what you do with it that makes it classy.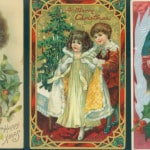 May the smell of cookies and plum pudding fill your home.  May it turn into a wonderland of decorative beauty which you can share with friends and relatives. May you be the inspiration that brings someone out of the world of the mundane into the world of antiques.   I for one do not want a white Christmas but one of colored lights, tinsel, vintage ornaments, and anything that exudes the warmth of nostalgia.
PS – Dear Santa,
Please fill my stocking and those of all my friends with antiques this Christmas. Recycling is good and we have been very good this year. Cookies and cake will be on your plate when you come and the milk is skim milk.
Merry Yuletide!
Pamela
Pamela E. Apkarian-Russell
(TM) The Halloween Queen
Castle Halloween Museum
1595 Boggs Run Rd
Benwood, (Wheeling) WV 26031-1050
304 233 1031
www.castlehalloween.com
castlehalloween@comcast.net