Fairyland Lustre
By Stuart Slavid
Director of European Furniture, Decorative Arts and Fine Ceramics, Skinner, Inc.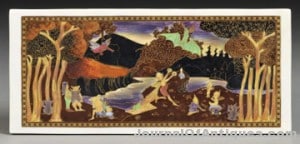 I have spent over 40 years with Wedgwood, first as a dealer growing up in a shop where my father was one of the most respected and largest dealers in Wedgwood, and for the past 24 years directing the Fine Ceramics department at Skinner, Inc., one of the largest auction galleries in the country. At Skinner I have managed to maintain my interest in Wedgwood, holding bi-annual sales featuring the works of the master potter, and having the privilege of selling the majority of the Wedgwood collections that come onto the market. That, and participating as an active member of the Wedgwood International Seminar, many years as a board member, and lecturing on the topic throughout the United States and England. Over the past 40 years I have seen a transition with many of the collectors of the 1950s, 1960s and 1970s preferring the earlier Wedgwood produced during Wedgwood's partnership with Bentley in the 18th century as well as the many other fine wares produced from 1759 until the early 19th century. The thirst for more variety encouraged collectors to widen their horizons into many of the later Wedgwood wares. Circa 1970 there seemed to be a blossoming interest in a ware, that to many was considered not all that old– at best 50 years–in the spectrum of Wedgwood's, then 200 years of manufacture. Initially, as you can imagine, it was quite affordable, but quite rapidly Fairyland Lustre fever took over. Wedgwood collectors adding to their collections, collectors just buying Fairyland, and even entertainers such as Whoopi Goldberg and Barbara Streisand competed for the wares. Dealers arose specializing in Fairyland and creating a specialty market within the Wedgwood community.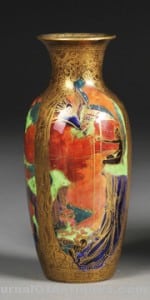 When most people think of Wedgwood, with its long history of over 250 years of production, they think of classical motifs. They think of jasper wares, black basalt and creamwares.  Breaking away from tradition and starting well into the 19th century, the manufacture hired a variety of freelance artists bringing a fresh outlook to the stereotypical designs. They never stopped with the classical figures, even today, but this was but the beginning of Wedgwood's thinking "outside the box." Into the 20th century this new vision for Wedgwood designs produced a wide variety of artists and designers with a wide variety of ideas and talents, none with greater success than Susannah Margaretta "Daisy" Makeig-Jones and her development of lustrewares.
In 1909 Daisy joined Wedgwood as a trainee ceramic designer, having trained as an artist at the Torquay School of Art in Devon. She was 28 years old at the time, quite advanced for an apprentice at a pottery whose average age was between 14 and 15. Over the next five years she apprenticed in most of the major departments, rising through the ranks to become one of the company's foremost designers. Daisy's imagination and creativity, along with many trials with glazes and firings, led to the creation of this amazingly vibrant and innovative new ware.  There are conflicting books and articles as to whether the production of "Fairyland lustre" began in either 1914 or 1915, continuing in full swing until 1931. It's important to note that prior to the release of Fairyland, Wedgwood had been going through some difficult financial times, this new line commercially successful, and bringing Wedgwood into the forefront of porcelain manufacture in the early 20th century. Now they were making "fancy china" along with such firms as Worcester, Minton and Crown Derby.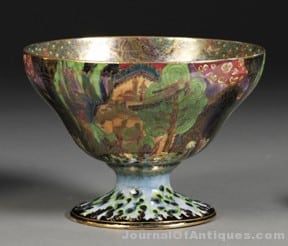 The inspiration for many of the patterns in Fairyland came from a variety of sources. Illustrations from books including the Colour Fairy Books edited by Andrew Lang, East of the Sun and West of the Moon illustrated by Arthur Rackham and Kay Neilsen, and Thumbelina by Andersen, were all stimulations for Daisy's work, as were patterns in the manuscript drawings of Henry Justice Ford and Edmund Dulache. The majority of the designs themselves were a combination of brightly colored underglazed enamels and gold printing. Occasionally some overglazed enamels were added as highlights.
The earlier of these 20th century lustre wares, or pre-Fairyland wares, had the rather underwhelming title of "ordinary lustres" and were comprised of a variety of mottled ground colors including an orange-red, light and dark blue and green and an opalescent mother of pearl. All of these wares were primarily ornamental, mainly consisting of bowls and vases in a variety of shapes and sizes. Subjects included butterflies, dragons, hummingbirds, Oriental motifs, and fish. On the marketplace today, although competitive, the ordinary lustre does not nearly command the prices that the actual Fairyland designs do, most examples still attainable for less than $2,000. Partially due to the escalating prices of the Fairyland designs, this ordinary lustre has continued to rise at auction.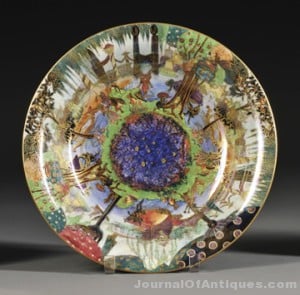 Introduction of the first of the Fairyland patterns began in 1916-17 with a design known as Poplar Trees. Fairyland designs are beautifully complimented with background colors or "skies", most featuring a day-lit (mother of pearl), night-time (black), flame (orange), as well as an overglazed coral enamel and copper lustre. In addition, there was a moonlit sky in dark blue shaded with green. These skies along with the wide variety of patterns and shapes makes for a collecting field that is very competitive in the marketplace today. In fact, even with the production of wares dating back to the 18th century, Fairyland lustre today commands the highest prices of most any other Wedgwood ware.
Though none of the Fairyland patterns are truly common, some are more readily available on the marketplace, and some are considered extremely rare. There are basically four categories of decoration within the Fairyland spectrum including landscapes, scenics, elves, fairies and gnomes, and silhouetted figures.  Many of these figures and designs will be used over and over in a variety of manners in making new patterns. In addition, Daisy's signature can occasionally be found within the designs though I have seen no indication that those items command higher prices. As well as the printed Wedgwood factory mark on each piece, the majority of lustre wares also carry pattern numbers easily identifiable in Wedgwood's pattern books. Some additional pieces have inscribed shape numbers as well.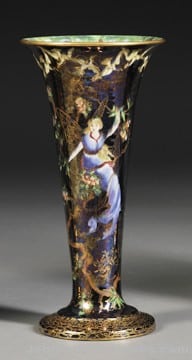 Having recently sold a major collection I have illustrated several of the more competitive examples with their prices realized.
Garden of Paradise on a melba centre bowl: One of the earlier patterns introduced by Wedgwood, it was inspired by the fairy tale The Garden of Paradise by Hans Christian Andersen. This landscape focuses around the Tree of Knowledge with pillar framed panels of elves and fairies. The interior featuring a Jumping Faun motif, $15,925.
Sycamore Tree with Feng Hwang, and Bridge on a vase with a flame background.  You have the elegant Feng Hwang bird in flight along a large tree centering a landscape filled with elves in a variety of mischievous poses, a bridge to one side, $13,035.
Picnic by a River on a plaque: This depicts elves at play along either side of a river bank, showing figures playing quietly as well as dancing, $13,035.
Fairy Gondola on a Lily tray: One of the more elaborate of the landscape designs, this with a red gondola featured in a river landscape, temples and towers along the far bank, the near bank with an abundance of elves, gnomes and fairies, many in playful acts. The exterior with flying geese to a mottled purple/gray ground, $20,825.
Butterfly Woman on a trumpet-shaped vase. This vase, produced in three sizes, shows a rather buxomly young lady seated on a flowering branch against a black sky. The interior is mother of pearl and with a Floating Fairies border, $6,738.
Jewel Tree with Cat and Mouse and Copper Trees vase and cover: Featuring a magnificent tree adorned with jewels, the lustring on this particular piece is especially iridescent and includes a rather upset cat about to pounce on a mouse, $23,700.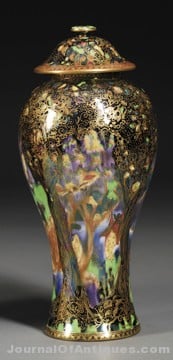 Though all Fairyland would be considered desirable, there are a few patterns and forms that command the highest prices at auction. These include the variations of Bubbles, Dragon King and Temple on a Rock, to name a few. If in very good condition with no cracks, chips, scratches or restorations, the range in prices for Fairyland in today's market runs from a low of roughly $1,000 to a high topping $50,000.With much of the lustre still in private hands, and with competition still quite diverse, it will be interesting to see where the market values will takes us in the future.
Skinner is featuring fine Wedgwood as part of our January and July sales of European Furniture and Decorative Arts. Stuart Slavid is Vice President and Director of European Furniture, Decorative Arts, Fine Ceramics and Silver.