Ken's Korner: Vermeer's 'Girl' will tour the U.S.
News and Views from the World of Antiquing and Collecting
By Ken Hall
For the first time in nearly 20 years, Dutch Master Johannes Vermeer's timeless painting Girl With a Pearl Earring will make a three-city swing through the United States, beginning in San Francisco (where it is currently on view through June 2 at the deYoung Museum) and later in Atlanta and New York. The simple yet mesmerizing depiction of a young girl with her head turned toward the artist and sporting a large pearl earring in her left ear, is known as "the Dutch Mona Lisa" and inspired a book and movie of the same name.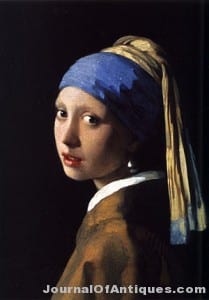 The work is just 17 inches by 15 inches and was one of fewer than 40 paintings by Vermeer. He, like Rembrandt, became known for his paintings of ordinary people, rather than stylized depictions inspired by the church. Nothing is known about the subject in Girl, but her face (and earring) endure as one of art's most recognizable images. She has her own room at the deYoung, as part of an exhibit of 34 works on loan titled Dutch Paintings From the Mauritshuis. Paintings by Rembrandt and Carel Fabritius are included.