Ken's Korner: Violin from the Titanic is on exhibit in the U.S.
News & Views From the World of Antiques & Collectibles
By Ken Hall
Remember last month we reported that the rosewood violin played by the bandmaster aboard the Titanic the night the doomed ocean liner went down over 100 years ago had been authenticated as genuine? Well, now the violin is in the United States, where it will be exhibited prior to its planned auction in Britain on Oct. 19, through auction house Henry Aldridge & Son (it's expected to easily sail past the $100,000 mark, considering it's the most iconic artifact ever recovered from the Titanic, including the crow's nest bell).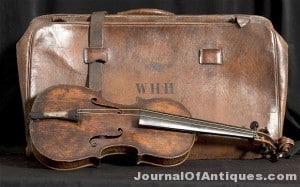 The violin was scheduled to be exhibited at the Titanic Museum Attraction in Pigeon Forge, Tenn., through July 27th. After that, it will be on to a sister museum in Branson, Mo., where it will be on view from Aug. 1-15. The violin's very existence only surfaced around seven years ago, and it was just made public in 2011. Extensive testing and research was done before experts felt confident declaring it authentic. Wallace Hartley, the bandmaster, played Nearer, My God to Thee on it as the Titanic sank into the ocean in 1912.