An E. Howard No. 43 Astronomical Regulator Clock sells for $254,100, a new auction record for an E. Howard No. 43. Clock was the top lot in an auction that grossed $1.5 million
PITTSFIELD, Mass… An E. Howard & Company (Boston) No. 43 astronomical floor regulator clock, 105 inches tall and in fine operating condition, soared to $254,100 at Fontaine's Auction Gallery's two-session clock and antique auction held Saturday, Nov. 14th, in the firm s gallery at 1485 Housatonic Street in Pittsfield. It was a new world auction record for an E. Howard No. 43. Fontaine s is no stranger to setting new auction records for E. Howard clocks. In an auction held in 2014 on Nov. 22-23 the firm set a new world auction record for any E. Howard clock at auction when a No. 47 wall-hanging astronomical regulator hit $356,950. The previous record, set in November 2013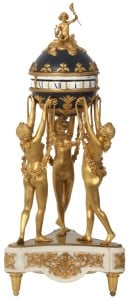 , was $277,300, for a No. 68 astronomical regulator also at Fontaine s.
The Nov. 14 auction was packed with 475 lots of rare and vintage clocks, watches and various other unusual and desirable timepieces, made by some of the most renowned names in horology. Also featured were original paintings, sterling silver, furniture, estate jewelry and lamps by makers such as Tiffany Studios, Pairpoint, Handel and Duffner & Kimberly, plus other items.
The E. Howard No. 43 was the undisputed star lot in an auction that grossed about $1.5 million. The clock had a 14-inch reverse painted glass astronomical dial with a sweep minute hand and five-hour numbers, housed in a beautiful carved walnut floor standing case with a shell carved crest over a figural maiden's head. Jars were made by the Boston & Sandwich Glass Company.
Over 1,200 people participated in the auction, with 100 people attending live and in person, and 920 others registering to bid online, via LiveAuctioneers.com, Invaluable.com. and eBay.com. In addition, nearly 150 phone bidders kept Fontaine s staffers busy throughout the day, and about 75 absentee bidders helped round out the day s tally. In all, it was a great sale, with Howard clocks, French clocks, mystery clocks, Tiffany lighting and estate jewelry all bringing high prices, said John Fontaine of Fontaine s Auction Gallery. The mid-level merchandise held its own but, as expected, the truly great items carried the day.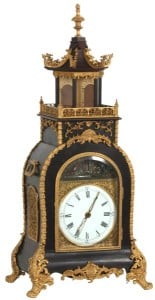 Additional highlights from the auction include (all prices quoted include a 21 percent buyer s premium):
A Chinese triple fusee animated bracket clock with 6-inch porcelain dial and a carved teakwood bracket clock case. Animated mechanism, activated by bell strike, involved rods that simulated rainfall and Chinese acrobats on a platform appeared from behind one door and disappeared behind another. This very clever clock brought $108,900.
E. Howard No. 68 astronomical floor regulator, 105 inches tall but with a replaced crest and signed metal dial, reached $84,700;
Astronomical regulator wall clock with 13-inch silvered signed dial made $9,075.
Bronze animated French locomotive industrial clock, 18 inches tall, gaveled for $33,275.
Monumental oak R. J. Horner 9-tube grandfather clock with a 12-inch silvered dial, signed Tiffany & Co., New York, and tubes signed Walter H. Durfee & Company, 106 inches tall, reached $18,150.
Gothic carved mahogany 9-tube grandfather clock with a large brass dial signed by Waltham Clock Co., 104 ¼ inches tall, attained $13,915.
Exceptional 9-tube grandfather clock with a French rococo style carved mahogany case, 110 inches high, hit $9,680.
French industrial animated steam engine clock with tri-tone bronze and rouge marble case in the form of a steam engine pump breezed to $21,780.
Tops in the jewelry category was a Cartier platinum and pave set diamond ring in the form of a panther cat, with emerald green eyes, in the original box ($30,250). Silver was led by a Russian silver samovar (highly decorated tea urn) by Mikhail Ovchinnikov, 19 inches tall ($12,100). As for bronze, a relief bronze figural nude of a woman by Maollol (Fr., 1861-1944), rose to $10,890. Tiffany lamps were a huge attraction for bidders. A Gold Turtleback table lamp with an 18-inch diameter shade having a geometric brick background went for $24,200; a Red Acorn table lamp with 16-inch domical shade, also with geometric brick background, realized $18,150; and a Green Damascene double student lamp with a pair of 10-inch damascene shades fetched $9,680.In the furniture category, a carved rosewood turtle-top marble-top parlor table attributed to Alexander Roux, with a fine French polished finish, topped out at $12,100.
For more information about this auction, past auctions, or to inquire about consigning items to a future auction, visit www.fontainesauction.com or contact John Fontaine at  (413) 448-8922; or info@fontainesauction.com.
Horological history made at Fontaine's Auction Gallery Nov. 14