PITTSFIELD, Mass. – A rare antique Chinese animated triple fusee bracket clock, running and striking with all animated mechanisms working, is expected to sell for between $500,000 and $750,000 at a cataloged antique auction planned for Saturday, May 21, at Fontaine's Auction Gallery, in the firm's showroom at 1485 Housatonic Street in Pittsfield, at 11 a.m. Eastern time.
The clock is both beautiful and functional. The hourly mechanism activates swimming ducks and spinning glass rods resembling a waterfall. A cluster of glass rods forms another waterfall in the top of the large-size gilt bronze case. The clock has a 6 ½ inch porcelain dial with black Roman numerals, and red jeweled characters that read "Da Ji" (Great Prosperity). It is 36 ½ inches tall.
The clock is the expected top earner in a 500-lot auction that will feature not just a superb clock collection, but watches, music boxes, lamps (by Tiffany, Duffner & Kimberly, Unique, Bigelow & Kennard, Suess, Handel and others), paintings, bronzes and marble statuary, art glass, jewelry, fine silver, porcelain, Royal Vienna, Lalique, sterling and gold items, bird boxes and automatons.
Also sold will be exceptional period furniture, by makers such as J. H. Belter, J. &. J.W. Meeks, R. J. Horner, Herter Brothers, Mitchell & Rammelsberg, Karpen and John Jeliff.
Remarkably, the auction's expected second top lot is also a Chinese triple fusee animated bracket clock. In beautiful condition, the clock features a carved teakwood bell-form bracket case with beveled front door glass, a hexagonal Chinese pagoda mounted on the top and animated acrobats, and rotating rods simulating rainfall. It's expected to fetch $50,000-$100,000.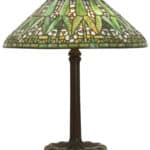 Anything bearing the Tiffany name is bound to attract attention. A Tiffany Studios Arrowroot table lamp with a signed 20-inch diameter conical shade should realize $35,000-$40,000; and a mahogany Tiffany & Company and Walter Durfee nine-tube grandfather clock, 108 inches tall and in excellent shape, should rise to $12,000-$15,000.
Other grandfather clocks will feature a monumental mahogany nine-tube example with signed movement by Elliot (London), and a brass dial with fancy gilt pierced filigree in the center, 104 inches tall (est. $15,000-$25,000); and an oak R. J. Horner grandfather clock with silvered dial and Roman hour numerals, signed Walter H. Durfee of Providence, R.I. (est. $15,000-$20,000).
Astronomical regulators are also a big hit with clock collectors. Two examples with identical pre-sale estimates of $10,000-$15,000 are a George Jones No. 8 astronomical floor regulator with a massive 17-inch silvered bronze dial, in a beautiful floor-standing walnut case; and a Swinden & Sons (Birmingham, England) astronomical regulator in a lovely mahogany floor-standing case.
Turning to original artwork, an unsigned oil on canvas portrait of George Washington, after Gilbert Charles Stuart (Mass., 1755-1828) and attributed to Thomas Sully (Br./Am., 1783-1872) is expected to garner $20,000-$40,000; and an oil on board impressionist landscape painting with figures by the French artist Alfred Sisley (1839-1899), signed, should sell for $15,000-$30,000.
Two jewelry lots both show pre-sale estimates of $20,000-$25,000. One is a Cartier marked 950 platinum and diamond ring in the form of a cockatoo with ruffled feathers, Pave set diamonds and green emerald eyes. The other is a stunning platinum and diamond solitary ring with a large, 4-prong set center diamond weighing about 3.37 carats and boasting "G" color and SI2 clarity.
Music anyone? A Symphonion Eroica #38B 3-disc musical hall clock with divided interior slots for 15 disc sets, 110 inches in height, with a beautiful original finish case and a music box in fine playing condition, should fetch $25,000-$40,000; and a Regina 12-disc changer music box, style 35, with an oak bow-front case with leaded glass bowed door panel, should hit $15,000-$20,000.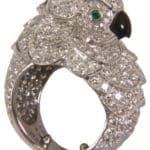 French clocks always get paddles wagging. A French animated locomotive industrial clock with excellent bronze case in the form of a steam locomotive on a black marble base should rise to $20,000-$30,000; while a French figural silk thread mantle clock with a standing blackamoor figure of a sailor with glass eyes and holding a pipe, is expected to command $12,000-$15,000.
Rounding out the auction's anticipated star lots, a mahogany one-year Biedermeier Laterndluhr wall regulator with 10-inch porcelain dial signed "Johann Schaden, in Wein," in a fine case with striped inlays, is estimated at $25,000-$40,000; and a marble and brass calendar crystal regulator clock with large case and white marble overhanging top, is expected to bring $10,000-$12,000.
For those unable to attend in person, internet bidding will be provided by Fontaine's Auction.com, LiveAuctioneers.com and Invaluable.com. Previews will be held on Friday, May 20th, from 10-5, and on Saturday, May 21st,  the date of auction, from 8 a.m. until the first gavel falls promptly at 11 a.m. See the website for terms and conditions, plus info on how to register to bid: www.FontainesAuction.com.
Fontaine's Auction Gallery is the oldest operating auction gallery in Western Massachusetts. It has earned the trust of collectors, investors and gallery owners worldwide. All cataloged lots receive nationwide exposure to the firm's database of more than 20,000 select buyers. Seven times Fontaine's Auction Gallery has been voted "Best Antique Auction Gallery" by the public.
Fontaine's Auction Gallery is actively seeking quality items, to include furniture, lighting, clocks and watches, paintings, porcelains, bronze and marble statuary, Asian items, art glass and cameo glass, Russian objects, silver, musical, coin-op, advertising, toys, banks, gaming and carousel items for future sales. Consignments are currently being accepted for all the upcoming auctions.
The firm will buy outright or accept on consignment fine antiques, collections or entire estates. Call (413) 448-8922 and ask to speak with John Fontaine, or you can send Mr. Fontaine an e-mail to info@fontainesauction.com. For more information about the company and the upcoming Saturday, May 21st auction, please visit www.FontainesAuction.com. Updates are posted often.
Rare Antique Chinese Animated Triple Fusee Bracket Clock Highlights Fontaine's May 21 Auction