The clock was the top lot in a sale that grossed $2.5 million and had more than 4,300 online bidders.
PITTSFIELD, Mass. – A rare antique Chinese animated triple fusee bracket clock roared past its pre-sale estimate of $500,000-$750,000 to sell for $1.27 million at Fontaine's Auction Gallery's cataloged antique and clock auction held May 21st in the firm's Pittsfield showroom. It was the top lot in a sale that grossed $2.5 million, drew 150 people to the room and had over 4,300 registered online bidders.
The clock, which was running and striking, with all animated mechanisms working, was both beautiful and functional. Standing 36 ½ inches tall, the large gilt bronze case had extravagant filigree mounts throughout, with mythical heads above the corners, seashell handles and jeweled floral mounts. A 6 ½ inch porcelain dial featured black Roman hour numbers, fancy pierced brass hands and sweep seconds.
The animation made the clock irresistible. On the hour, the clock activated an animated mechanism of swimming ducks. Spinning glass rods simulated a waterfall in the open frieze panel, and a cylindrical cluster of spinning glass rods formed a fountain in the top of the case. A large spinning pinwheel was surrounded by 10 smaller pinwheels, and a jeweled teardrop finial rotated clockwise at the top.
The winning bidder was a buyer in the room who had traveled some distance to the sale, but asked not to be identified. The 4,300-plus qualified registered online bidders broke down as follows: 2,694 on Invaluable.com, 887 on LiveAuctioneers.com, 563 on Auctionzip.com and 162 on eBay. Some people were able to bid live through Fontaine's website, at www.FontainesAuction.com, for the first time ever.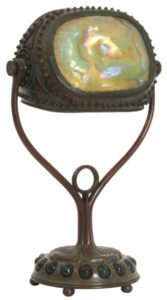 The 500-lot auction featured not just a superb clock collection, but watches, music boxes, lamps (by Tiffany, Duffner & Kimberly, Unique, Bigelow & Kennard, Suess, Handel and others), paintings, bronzes and marble statuary, art glass, fine estate jewelry, fine silver, porcelain, Royal Vienna, Lalique, sterling and gold items, bird boxes, automatons and exceptional period furniture by makers such as J. H. Belter, J. &. J.W. Meeks, R. J. Horner, Herter Brothers, Mitchell & Rammelsberg and John Jeliff.
Following are additional highlights from the auction. All prices quoted include a 21 percent buyer's premium. In addition to live and internet bidding, telephone and absentee bids were also accepted.
A Tiffany Studios Arrowroot table lamp with a 20-inch diameter conical shade having 16 large green three-panel arrowroot leaves and white opaque mottled glass flowers with translucent yellow centers, on a signed bronze library base, went for $48,400; and a Tiffany Studios Turtleback desk lamp on a fine bronze base with a leafy platform and art glass jewels around the edge, also signed, 14 inches high with a bronze shade and two large panels of yellow-gold iridescent turtleback glass, topped out at $12,705.
A French animated locomotive industrial clock with an excellent bronze case in the form of a steam locomotive on a black marble base with wheels that were animated by an independent spring driven movement, plus a thermometer and barometer, rose to $30,250. Also, a French industrial animated clock known as "The Bollard," with a fancy brass case in the form of a nautical bollard post wrapped with rope, also with a thermometer and barometer and a spring-driven mechanism, finished at $15,730.


A Symphinion Eroica #38B three-disc musical hall clock, 110 inches tall, in a handsome mahogany case and featuring an eight-day spring-driven movement signed "Lenzkirch" and a complex three-disc music box contained in the throat of the case, brought $33,275; while a Regina 12-disc changer music box, Style 35, with an oak bow front case with leaded glass bowed door panel, shell and filigree carved crest and spring-driven mechanism that plays 15 ½ inch discs (plus 12 actual discs) fetched $21,780.
A one-year Biedermeier Laterndluhr wall regulator clock in a fine mahogany Laterndluhr-style case with striped inlays, in excellent condition with the original finish and boasting a 10-inch porcelain dial signed "Johann Schaden, in Wein," coasted to $29,040; while in the furniture category, a ten-piece figural carved oak dining room set attributed to R. J. Horner, consisting of a sideboard, server, china cabinet, two armchairs, four side chairs and a dining table, all refinished in white paint, made $24,200.
Fontaine's Auction Gallery's next big sale will be another cataloged antique and clock auction slated for Saturday, September 10th, also in the firm's gallery located at 1485 West Housatonic Street in Pittsfield, Mass. Already consigned for sale is an outstanding Handel Poppy lamp with a beautiful 18-inch shade.
Fontaine's Auction Gallery is the oldest operating auction gallery in Western Massachusetts. It has earned the trust of collectors, investors and gallery owners worldwide. All cataloged lots receive nationwide exposure to the firm's database of more than 20,000 select buyers. Seven times Fontaine's Auction Gallery has been voted "Best Antique Auction Gallery" by the public.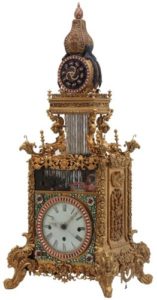 Fontaine's Auction Gallery is actively seeking quality items, to include furniture, lighting, clocks and watches, paintings, porcelains, bronze and marble statuary, Asian items, art glass and cameo glass, Russian objects, silver, musical, coin-op, advertising, toys, banks, gaming and carousel items for future sales. Consignments are currently being accepted for all the upcoming auctions.
The firm will buy outright or accept on consignment fine antiques, collections or entire estates. Call (413) 448-8922 and ask to speak with John Fontaine, or you can send Mr. Fontaine an e-mail to info@fontainesauction.com. For more information about the company and the upcoming Saturday, September 10th auction, please visit www.FontainesAuction.com. Updates are posted frequently.
Fontaine's May 21 Auction Sees Record Results for Rare Antique Chinese Animated Clock