Rocking On: Fan Club Collectibles Through The Years
by Jessica Kosinski
In this month's issue, it's time to turn back the clock and look at how rock & roll fan club collectibles have changed throughout the years. So, here are some examples of how popular rock & roll artists and groups have been immortalized through collectibles.
Early Rock & Roll Collectibles
Bobby Darin was one of the most popular artists in the early days of Rock and Roll. Teenagers went crazy over him, and everyone wanted to be a member of his fan club, which was started in 1959. Barbara Arrow was the president of the club at that time. Fan club members received their own membership cards, as well as autographed postcards or photos of him. Barbara and Bobby would sit down together, and he would sign exclusive fan club photos, which she would mail out.
Other early artists, like Bo Diddley, had similar fan clubs, which allowed fans to feel connected to their favorite artists. The membership cards and club items often changed from one year to the next, which means that membership cards and items from certain specific years for a given artist might be more collectible than others, based on how many of them survived and how unusual they were at the time.
You can find all sorts of objects today that depict early rock & roll artists. Some of them include cookie jars, t-shirts, and even lamps, but few of those existed in those early days. Although, some early fan clubs did give out bonuses like pinback buttons with the artist's picture on them. So, it's really the early autographed photos and club membership cards that tend to be the most collectible today. Although, early fan club newsletters and advertisements can also be quite interesting to serious collectors.
How Marketing Changed with the Changing Times
By the 1960s, rock & roll artists weren't just pictures on post cards or voices on the radio. Television was so popular that band marketing processes had to change with the changing times. Band managers started to try to get their band pictured on any object possible, including lunchboxes and t-shirts. That's when some bands, such as the Beatles, really turned into major phenomenons. However, the most famous example of the 1960s band marketing boom here in the United States when the Monkees came onto the scene in 1965.
The Monkees were four guys that were turned into a manufactured band. Auditions were held for four guys that were going to be on a TV show together that revolved around the adventures of a struggling band. But, as the TV show progressed, the struggle became real. They started making their own music and doing concert tours, and they quickly cemented their reputations as rock & roll and pop culture icons.

The interesting thing about the Monkees is that they were meant to be marketed from day one. That means that there were a wide variety of Monkees collectibles on the market right from the start. Like earlier bands, there were of course the signed photographs, buttons, and albums to collect. However, there were also magazines, trading cards, and even novels based on the band and their TV show.
That said, serious Monkees fans mainly wanted to have the exclusive fan club merchandise, which often arrived in "kit" or "packet" form. For instance, the 1966/1967 kit included brief one-page biographies of each of the four band members, a letter welcoming the fan to the club, exclusive photographs, and a copy of the "Monkee News" newsletter. Those types of exclusive items were what made most band fan clubs of the time so popular, not just the Monkees fan club.
Of course, the number of Monkees collectibles out there has grown over the years, especially since the band has held several reunion tours. Lunchboxes and miniature replicas of the Monkee Mobile car from the TV show are just a couple of the collectibles that have been produced through the years. Itís also worth noting that one of the band's most popular members, Davy Jones, passed away in 2012, making a lot of early Monkees memorabilia much more valuable to collectors.
The Kings of Rock & Roll Collectibles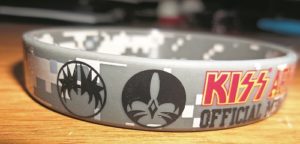 Few bands can compare with the level of marketing and number of collectibles associated with the Monkees, but one that blows them out of the water is KISS. KISS was formed in 1973, and the band is still performing to this day. In the more than forty years that they have been together, their band has become a household name, and their faces can be seen on thousands of products. Even in the early days they had their own action figures, posters, and more. They even marketed to younger kids early on with KISS View-Master reels, shoelaces, and bed sheets.
Today you can find anything from KISS coffee cups to life sized cardboard cutouts of the band members. There are KISS masks, key chains, clothing, backpacks, comic books, and the list goes on, just like the band itself. They have even been depicted in popular cartoons, like one of the Scooby Doo movies. That makes them the kings of rock & roll marketing and collectibles. But if you're a true fan then you will want to look for the exclusives that were only offered by the KISS fan club over the years. The KISS fan club is known as the KISS Army. Radio show host Rich Dickerson is said to be the one who got the fan club started back in 1975 by suggesting it on his radio show. Order forms for joining the KISS Army were first seen when they were included with the band's Destroyer album, which was released in 1976.
In 1978 the KISS Army recruitment form was modeled after a recruitment technique of the actual United States Army. It advertised all of the benefits of joining the club for only $5 a year. Some of those benefits included receiving the official newsletter on a quarterly basis, a KISS Army membership card, band member biographies, an iron-on clothes patch, and a poster of the band, among other things.
Annual fees and benefits have changed over the years, and some KISS fan club exclusives are worth more than others. Even some of the recruitment forms themselves can be quite collectible to die hard fans, especially those who weren't old enough to have joined at the time that the advertisements came out and want to feel like they were a part of the KISS phenomenon from the beginning.
How to Find Rock & Roll Fan Club Collectibles
Finding rock & roll collectibles has never been easier thanks to the Internet, but online shopping also makes it harder in a way. That's because you have to really know your stuff in order to buy items successfully online, especially when it comes to finding authentic autographed merchandise without getting scammed. Another option is to check local flea markets, antiques shops, and specialty music stores. Many of them will have very interesting items, often at reasonable prices. The advantage of shopping at any of those is that you will be able to inspect the items in person before you buy them. In either case, you'll definitely be able to find collectibles from your favorite band that fit your budget.
Antiques Peek: May 2016