This three-day auction included over 2,100 carefully curated lots, including many extraordinary highlights and rarities from the Jack Herbert collection of antique vehicles.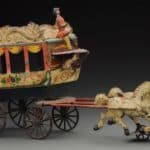 Denver, Pennsylvania, July 11, 2016 – It was a race to the finish at Morphy's recent Premier Antique Toy, Doll, Marble, and Figural Cast Iron sale!  This three-day event, held on June 24th-26th, featured world-class selections of dolls, Steiff animals, marbles, lunch boxes, banks, games, and toys – many from fine collections from across the United States.  However, ships, cars, airplanes, trains, omnibuses, and other wheeled playthings from Antique Toy World contributor Jack Herbert's collection truly got enthusiasts' engines revving!  Until quite recently, this breathtaking assembly was showcased in his tiny Greenwich Village, NY home – itself a carefully curated museum.  Here are some fifth-gear highlights from the Herbert collection sale. All prices reported include Morphy's 22% buyer's premium.
Boats and other floating vehicles really made a splash at this auction.  Let's launch with lot #241, a Marklin 1st series battleship "Connecticut."  This well made, lifelike, and detailed early 20th century clockwork battleship realized $18,300.  Lot #270, a circa 1895 paper on wood lithographed "City of New York" oceanliner by Bliss in extraordinary original condition ruled the waves at $6,100.  And front and center were two outstanding side wheelers – lot #257, an early, all original American tin clockwork "Golden Gate" example and lot #258, a Francis, Field & Francis version from the 1850-1860's era in remarkable, all original condition.  They paddled their way to $14,030 and $37,820 respectively.
Vintage land vehicles were the wheel-deal here.  Lot #79, a very rare English biscuit steam driven tin lorry advertising "J. Lyons Chocolates & Toffee" and featuring its original lithographed driver earned its just deserts at $5,490.  Lot #84, a rare 1929 English tin litho double decker wind up bus advertising "Huntley & Palmer Breakfast Biscuits" started the day off right to realize $4,880.  And lot #259, a Francis, Field & Francis omnibus decorated with amazing painting and stencil work, and detailed with ornate coachman's seat supports, rear stair entry supports, and roof cresting, was the grand marshal in this parade of Herbert highlights.  It more than quadrupled its low estimate to realize $68,320!
It's off to the races with this sale's fine selection of cars and automobiles from the Herbert collection.   Lot #41, a rare blue tin Japanese 1962 Chrysler Imperial was a royal crowd favorite and realized $5,795.  Lot #141, an unusually large c. 1900 fly wheel French Open Landau Automobile with its original tufted red satin seats, head and side lamps, and fly-wheel, propelled itself to $18,300.   And lot #138, an impressively sized, early French race car in wonderful condition featuring its original papier mache goggled driver sitting upon its leather seats, generated the need for speed among bidders.  This absolute rarity more than doubled its high estimate to realize $30,500.
Several fine planes and trains – including one from Spain – round out this review of highlights from the Jack Herbert sale at Morphy's.  Lot #107, a c. 1930 Spanish tin litho Rico wind-up amphibian aircraft with four propellers took flight at $5,490.  Lot #55, a scarce pre-war Japanese Masudaya tin military wind up airplane with nice camouflage colors really stood out at $11, 590 – nearly eight times its low estimate!  And for those in training, lot #128, an exceptional early late 1800's hand painted French clockwork train and lot #252, an extraordinary, large, colorful Althof Bergmann tin freight train without issues, should keep things on track.  These railroad rarities realized $18,300 and $9,150 respectively.
According to Dan Morphy, President of Morphy Auctions, "It was an absolute delight, as well as a pleasure and an honor, to offer selections from Jack Herbert's world-famous collection of toy transportation vehicles to our customers worldwide.  Many of these items were featured in go-to reference books and publications, including Antique Toy World, so customers can be assured they are best-in-class.  It was especially meaningful to have members of the Herbert family as special guests at this event.  The toys themselves were works of art; the Francis, Field & Francis Omnibus and Side Wheeler had many collectors speechless with their beauty and rarity."
For more information on Morphy's, please visit www.MorphyAuctions.com.