This two-day auction includes almost 1,300 lots of extraordinary vintage toys and childhood ephemera, with museum-quality selections across all the most popular collecting categories.
 Denver, Pennsylvania, September 5, 2016 – Morphy Auctions, the finest auction destination for fresh to the market collections, is pleased to announce this million-dollar Toy, Doll, Marble, and Figural Cast Iron sale to be held on Friday, September 23rd and Saturday, September 24th.  The bidding starts promptly at 9:00 AM each day. All lots from this event are on display in Morphy's Denver auction gallery and available for preview now.
This sale's offering of over 250 fine European and American dolls should put buyers in a most playful mood.  The event's roster of brands on offer – including Jumeau, Bru, Steiner, Kestner, Kammer & Reinhardt, and many others – reads like a "who's who" in the antique doll world.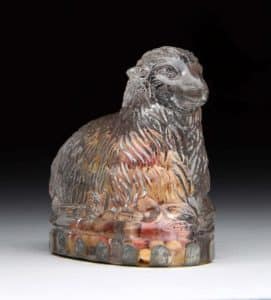 Lot #32A, a rare William and Mary wooden doll, is royalty in its own right.  This 17th century doll featuring sculptured facial details and an incredible presentation was purchased at Sotheby`s sale four decades ago for £50,000.  It is estimated at $15,000-25,000.  It's elementary with lot #13, a magnificent, early, and unmarked French mystery Bebe.  She features a unique composition and wood French body, straight wrists, and integral ball joints. This beauty in blue is estimated at $10,000-20,000 and was possibly made by Hallopeau – but only she knows for sure!  Doll collectors who favor very unusual examples need to sneak a peek at lot #146, a fully articulated wooden "smuggling" doll from the mid-19th century.  This doll features an open wooden panel at the back of its torso which would allow various items to be concealed and smuggled across a border.  It is estimated at $10,000-20,000.  Lot #16, a large dancing French fashion automata holding a lorgnette, will have the bidding audience on their feet.  Her mechanism enables her to waltz about the parlor floor, raise her left hand to her face, and turn her head in search of her dancing partner.  She is estimated at $8,000-12,000.  And collectors will certainly long for lot #71, a Kammer & Reinhardt "Elise" German character child with a distinctly wistful appearance.  She is estimated at $6,500-9,500.
Candy container collectors will have a hard time containing themselves over this sale's offering of more than 400 of these sweet treats.  It's a Sunday drive with lot #807, a Stutz Bearcat glass candy container with its original closure and paint, estimated at $10,000-15,000.  Things are cool with lot #899, a glass refrigerator candy container with its original tin closure and candy, estimated at $3,000-6,000.  Lot #806, a Boob McNutt glass example in excellent condition with its original closure would make his creator Rube Goldberg smile with its $3,000-5,000 estimate.  Lot #977, a Swedish lamb candy container with its original scalloped closure and candy, is estimated at $3,000-5,000.  And there's no place like home with lot #898, a Dolly's bath candy container, and lot #707, a Flossie Fisher bed candy container.  They are estimated at $3,000-5,000 and $2,000-3,000 respectively.


This sale's selections of American and European tin litho toys are certain to be heavy metal favorites with collectors.  Early Disney themed favorites include lot #414, a wind up, pre-war English Disney Mickey Mouse Krazy Kar by Wells, which is estimated at $10,000-15,000, and lot #413, a wind up Disney English Minnie Mouse pram toy, estimated at $3,000-6,000.  Both are extremely rare; the Krazy Kar is one of only two known examples.  It's easy to get carried away over Lot #480, a German Lehman Man-da-rin toy in excellent condition with its original box.  It is estimated at $4,000-8,000.  And it's off to the races with lot #416, a German Nifty Barney Google and Spark Plug toy on wheels with its original box.  This absolute rarity, estimated at $6,000-9,000. is one of possibly only two boxed examples known; Morphy's sold the other in May, 2015.
Toys from Japanese manufacturers are another important category in this sale.  Lot #455, a pre-Transformers Takara Diaclone Lancia Stratos in near mint condition will get collector's engines revving. This vehicle, considered the most sought after Diaclone toy by those in the know, is estimated at $6,000-9,000.  And two Bullmark Mekanda robots hit the bull's eye for their rarity and presentation.  They include lot #446, an original and complete Bullmark Mekanda Robo Technical Gassan from 1977 and lot #469, a top quality Bullmark Mekanda Robo Jumbo Machinder standing over two feet tall.   They are estimated at $7,000-10,000 and $6,000-9,000, respectively.
Morphy's is known all over the world for its iron-clad leadership in antique doorstops and mechanical banks, and it's easy to understand with highlights like these.  Lot #1160, an extremely rare cast iron "Chicken Snatcher" doorstop, features a whimsical depiction of a black man sneaking away with a chicken under his coat.  This great cross collectible of Black Americana and Black memorabilia is estimated at $1,500-2,000.   Lot #1253, a fine, original example of the highly sought after "The Initiating Bank 1st Degree" mechanical bank featuring a figure, frog, and goat, is estimated at $4,000-8,000.  And it's a home run with lot # 1260, a Dark Town Battery Baseball mechanical bank with its exceedingly rare original wooden box.  This truly beautiful bank, manufactured by J. & E. Stevens in Cromwell, CT and designed by James H. Bowen, is estimated at $12,000-18,000.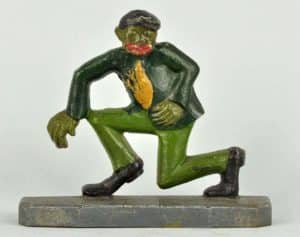 Character and space toys, marbles, trains, Steiff animals, and other vehicles – including lot #625, a rare pressed steel Viking construction dump truck estimated at $6,000-9,000 which was featured on the "Antiques Roadshow" program in May 2016 – round out this comprehensive two-day auction event.

According to Tommy Sage, Jr. Morphy Auctions' Head of Toy & Train Division, "This sale offers some amazing lots, with especially interesting selections in the tin litho, vehicle, and bank categories.  The Mickey Mouse Krazy Kar is crazy-good!"  Jay Lowe, Morphy Auctions' Head of Doll Division adds, "This exciting sale features many fine dolls from the collection of Vera Kramer, who ran the Dolls In Wonderland Museum in Brighton, England, and later in St. Augustine, Florida.  Many of her treasures, including her William and Mary wooden doll, are simply extraordinary.  Our offering of rare candy containers at this sale is also the finest in recent memory."
For more information go to www.MorphyAuctions.com.
Morphy Auctions' September Premier Toys, Dolls, Marbles, And Figural Cast Iron Sales Event, Sept. 23-24