A Celebration of Early American Iron
by Erik Goldstein, Curator of Mechanical Arts and Numismatics, Colonial Williamsburg Foundation
The upcoming exhibition From Forge and Furnace: A Celebration of Early American Iron opens November 24, 2016 at the Abby Aldrich Rockefeller Folk Art Museum, one of the Art Museums of Colonial Williamsburg. This hard, often black or gray, metal was used to make everything from stoves and hinges to andirons and weathervanes. As with most folk art, though, the makers of these utilitarian pieces chose to embellish their work to make them interesting and attractive although no more functional than if they left them unadorned. A stove could still heat a room whether it was a simple iron box or iron cast into a statue of George Washington. This exhibition highlights these decorative, yet useful, objects made in the eighteenth and nineteenth centuries. Iron mining and iron production were established in the colonies almost as soon as settlers arrived. By the American Revolution, Virginia had several furnaces providing the iron that was made into firebacks, stoveplates and a myriad of household items like ladles, toasters, trivets and tammels. Visit colonialwilliamsburg.com for more information.
From Forge and Furnace: A Celebration of Early American Iron is made possible through major support from Bonnie and Ken Shockey (the Paul K. and Anna E. Shockey Family Foundation). Additional support was provided by Virginia J. Repas in memory of her husband, Paul Repas.
Imagine a world without cars, tall buildings, cell phones and most everything else we use in our daily lives. None of these things could exist without number 26 on the Periodic Table of Elements: iron. In fact, the discovery and implementation of this amazingly useful material more than 3000 years ago is recognized as one of the principle milestones in mankind's history. Today, someone who can eat almost anything is said to have a cast iron stomach while a strong agreement between folks is described as iron clad. Such additions to our lingo attest to the legendary properties and enduring indispensability of this metal.
The start of the American iron industry
Long before the first settlers disembarked at Jamestown, Englishmen setting out from Roanoke discovered iron ore in North Carolina in 1585. Once a foothold was established in Virginia in 1607, the search for the material continued and was met with success almost immediately. Not limited to just the middle Atlantic colonies, ore was also discovered in New England, where the first successful ironworks at Saugus, Massachusetts, named Hammersmith, was in full operation by the middle 1640s. These first American ventures into the industry produced goods ranging from construction materials and cookware to agricultural equipment.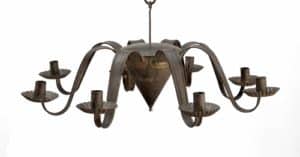 Throughout the 18th and into the 19th centuries, the iron industry continued to increase and innovate in step with technological advances. By the time we declared our independence from Great Britain, American iron production and manufacture had reached just about every corner of the former colonies. Iron transformed the United States from a nation of farmers to one of industrial production, and is one of the pillars of American success.
As iron has to be formed either glowing hot or molten, and there are clear distinctions between the methods used to create these pieces. Whether cast, wrought, or rolled into thin sheets and tin-plated, most of the objects produced were those found in the home, and centered around the essential elements of life; food, clothing, warmth and light. Many of these everyday tools for living were also works of art, and reflect their makers and user's unique tastes and influences.
Cast iron versus wrought iron
By its self-defining title, the name cast iron tells us that the "thing" was made by pouring molten iron into a mold, much like one would make a frozen popsicle or a chocolate candy. Although prone to breakage, cast iron was sought for its positive qualities; it is superior at retaining heat and is resistant to rust. Furthermore, it was relatively easy to make and matchless in the kitchen. Anyone who loves to cook can tell you how wonderful a well-seasoned cast iron skillet is when preparing dishes for any of the day's meals.
The earliest cast iron consumer goods and tools made in America were intended for the hearth. Large cooking pots were poured at Saugus during the third quarter of the 17th century, while other forms, were destined for the back of the fireplace. Since cast iron was the perfect material to protect the masonry at the rear of the firebox, heavy plates called firebacks were produced by furnaces throughout the thirteen colonies for said
purpose. Along with protecting the back of the fireplace, the fireback retained a large amount of heat and radiated it back into the room long after the fire had died down.
Iron objects as art
Generally large and rectangular-ish in shape, firebacks became the perfect canvas for the artistic early American foundryman. Large wooden patterns depicting everything from elements of nature to spiritual symbols and family crests were carved and then pressed directly into sand set in the foundry floor. Molten iron was then flowed into the open face of the mold in a process known as puddle casting. This seemingly simple process was extremely fluid, and allowed for casting designs to be limited only by the skill and imagination of the pattern maker or the demands of the customer.
Eighteenth-century American pieces being displayed in the upcoming exhibit From Forge and Furnace include a magnificent British Royal Arms fireback cast at Oxford, in Warren County, NJ. Carrying the date "1754", it is one of a number of similar pieces known bearing dates around this time. Amongst the finest firebacks made in pre-Revolutionary America, the pattern from which it was produced may have been carved by the famed Philadelphia firm of Bernard and Jugiez. Other early firebacks include a fanciful piece depicting a stag leaping under a blazing sun, cast in extraordinarily high relief.
Americans gradually switched from wood to coal for cooking and heating. The cast iron implements made to contain and exploit the heat of the home fire adapted as well to this new fuel. Firebacks gave way to free-standing stoves made of plates, as the flames moved from the hearth into the room itself, so that heat could be radiated from all sides of these box-shaped devices. Amongst the earliest types are jamb stoves and six-plate stoves, represented by a number of examples in the exhibit. These are embellished with uniquely American designs, including moralistic and whimsical vignettes, such as the Wedding Fable stove plate cast at Marlboro Furnace around 1768. Its central scene is set around a pair of man's breeches suspended from a tree above a group of ladies who are trying to "coax" the garment down. While the iconography originally related to colonial ideas
of domestic authority, it will surely suggest other notions to the modern museum goer!
Eventually, the flat-sided multiple-plate cast iron stoves led to the beloved pot-bellied versions which were in wide use well into the 20th century. With this progression of technology came the ability to cast towering forms like the George Washington-shaped radiator also highlighted in From Forge and Furnace. Imagine basking in the warmth of the "Father of Our Country," stoically dominating your parlor on a winter night around the time of the Civil War!
Improvement for stability and innovation
Cast iron has some serious drawbacks, the most serious being its brittleness and rigidity. Rather than bend or dent, it will crack and break when hit or dropped. True, all early American iron was at one point cast, refinements to the metal eliminated these flaws. In removing much of the carbon found in cast iron by additional foundry processes, wrought iron was produced. It is soft, corrosion resistant, easily welded, and can be worked, or "wrought," into any form desired by the hands of a skilled blacksmith. Shaped glowing hot from the forge with specialized dies and hammers, wrought iron can be stretched,
twisted, folded, curled and chiseled.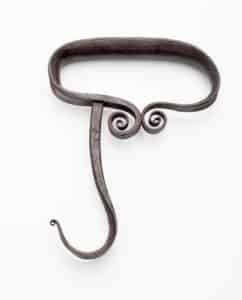 It could also be worked at room temperature with a variety of files, gravers and abrasives to achieve a higher level of finish and embellishment. For those tools which had to be resistant to wear or able to keep a sharp edge, steel, a high-carbon iron alloy, could be welded directly onto an iron base where needed. The versatile nature of wrought iron made it the ideal material from which to make tools of all sizes and shapes, ensuring that finished pieces could be ornamental and beautiful as well as functional.
Even the simplest utilitarian devices, like a handled hook used to lift a hot kettle or pot, could be wrought into an elegant form with scrolling terminals and flowing curves. Was it really necessary for some anonymous blacksmith to twist the bars of the toaster he was making, or to add delicate floral sprigs to it? Certainly not, but it sure made the piece attractive, and caused some interesting "shadows" to be toasted into its owner's bread.
Those who experience From Forge and Furnace will be struck by the amazing playfulness of the wrought wares the exhibit presents. Many pieces will be instantly recognizable to anyone who has ever been in a kitchen. Although once called a "turner," the wrought tool with a long handle and flat rectangular blade will be easily identifiable as the grandparent of today's spatula. Other pieces of household tools include such common forms as a garden claw, a large cooking fork, a ladle and a set of meat skewers. But not all of the antiques in the exhibit are as familiar as these. A few "whatzits," having long stumped Colonial Williamsburg curators, are included solely for their allure and intrigue.
Tin-plated Iron
Most often referred to simply as "tin," the lightest and brightest of the iron materials used in early America is also the most ephemeral, and precious little of it survives. In fact, "tin" isn't really tin at all; it's actually sheet iron coated with a microns-thin coating of tin, known in the period as "tinplate." The outer tin surface, in addition to being shiny and attractive, prevented the sheet iron below from rusting. Tinplate wares were easy to make, lightweight and inexpensive, and were commonplace in all levels of early American society.
Although in use in Europe for centuries, tinplate was very difficult to make, and was manufactured by relatively few expert craftsmen. By the middle part of the 18th century, crates of tinplate sheets arrived regularly in American ports, supplying countless tinsmiths with the material they needed to make their wares. Domestic tinplate products ranged from coffee and teapots to canisters, mugs, cookie cutters and lightweight cooking pots. Other forms were perforated or "punched," allowing liquid or light to flow through the piece. Amongst the most beautiful American tinwares are the pierced lanterns made from the eighteenth century throughout the period of this exhibit — and which are still popular today!
The iron tools created and used in early America made life in a world where all was handcrafted to be more efficient, comfortable, and beautiful. While they often had very hard lives, the artistic expressions wrought into these utilitarian forms enhanced the living spaces of those to whom they belonged. Today, many of these items are sought by collectors and decorators alike, and find their way to the walls of countless interior spaces across the country. Now retired from the purposes for which they were created, they still bring delight, either in a museum or as part of the warmth which transforms a house into a home.
About the Author
Erik J. Goldstein has been the curator of mechanical arts and numismatics at the Colonial Williamsburg Foundation since 2002. A student of military history and numismatics, he lectures widely and instructs a three-year syllabus on Colonial American coins, medals and paper money at the American Numismatic Association's annual Summer Seminar. He has written more than two dozen articles in both specialties and six books relating to antique weaponry and military history. Before entering the museum field, Erik worked as a professional numismatist and consultant. He has received numerous awards for his work and holds a BA in Fine Arts/Illustration from Parsons School of Design.
From Forge and Furnace