Some years have passed since Woody Auction conducted Part 1; Part 2 should be even better
DOUGLASS, Kan. Woody Auction has saved the very best for last with Part 2 of the lifetime collections of Dr. Harold and Audrey Eklund of Iowa, whose many fine antiques will be sold at public auction on Saturday, August 29th, in Woody Auction's new facility at 120 East 3rd Street in Douglass, located 35 miles southeast of Wichita and a half-block from the firm's main offices.
A number of years have passed since the first Eklund auction, and this time the vault has been opened up and the sterling and coin silver collection came spilling out, said Jason Woody of Woody Auction. This auction will include the largest selection of silver we ve ever auctioned, and it's all being sold to the highest bidder, without reserve. Collectors, mark your calendars.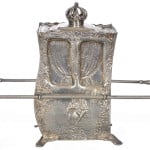 Additional featured items will include cast iron toys and banks, Victorian-era furniture, seven countertop display cabinets, Nippon and Pairpoint pieces, a Buster Brown collection, a Palmer Cox Brownies collection and more. In all, 411 lots will come up for bid. The auction will begin promptly at 9:30 a.m. Central time. A preview will be held on Friday, Aug. 28th, from 4-6 p.m.
British coin silver will feature a pair of figural handled spoons showing a full-figure Renaissance man and woman, with the maker s mark ( BM ), weighing over 6 total troy ounces; and a figural tea caddy in the shape of a royal carriage with maker's mark ( JS ) weighing 8-plus troy ounces.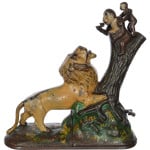 Silverplate will include a unique strawberry overshot art glass ice bowl with figural silverplate icicle rim depicting a young boy pulling a sled; and a Meriden #2700 silverplate double sided humidor, elaborately designed with a turkey, birds and a floral décor with Kate Greenaway girl.
One silver lot certain to attract attention is a collection of 15 marked ( Sterling ) Medallion pattern spoons and ladles, designed by John Wendt and marked Gorham with most of the spoons and ladles also marked Tiffany & Company. The cake knife is marked Crosby & Morse. Included in the group are six teaspoons, a specialty spoon and three demitasse spoons.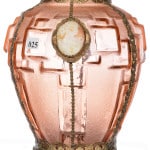 Fun lots will include a vintage cast iron Kyser & Rex mechanical lion and two monkeys bank, patented on July 17, 1883 and exhibiting very good paint; and one lot comprising over 300 colored stereo view cards, including rare hunting scene cards, children s cards and travel cards.
Victorian furniture will feature an elaborate étagère, 73 inches tall, with seven beveled mirrors and a spindle and ball design, housed in a solid cabinet; and a fine rosewood buffet, with carved columns of fruit with male bust highlights, nicely carved scroll work doors and upper shelves, and an upper bonnet piece showing a woman's head and fruit basket design, 98 inches in height.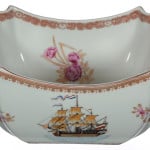 The seven countertop display cabinets will include two double steeple curved glass models, both with all-original glass and mirrors, original nickel fittings, a label that reads  Excelsior Showcase Works, glass shelves and swinging and folding rear entry doors; and a curved front model, with an upper flat front tier, original glass and Showcase Works.
Art glass pieces will feature a Consolidated vase, 10 ¼ inches tall, with pink coloring and cube design, an a gilt metal decorative overlay with a carved shell cameo medallion showing a portrait of a woman; and a fine pink cased satin Moiré mother-of-pearl art glass brides basket bowl with yellow interior and an enamel fern branch décor, all set on a Middletown #847 silverplate stand.
Other expected top lots include an antique Chinese Export porcelain bowl with a floral design and showing a highly
detailed ship patterned after Vryvurg under the command of Capt. Jacob Rysik, believed to be 1756 and with documentation; and a group of three Art Nouveau stylized advertising prints for the German Thermoid Rubber Company, all 7 inches by 5 inches (one of a man smoking comprised of four nudes, one of a woman drinking comprised of three nudes, etc.).
Internet bidding will be provided by LiveAuctioneers.com (bidders are encouraged to register a day or two ahead). Absentee bids will also be accepted. Absentee bids should be submitted with a written statement indicating the amount of the bid and all bids must be received no later than Thursday, Aug. 27. Bids may be faxed to (316) 746-2145, or e-mailed to info@woodyauction.com.
For more information go to: www.woodyauction.com
Woody Auction to Auction the Lifetime Collection of Dr. Harold & Audrey Eklund, August 29