The Evolution of Action Figures
by Jessica Kosinski
Action figures are everywhere today. They are popular toys for kids. Although, many adults enjoy them even more, often collecting action figures representing super heroes or movie characters. In fact, comic book and science fiction conventions are teeming with action figures that are now marketed to people of all ages. As a Star Wars memorabilia collector, I own many action figures myself. It is often difficult for me to believe, even as a seasoned and well-informed collector of them, that they were unheard of just a few short decades before my birth in 1980. It's equally hard to believe that they didn't originally start out covering multiple genres and attracting fans of all ages. The speedy evolution of action figures is so remarkable it is definitely worth taking a peek at.

The Original Action Figures
Although I am living proof that action figures appeal to both sexes today, it wasn't always that way. In fact, action figures were originally created as toys for boys in response to the Barbie dolls for girls craze that began in 1959. Barbie reigned supreme for four years. Then a man named Stan Weston finally came up with a male toy in response. He designed soldier dolls with various outfits and accessories. In 1963 he took his idea to a toy fair and sold it to the well-known toy company Hasbro. Hasbro wasted no time in releasing the first G.I. Joe, a 12-inch tall doll, the following year.
The Evolution of G.I. Joe
Four G.I Joe toys were originally made by Hasbro. Company executives quickly realized their popularity and wanted to make them unique in some way. The Hasbro executives came up with the remarkable move of not allowing any retailers who referred to their new toys as "dolls" to sell them. That is when "action figures" were officially born. The company quickly began branching off into making more action figures representing military branches in other countries. For a while it seemed like G.I. Joes would be the only action figures ever made, and like they would be popular forever.
The Impact of Real World Issues on G.I. Joe
In the 1960s the Vietnam War threatened to put a permanent end to Hasbro's G.I. Joe line. Anti-war sentiments killed the demand for the toys so much that production was stopped. But Hasbro saw an opportunity to bring their old mainstay back in a new way in the 1970s. They gave their G.I. Joes drastic makeovers. Suddenly they were less realistic and geared more toward adventure and excitement than military pursuits. But that line failed by 1978.
Hasbro Executives chose to bide their time before re-launching the line, but they didn't have to wait long. By the 1980s they sensed that the public might be open to military action figures again, and another trend was also booming, the cartoon. By giving G.I. Joe its own cartoon series and creating the COBRA line of enemies, Hasbro cemented G.I. Joe as part of pop culture forever. However, G.I. Joes were not the only popular action figures on the scene by that time.
Star Wars Sweeps Onto the Action Figure Scene
In 1977 Star Wars burst onto movie theater screens and the world has never been the same since, especially for avid collectors like me. In response to the hype surrounding Star Wars, another big name toy company, Kenner, produced four original Star Wars action figures. But by that time an oil shortage and other issues had impacted the way in which action figures were made. Thus, 3.75 to 6-inch action figures were born. In its original run Kenner produced a Princess Leia, Luke Skywalker, R2-D2 and Chewbacca. And that is arguably when action figure collecting took on one of its most frustrating but potentially rewarding aspects. Kenner produced those figures with slight variations. Rarer versions, such as Chewbacca holding a green bowcaster instead of a black, are now highly sought after. By the release of the second SW film, The Empire Strikes Back, other Star Wars action figures were being produced, including the famed Boba Fett with his offending backpack that was redesigned for safety reasons.
The Birth of the Widespread Action Figure Craze
Companies like Kenner and Hasbro had realized the versatility of action figures by the late 1970s and early 1980s. Soon figures were being produced to coincide with popular films, such as Alien. Television show characters, such as the Six Million Dollar Man, were also immortalized in action figure form. And action figure makers have never looked back. They now use almost every aspect of pop culture as fodder for their new toy designs. Thanks to the popularity of such toys you can now find action figures representing popular actors, cartoon characters, movie monsters, and even musicians. The possibilities are practically limitless, making action figure collecting fun for all ages.
The prices for action figures start low, but be prepared to pay a pretty penny for the rarest of the rare. For example, in the 1990s G.I. Joe came out with a "manimals" line. The funky figures were not very popular at the time, but because they are so rare one of them was valued at $20,000 in 2015. A far less extravagant but still pricy option is the $1,000 Scratch the Cat action figure. It was one of the last Teenage Mutant Ninja Turtles action figures to be produced in the original line.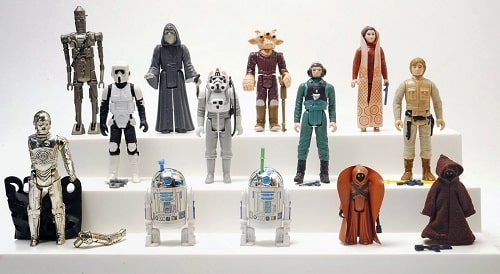 Jessica Kosinski has been a freelance writer specializing in writing short articles for 15 years. She is also an avid collector of both antique books and Star Wars memorabilia. Although she is not in the antiques industry professionally, she has learned a lot about antiques over the years by periodically helping out at her mom's antiques shop in Greenville, NH. She currently balances maintaining the antiques shop's Facebook page, www.facebook.com/MallofNE, and working on various freelance writing assignments. She can be reached at dementorskiss77@yahoo.com.
Antiques Peek: June 2018