by Jessica Kosinski
There are certain toys that are timeless classics. From Cabbage Patch dolls to Lincoln Logs and Legos to Play-Doh, it seems like many childhood favorites have stood the test of time across many generations. Among those timeless and treasured toys are Breyer horses. Breyer horses are model horses produced by the Breyer company. They are treasured by children, and even many adults, for their realistic appearances. Let's take a peek at the history of the Breyer company and its fantastic toy horses.
The History of Breyer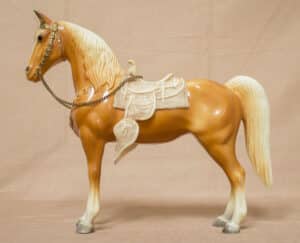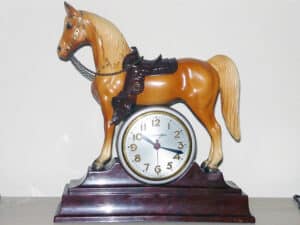 At the beginning, Breyer Molding Company in Chicago, Illinois, manufactured custom-molded plastic products for various industries, including the US Defense Department.
The collecting of Breyer horses can be traced back to the days when the company was known as Breyer Molding Company in 1950 when the Chicago-based company received a special order to create a model horse for Woolworth's. That horse was given the name "#57 Western Horse" when it was produced. The mold was sculpted by Chris Hess, adapted from Hartland's Large Champ, which was sculpted by Roger Williams. Interestingly, it was never intended to be a toy horse. Instead, it was meant to be an augmentation to a mantle clock. Soon after the special clock featuring the Breyer horse was released, Breyer started receiving a flood of requests for model horses.
A Change of Production Focus
As a direct result of the success of the Woolworth's clock horse, the company formed "Breyer Animal Creations" and began producing an ever-increasing number of model horses. Each of them was developed by skilled artists including Chris Hess, Kathleen Moody, Gordon Johnson, Paul Olson, Sommer Prosser, and a favorite of many collectors, Maureen Love.
These designers also worked for other companies including Hagen-Renaker and Stone Horses, and created their own one-of-a-kind sculptures as recognized artists. Breyer's status as a powerhouse in the model horse industry brought attention to their work, and it shows no sign of slowing down as people's fascination with the art and artistry of the horse continues to thrive.
The Transition of Breyer Horse Manufacturing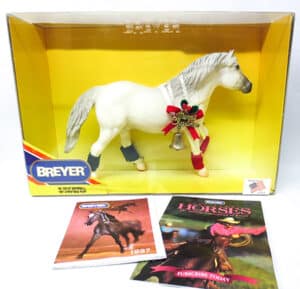 In the early days, Breyer sold its wares directly to stores. However, the sales model changed over time, as did ownership of the company and the manufacturing location for the horses. In the early days, Breyer horses were made in the Chicago, USA area. In 1984 Reeves International Inc. purchased the company, which increased the breadth of product offerings and brought about innovative marketing and sales efforts.
Today, most new Breyer horses are made in China and sold strictly through Breyer's website and specific distributors. Each and every horse created under the Breyer brand is meticulously hand-painted, just as they were when Breyer first began in 1950. There are no direct sales from Breyer to stores like the five and dime and general stores of days gone by.
American-Made Animals Have More Value
When collecting Breyer horses and other animals, the American-made ones generally have more value, but not specifically because they are American. Rather, they are the oldest, and therefore they are often the most difficult to find. Additionally, the earlier Breyer artists like Chris Hess and Maureen Love did such excellent work that their models are often most prized by collectors.
Rare Breyers, Including BreyerFest Models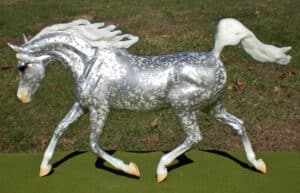 Part of the marketing innovation included the star event BreyerFest, held every year. During the festival, Breyer horses of all types are on display in an ever-growing list of equestrian categories from "shows" to best displays showing everything from barrel racing to hunter-jumper events. The biggest attraction each year is the one-of-a-kind (OOAK) Breyer horse models displayed for each festival. They are typically auctioned to benefit various charity organizations. Since those models are produced exclusively for the annual festival, they are highly coveted. Certain other Breyer horses were produced in large batches but only for short periods, making them something to buy right when they are issued and then hold on to them. Short-run horses are hard to find, so they can be expensive when compared to horses that were produced in larger amounts. These are highly coveted by collectors. It is all about color, and paint used on these models. Realistic colored horses tend to stay at a steady price, but fantasy colors typically rise in value.
Breyer Horse Packaging and Value
When collecting many items, packaging matters. Sealed packages in pristine condition can often drive prices up. However, that is not typically the case with Breyer horses. Horses packaged before the year 2000 often had packaging flaws that could create damage to the horses when new and when stored over time. Therefore, horses that have been out of their packages and displayed on shelves are often in better condition.
Other Condition Notes When Collecting Breyers
When collecting Breyer horses, it is always important to inspect the conditions of the horses carefully. First, look for obvious damage. Common problems include missing or damaged ears or tails. Yellowing or seams that are split also indicate a horse that does not have a high monetary value, unless it is a rare horse. However, manufacturing defects are an entirely different matter and can make the horse rare and unusual, as well as valued higher than their standard equivalents.
For instance, a Breyer horse that was not cooled properly during manufacturing could have bent legs. A straight-legged version of the same mass-produced horse would be very inexpensive, but the bent-legged version have a much higher price tag.
---
Jessica Kosinski has been a freelance writer specializing in writing short articles for 15 years. She is also an avid collector of both antique books and Star Wars memorabilia. Although she is not in the antiques industry professionally, she has learned a lot about antiques over the years by periodically helping out at her mom's antiques shop in Greenville, NH. She currently balances maintaining the antiques shop's Facebook page, www.facebook.com/MallofNE, and working on various freelance writing assignments. She can be reached at dementorskiss77@yahoo.com.