by Maxine Carter Lome, Publisher
From 1896 when James Wright Beswick and his sons John and Gilbert first established their earthenware pottery business, "J. W. Beswick," at the Gold Street works in Longton, England, until the early 1970s, when it became part of Royal Doulton, Beswick (pronounced BESS-ick – Beswick is a surname in the North West of England and the letter W is not pronounced) produced a vast assortment of affordable, decorative pottery. Although cheap and cheerful table and ornamental wares were its stock-in-trade for decades, the Company is perhaps best known by collectors for its porcelain animal figurines, and in particular, for its stable of Beswick horses. Critics of the time described their models, known for their detail and realism, "to be of a higher quality than those of their precursors."
The Beswicks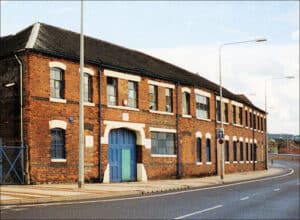 James Wright Beswick began earthenware manufacture in about 1890 at the Albion works, Longton, moving to the Britannia Pottery, High St, Longton in 1892, and finally, in 1896, with his sons John and Gilbert to the Gold Street works, Longton, now firmly associated with the Beswick name. In 1918, Beswick purchased the neighboring Warwick China works in Chadwick St, Longton, allowing the company to now manufacture bone chinaware and fancy items in addition to its extensive line of domestic earthenware.
When James died in May 1920, the business fell to his eldest son John to manage, with his brother Gilbert in charge of sales. During this period until his death in 1934 after a prolonged illness, the Beswick factory under John Beswick produced, in the Staffordshire traditional form, a combination of tableware, decorative porcelain, majolica, and a range of figures and animals such as generals, milkmaids, mantle dogs, cattle and horses.
It was his son, John Ewart Beswick, who then assumed control of the company in 1934. John Ewart, along with his Uncle Gilbert as Sales Director, looked to change the direction of the company as a way to compete with the mass-produced pottery coming from China at that time. It was what they did next that all these years later continues to define and value the Beswick brand.
In the year of his father's death, John Ewart introduced a line of high fired bone china figurines in the forms of famous horses and champion dogs. These high-quality reproduction forms proved popular with collectors, and in 1936 the company incorporated as John Beswick Ltd. for the production of a new product line of high quality, collectible animal figurines.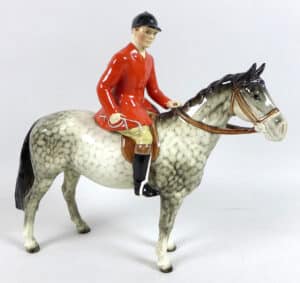 The popularity of these animal figures led the company to hire 32-year old Arthur Gredington as the company's first full-time modeler in 1939. It was this team of John Ewart Beswick, Uncle Gilbert Beswick, and Arthur Gredington that created the Beswick golden age, which lasted until the 1990s, long after all three had left the Company.
This included expanding the Company's line of animal figurines, introducing the Beswick stable of horses, and creating collectible figurines based on beloved storybook and Disney characters.
With no heirs, John Ewart Beswick and Gilbert Beswick sold their shares in the publicly-traded company to Doulton & Co. Ltd, a year after Arthur Gredington retired in 1968.
Doulton & Co. continued to produce the Company's popular and collectible animal figurines under the Beswick maker's mark, although the range was reduced and only a few new models entered production. In 1989, the Beswick mark was dropped in favor of the Royal Doulton Royal Albert DA backstamp. This is a helpful clue to quickly dating a Beswick object.
Royal Doulton ceased production of all Beswick products at the end of 2002, and in 2003 the Gold Street works were sold off to property developers, followed by the Beswick name and product design rights in 2004. Today, the John Beswick name is owned by Dartington Crystal, which continues to produce animal figurines; they also produce vases and giftware under the John Beswick name. The Snowman and the Snowdog figures are just some of the nursery figures still being produced.
Arthur Gredington, Master Modeler
Arthur Gredington's highly-stylized designs, realism, and modeling skills helped define Beswick's golden age, which is what makes Gredington Era figurines so desirable among collectors.
Arthur Gredington joined the company in 1939, having just finished studying at the Royal College for three years after winning a national scholarship to attend. He possessed superb drawing skills and a special affinity for animal subjects, able to capture the spirit and nature of an animal in a quick sketch and translate that into pottery. That skillset fit in perfectly with John and Gilbert's plans to expand the Company's line of animal figurines.
Although Gredington can be credited with creating hundreds of different models of animals across the animal kingdom—from dogs and cats to birds and farm animals—it is perhaps because of his Beswick horses that both he and the Company are best known and valued. Of the 400-odd animal models produced by Gredington during his tenure until his retirement, about 190 were equestrian models.
The Beswick horse has the longest production period in the Company's stable of animal figurines, the vast majority modeled by Gredington. The Company's first realistic horse model was of Derby winner, Bois Rousse, modeled by Arthur Gredington. The Company was then off to the races! From 1939 to 1989, Beswick produced 150 different horses, including Arthur Gredington's range of 190 Rearing Horsemen, which is one of the largest collections (and most popular amongst collectors) ever produced by the Company. You can read more about the 190 Rearing Horsemen here: www.antiques-info.co.uk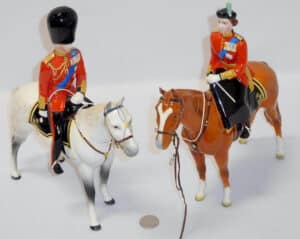 Although Gredington's horses are coveted by collectors, his reproductions of champion stock were particularly admired and collected in the farming community. Realism and accuracy were key to their appeal: as the desirable characteristics of Hereford cattle changed over time so did Gredington's models of the breed. Some were in production for many years. Lesser-known breeds, such as a Galloway (right), had shorter runs and consequently rank high on the most-wanted list.
In 1947, John Ewart's wife Lucy suggested bringing to life the illustrations in the Beatrix Potter books. The following year, John had secured the right to reproduce a range of 10 Beatrix Potter earthenware characters, the first of which was Jemima Puddle-Duck, designed by Gredington. From this base, Beswick began producing a vast array of other cartoon and storybook figures and character animals, and in 1952 began manufacturing a range of Disney characters, including Snow White, Mickey Mouse, and Bambi.
When Gredington retired in 1968, Albert Hallan, who started work at Beswick at the age of 14 as an apprentice mold maker under Gredington, assumed the position of chief modeler. Hallan was the firm's leading modeler and mold maker in the 1950s. Graham Tongue then took on the role and introduced even more Beswick horse models, continuing to do so even after Royal Doulton assumed control of the Company in 1969. His "Spirited Horses" collection is extremely collectible today.
Categorizing and Valuing Beswick Animals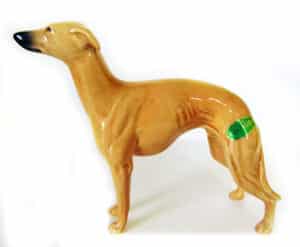 Beswick animals are traditionally divided into a half dozen categories: Birds (covering a wide range from comic models to wall plaques to the precise realism of the Peter Scott Wildfowl collection); Cats and Dogs (many of the champion breeds modeled by Gredington were in production for four decades); Farm Animals (the most popular collecting area); Fish (sophisticated models that have proved vulnerable to damage); Horses (there are over 150 different models and many color variations from rocking horse grey to Palamino), and Wild Animals (a vast range from the comical to the naturalistic).
The market really opened up to enthusiasts after Royal Dalton provided access to the Company's archival records, yielding several pattern books and price lists going back to 1960. This led to the publication of the first price guide, the 1987 Beswick Collectors Handbook by Harvey May. This was the first time a complete list of all the Beswick figures, birds, and animals appeared in print. Many more would follow with information regarding decoration, modeling, and backstamp variations – and the quiet realization that these elements held the keys to rarity and desirability. Editions of this price guide and others can be found online at most bookstores.
Beswick animal figurines are mostly affordable (typically $50-$350) and can be readily found at online auction sites such as etsy.com, eBay.com, and antiques-atlas.com, making them a fun and popular collectible. Rarer items tend to show up at specialty auctions and through invaluable.com, but can cost thousands of dollars or more, such as Huntsman, model 1501. Animal figurines can also be purchased directly through numerous online shops, many in the UK, although here it's Buyer Beware!
Beswick Branding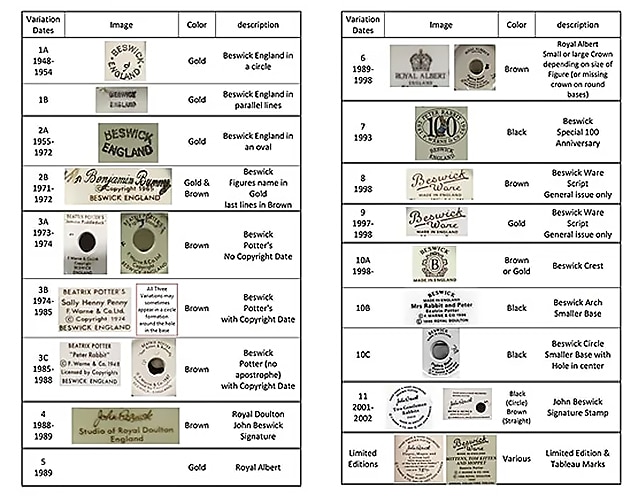 Collectors of porcelain figurines will be familiar with the wide range of stamps as used by manufacturers to mark their work. Sometimes referred to as backstamps, these marks are generally found on the underside of the figurine and will always include the identity of the manufacturer at the very least.
John E. Beswick implemented this practice at his Beswick factory shortly after taking over. He created a range of marks or stamps that are found on Beswick pieces, and introduced a "shape book" and a systematic numbering catalog recording the impressed mark and backstamp on a range of Beswick figurines during its pre-Royal Doulton years. This is a great roadmap for collectors looking to identify their items and determine value; however, many Beswick figurines have no branding marks at all, as the Company was well-known for having unfinished pieces walk out its back door.
The earlier Beswick stamps, dating from just after the First World War, take the form of a simple circle or oval shape formed by way of the words "Beswick England," imprinted in green. By 1936, the circular or oval condition had disappeared altogether, and the stamp had changed into "Beswick Ware Made within England" in beautiful flowing script. In each case, the mark or stamp appeared on the underside of that piece.
In 1954, Beswick introduced an impressed mark with serial numbers. "BESWICK ENGLAND" appears in block capital letters in a semi-circle with the serial number set below it.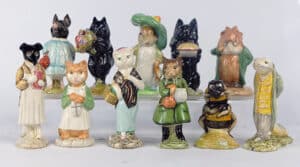 In the late 1960s, the Beswick pottery began producing the first of a series of special figurine collections, the most famous of which is the Beatrix Potter collection. This necessitated providing much greater information inside the stamp so, for example, you will see ©WALT DISNEY PROD BESWICK ENGLAND in the underside of the Winnie The Pooh series (1968 to 1990). Another good example would be the Alice in Wonderland series (1973 to 1983) on which the mark includes ALICE SERIES "Queen of Hearts" BESWICK England followed by a Royal Doulton copyright. Early Beatrix Potter stamps are similar to look at and include the F, Warne & Co Ltd. copyright laws notice. Some but not all are dated, as well.
Here are some helpful resources and additional reads for more information:
https://irwinblackbu1230.skyrock.com/3067263253-Collecting-Beswick-Horses.html
https://www.carters.com.au/index.cfm/index/9917-beswick-england-figurines-horses/
https://www.antiquestradegazette.com/guides/collecting-guides/beswick/