by Jessica Kosinski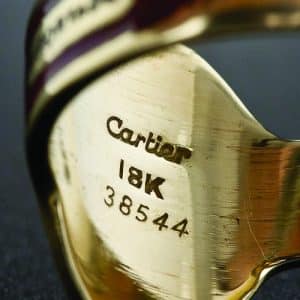 When you think of something that is signed, an ink signature might immediately come to mind. For example, it is common for authors to sign their books, or for celebrities to sign various pieces of memorabilia related to whatever they are famous for. The world of signed jewelry is quite different because the word "signed" does not refer to anything having to do with ink. Instead, a piece of "signed" jewelry is simply one that has some sort of engraving on it indicating the origin of the piece.
According to Christie's, jewelry makers began signing their work during the Arts & Crafts and Art Nouveau periods, from about 1860 onwards. René Lalique was one of the first and always signed his work. The practice was popularized in the 20th century, when all the top jewelers and many small ateliers began applying their signatures to their jewelry.

Let's take a peek at signed jewelry in general, as well as at some of the most popular makers of signed pieces.
Where Jewelry is Usually Signed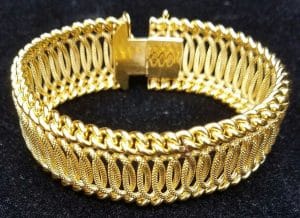 Jewelry that has an engraving indicating its origin may not be initially obvious. The maker's mark is sometimes subtle. It is often incorporated in a way that will not take away from the appearance of the jewelry. For that reason, a signed piece might have tiny engravings you can barely see. They may require a magnifying glass (or jewelers loupe) to really view them in detail. Usually, such markings are hidden well on the backs or undersides of jewelry. For example, on a ring, you might find such a marking on the inside portion of the band that touches your finger when the ring is on. Having the mark in that position does not take away from the appearance of the ring. However, some marks are more prominent than others.
Is All Signed Jewelry Appealing or Valuable?
One of the obvious reasons signed jewelry is appealing is it allows you to determine the origin of the piece. You can often determine not only that but discover the window of time during which the piece was produced.
Even with having all those details on the piece, not all signed jewelry is appealing or valuable; nor is all of it antique or collectible. Changing trends affect the values of certain pieces, and jewelry by particularly well-known companies or designers can definitely be more desirable than jewelry from unknown or lesser-known sources.
Top Makers Known for Signed Jewelry
When talking about signed jewelry, Cartier may be one of the first names that comes to mind. After all, Cartier, which started in the 1800s, has produced some of the most desirable pieces of jewelry ever made. For example, some of the pieces in its Tutti Frutti line are worth millions of dollars. However, Cartier is also a good example of having a signed piece that may not have as much value as you think because the company produced so much jewelry. Some Cartier lines were produced in large amounts or have less desirable styles. Even so, the Cartier signature certainly adds value to any piece.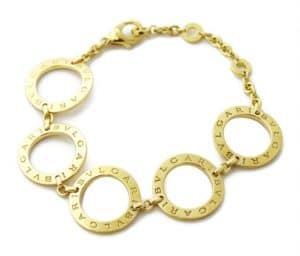 Bulgari is another huge name in signed jewelry. The company was founded in 1888 by Sotirios Voulgaris in Rome. The Voulgaris family was quite large, and most of them were silversmiths. That led to the production of some lovely items, including jewelry. Today, Bulgari jewelry is highly sought after. It is important to note the company logo "BVLGARI" with a "V" has been used by the Bulgari company since 1934. That can help you date certain Bulgari pieces. Bulgari jewelry is also often marked in a blatantly obvious way, though not always.
Tiffany is another famous company known for making signed jewelry. Tiffany products are frequently copied, and the true Tiffany signature has changed quite a bit over the years. Those issues make signed Tiffany pieces both desirable yet immediately suspect. If you want to purchase one, you have to make absolutely sure you authenticate it properly.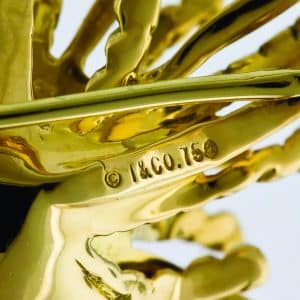 Interpreting the Information on Signed Jewelry
Jewelry that is signed can also include additional information. For example, "TIFFANY & CO." is a common way Tiffany signed its pieces. However, a piece with that signature should include additional information, like "18KT," "14KT," "925" or "Sterling" that will indicate the type and quality of the metal used in the design. If you know how to interpret all of the information on a signed piece of jewelry, you can often learn many useful bits of information besides just who made it. For instance, changes made to a maker's signature sometimes indicates a passing of the torch, such as when one family member takes over for another or a company was bought out by another company.
Interpreting the information on signed jewelry also requires delving into signatures used over the years to quickly authenticate pieces. For example, modern Tiffany pieces typically have signatures with the "T" and the "C" larger than the other letters in the signature. However, older pieces often used the same font for all of the letters. That information can not just help you date an authentic piece, but also help you identify a fake one. Look for the general appearance of signatures, with those marks on older pieces showing some wear. They should also be carefully engraved and not seem out of
alignment or generally out of place.
When it comes to names on vintage Jewelry, seeing "Vendome" or "Coro" can make a collector's heart beat a little faster. Trifari, Sarah Coventry, Coco Chanel, Miriam Haskell, and Weiss are just a few of the other highly coveted makers of jewelry in the early to late 1900s. Typically the designer's name says it all, as these makers seldom used valuable metals or precious stones to adorn their designs but instead turned to semiprecious stones and metals to give those who could not afford the Cartier collections an elegance of their own at a lower price.
The Cartier Love Bangles: Fakery En Masse
According to Raymond Lee Jewelers, Cartier Love bangles are one of the most singularly iconic pieces of jewelry in history. They're highly recognizable, highly desired, and highly symbolic. When they became popular, particularly among the rich and famous, the forgeries started showing up.
In the 1970s, when Aldo Cipullo started creating these bracelets, they were popular and chic, but weren't stamped with serial numbers. Counterfeiters seized this absence of i.d. as an opportunity to start churning out fake Cartier bracelets at a rapid rate. A simple Google query of "Cartier Love bracelet fake vs real?" will show you several sites with the answers, as it is thought that over half of these bracelets are, in fact, fake.
Final Tips for Collecting or Authenticating Signed Jewelry
If you want to collect signed jewelry, or even just authenticate a single piece you like, by all means, start with the signature and related engravings you see. Make sure you examine them closely under magnification but do not stop there – look at the piece itself as well. Inspect it for anything that seems suspicious such as repairs, missing gemstones or even gemstones that seem to be scratched, off-color, or as if they were added to the piece after initial production. Even if a piece is by a desirable maker and has an authentic signature, the value added by having the signature might be negated by such issues as obvious damage or repairs. Look for a piece that is wearable and worth showing off. antique champagne glass set available for sale online. Verifying it actually is truly an antique, is a complete set, and in top condition can be difficult. Having such fragile glassware shipped can also be risky, even if the listing is accurate.
By contrast, hunting for antique champagne glasses locally gives you the chance to make sure each glass is not chipped or damaged and is exactly as expected. Visiting local flea markets and antique shops allows you to experience the thrill of the hunt and the ability to socialize and sometimes to haggle for the best deal.

Jessica Kosinski has been a freelance writer specializing in writing short articles for 15 years. She is also an avid collector of both antique books and Star Wars memorabilia. Although she is not in the antiques industry professionally, she has learned a lot about antiques over the years by periodically helping out at her mom's antiques shop in Greenville, NH. She currently balances maintaining the antiques shop's Facebook page, www.facebook.com/MallofNE, and working on various freelance writing assignments. She can be reached at dementorskiss77@yahoo.com.