by Maxine Carter-Lome, Publisher
"A woman who revolutionized contemporary jewelry" is how Cartier describes jewelry designer Jeanne Toussaint in the 2019 film series, entitled L'Odysée de Cartier.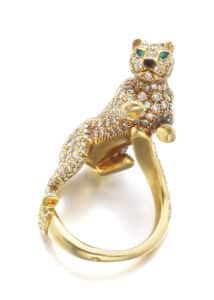 Born in 1887, Jeanne Toussaint (1887-1978) was the daughter of lacemakers from the south of Belgium in the city of Charleroi. She grew up with handmade goods surrounding her and knew quality from a very young age. Although her small family of four (Jeanne, her parents, and her sister) was not wealthy, their specialty was fine lace, so the topics of fashion and style were always part of her life.
By the time she was a teenager, Jeanne's father had passed away and her mother had taken in a German lover, at which time she and her sister ran away. Charlotte, her older sister, wound up in Paris, while Jeanne headed to Brussels at the (not-quite-ripe) age of 15. There, she became the lover to an older man, the Count of Quinsonas, who was from a family with a military history dating back hundreds of years, and who was also a pedophile who had abandoned his station with the army and was living in Brussels, exiled from France, with this innocent young girl. Toussaint spent three years with the Count in Brussels before he returned to his post with the French army, taking her with him to Paris, and then discarding her due to the demands of his family.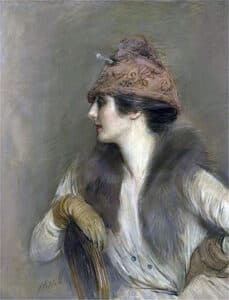 Toussaint found herself drawn to the intoxicating streets of Paris, where art, design, and societal connections were currency. She quickly became known as a stylish and creative ingénue with wit and determination. It was this charisma that landed her in social circles with the likes of famous fashion designer Coco Chanel, illustrator George Barbier, and most crucially, Louis Cartier, one of three brothers managing their late grandfather's company, Cartier. It was these relationships that changed Jeanne's life forever.
Toussaint and Cartier
Paris was the center of fashion in the early 1900s, and at the center of it all was Monsieur George Barbier. Barbier, a quiet and reserved young man, was known for his collaborations with fashion designers, in particular through publications such as the Gazette du Bon Ton, Modes et Mariners, Vogue, and more. Designers such as Lanvin, Jeanne Paquin, and a young Coco Chanel collaborated with him on illustrations of the dresses they had made.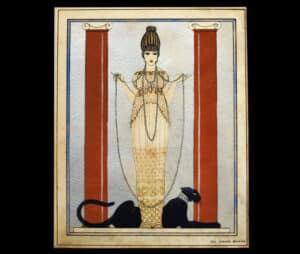 In 1913, Louis Cartier commissioned his friend Barbier to create a watercolor painting to be used as an invitation to a jewelry exhibition. Designed in what would become the Art Deco style of the 1920s, The "Dame à la Panthère" reflects a modern, worldly, and alluring woman adorned with long sautoir necklaces and pearls, with a sleek black cat at her feet. This image is thought to be the first connection between Cartier and the panther, and perhaps the first public acknowledgment of Louis' relationship with Toussaint, his self-declared muse.
Cartier was fascinated and captivated by Toussaint. He admired her taste and joie de vivre. At the end of 1913, Louis hired Toussaint to oversee the company's accessories, despite her inability to draw. She quickly found her audience and expanded Cartier's accessories business among the wealthy and elite, both from Europe and America.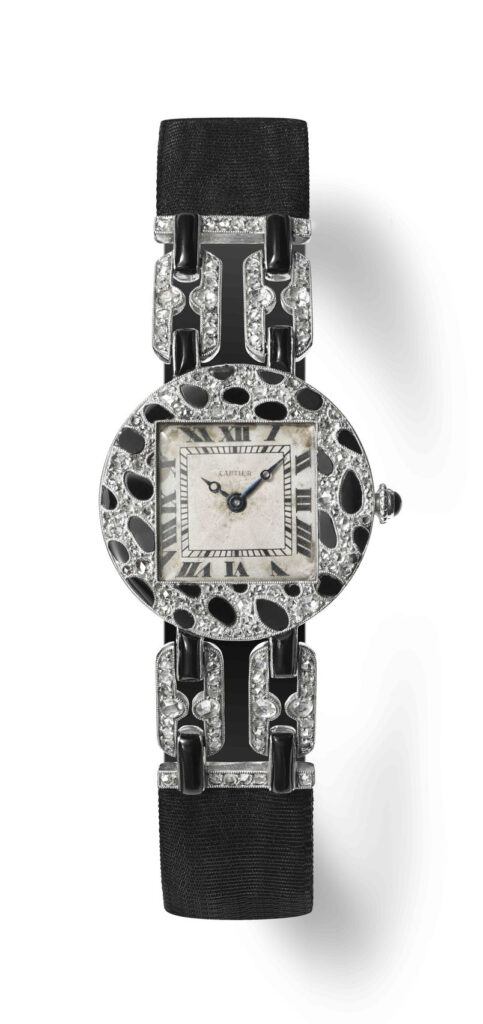 During her first few years at Cartier, Toussaint designed handbags that served the woman using them well, wallets that accommodated her needs, and luxurious necessaries for the wealthy heiresses of the 1920s like Marjorie Merriweather-Post and Daisy Fellowes, complete with compacts, money clips, and lipstick tubes in gold, platinum, and fine gems. Jeanne understood the needs that might come up for a lady about town, and how to design a necessity so that it functions as well as being stylish and timeless.
Her success and following of wealthy clientele led Louis in 1933 to appoint Toussaint, Director of Fine Jewelry at Cartier, making her the first woman to ever hold such a position in the jewelry industry. From that point on, the panther's position within the house was solidified, signaling one of the most recognizable and collectible eras in Cartier's history.
While theirs was a working relationship that lasted decades and made a significant imprint on the Company's business and 20th century jewelry design, it was also a tragic love story. Toussaint was the love of his life (and he, hers), but Cartier was forbidden to marry her because of her family background. In 1924, Louis married a Hungarian aristocrat, and in 1954, Toussaint finally married her long-time partner Baron Pierre Hely d'Oissel and took the title of Baronne. Despite their marriages, it was said that theirs was an affair of the heart until the end.
The Panthére
Toussaint obviously identified with this sleek predator. It was said her apartment was filled with their skins, collected and gifted to her from all around the world. And, she was famously known for wearing a full-length coat made of panther fur. According to some, it was Louis who chose the panther in Barbier's Dame à la Panthère ad for Cartier as a tribute to Toussaint, whom he affectionately called his "Petite Panthére."
What started as a nickname became the basis of one of Cartier's most stunning developments in jewelry – the Cartier Panthère wristwatch. In 1914, the famous wildcat appeared on a Cartier wristwatch for the first time. The stones adorning the piece symbolized the feminine temperament and avant-garde allure of the panther, while the diamond's scintillation was a nod to the wildcat's gleaming coat. From 1922 to 1935, the spotted panther motif starts appearing on various Cartier watches, jewelry designs, and accessories, such as cigarette cases.
In her new position as Director of Fine Jewelry, Toussaint began to more fully embrace her inner panther, finding inspiration in sculptural and three-dimensional panther creations, typically set with white and yellow diamonds, emeralds, and onyx. Her large cat-themed brooches, bracelets, and even rings were exquisitely made out of the finest, most decadent materials.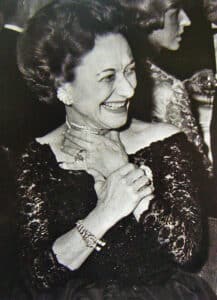 The first La Pantheré jewel was commissioned in 1948 by the Dutchess of Windsor, Wallace Simpson. The gold and enamel panther brooch set with a cabochon emerald was crafted by both Toussaint and designer Pierre Lemarchand. The panther brooch struck a chord with other strong-willed females of the day and set off a chain reaction, making La Panthére rings, drop earrings, and pendants hugely desirable among other European and American elite, including Daisy Fellowes, the Woolworth heiress Barbara Hutton and Princess Nina Aga Khan, as one of the 20th century's most iconic accessories.
A Jeweled Menagerie
Following the wildly successful La Panthére brooch, the Duchess of Windsor and Toussaint then went on to create a menagerie of animal-themed jewels. The two designed dragonflies, ladybugs, birds of paradise, tigers, and lions, as well as a spectacular brooch of a flamingo, a very recognizable piece in most jewelry aficionado's memory. The flamingo was inspired by a private story between the Duke and Duchess and for her birthday in 1940, the Duke met with Toussaint and had the flamingo commissioned out of jewelry from their collection. The Duchess of Windsor is known to have worn the Flamingo brooch soon after acquiring it. She was spotted wearing it while accompanied by the Duke, for his forty-sixth birthday on June 23, 1940 at the Ritz Hotel in Madrid.
When she wasn't creating a menagerie of jewels, Toussaint pursued her fascination with India and revealed pieces evocative of Indian Mughal jewelry and ancient Maharajas. Artfully carved rubies, emeralds, diamonds, and sapphires led to a revival of "Tutti Frutti" jewelry under Toussaint's meticulous direction in the late 1950s.
By the time she retired from Cartier in 1970, Toussaint had established her legacy as an artistic visionary – always experimenting, exploring, and creating jewels for those with a worldly outlook and an eye on the future. Her professional fixation with exotic big cats, especially the panther, resulted in the animal becoming a recognizable symbol of Cartier, both then and now.
La Panthére Jewels at Auction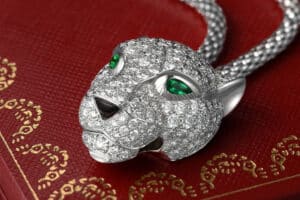 Jeanne was and will always be Cartier's most iconic designer and the mother of its iconic animal signature that makes Cartier one of the most respected and well-known high jewelry brands in the world today. Although she retired from Cartier in 1970 and died in 1978, her work continues to have a life of its own at auction, especially those pieces designed for and owned by the Duchess of Windsor.
In 1987 in the year following Wallace Simpson's death, Sotheby' in Geneva auctioned off a royal assemblage of her famous jewels, including many of the pieces made for her by Cartier. The Wallis Simpson Jewelry Collection consisted of 214 pieces and set the highest world record for a single-owner jewelry sale ever conducted, $53.5 million.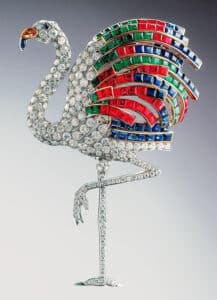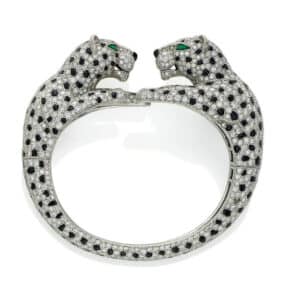 In 2010, Sotheby's auctioned off 20 pieces of Wallace Simpson's Cartier jewelry collection, bringing in a total of $12,417,369 million, at least three times more than was expected. The two top-selling items were a diamond panther bracelet which sold for a record-breaking $7 million, and a ruby, sapphire, emerald, citrine, and diamond Cartier flamingo clip, which sold for $2.679,712 million.
Two bejeweled tigers, a brooch and a bracelet, made by Cartier for Wallis Simpson in the late 1950s and purchased in 1987 in the legendary sale of her collection by Andrew Lloyd Webber, sold for $1.9 million at auction in 2014. Weber purchased the panthers as a gift for his then-wife, opera star Sarah Brightman, to celebrate the couple's success in the hit musical Phantom of the Opera, which Lloyd Webber wrote and Brightman starred in.
Although these special pieces, especially with their Wallace Simpson provenance, are at the high end, pieces of Cartier Panthére jewelry from the Toussaint era come up for sale at high-end jewelry auctions fairly regularly, valued for their design, maker, and materials, starting them in the thousands at the opening bid. These are only collectibles for those with deep pockets however, for those that love the aesthetic of the panther, it is an iconic subject and inspiration for jewelry designers in many different forms and more affordable price points so anyone can hunt down and collect jewelry embodying this famed Cartier symbol.
---
SOURCES:
– http://www.victorianajewelry.com/blog/2017/10/5/la-panther-the-story-of-jeanne-toussaint-and-how-she-went-from-nothing-to-everything
– https://www.sothebys.com/en/articles/how-cartiers-jeanne-toussaint-inspired-and-popularised-its-iconic-panthere