by Jessica Kosinski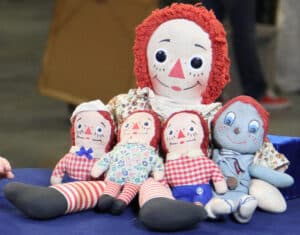 When I was a kid in the 1980s, I had a Raggedy Ann and Andy game I adored. In fact, I loved it so much that I still own it. That's why I was thrilled when I was asked this month to take a peek into the history of these two beloved characters and the collectibles associated with them.
The Creator of Raggedy Ann
Johnny Gruelle (1880-1938) created the beloved Raggedy Ann character. He was a cartoonist, artist, and author. Although born in Illinois, he spent a large portion of his life living in Indiana. It was there that he met and married his wife, Myrtle. The two had three children together.
The Birth of a Beloved Doll
The couple's first daughter, Marcella provided the inspiration for Raggedy Ann. One day, she found what was described as an "old ragged doll" while at her grandmother's house exploring the attic. As an artist, Johnny decided to try to work a little artistic magic on the doll, patching it up and painting on a face. When Marcella took a liking to the doll, he was convinced other children would love it. That's when he decided to file for a patent.
Gruelle family friend and Hoosier poet James Whitcomb Riley, whose poems The Elf-Child, later titled Little Orphant Annie (1885), and The Raggedy Man (1888), eventually formed the name for John Gruelle's iconic Raggedy Ann doll.
Success Despite Loss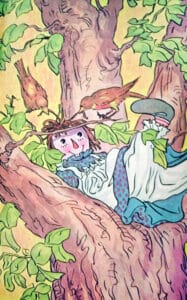 Johnny filed the patent for Raggedy Ann on September 7, 1915. His daughter passed away later that same year. In fact, she died almost two months to the day later, on November 8, 1915. She passed from complications after receiving a vaccine. Marcella was only 13 at the time.
Despite Marcella's untimely death, Johnny Gruelle knew how much the doll had meant to her. That's why he continued with the patent process for the doll itself. Later, he signed with a publisher and released the first book based on the doll in 1918. Over the next 20 years, 20 books were released.
The Dolls
As for Raggedy Ann dolls themselves, the first dolls for public sale were produced in Norwalk, Connecticut. They became popular shortly after the first book was published in 1918, which is why some people think the dolls were created based on the books. In reality, it was the other way around. Several different companies have produced Raggedy Ann dolls and collectibles over the last century or so.
Shortly after the original release of the first Raggedy Ann book, Johnny felt something was missing. That led to the introduction of Raggedy Andy in 1920. With his bright outfit, cute hat, and equally warm and inviting face, he was a perfect match for Raggedy Ann. He was introduced as her brother. Children soon fell in love with the duo and the many adventures they had together.
Raggedy Ann and Andy's Iconic Status
In 1997, Raggedy Ann was featured on an American postage stamp. The National Toy Hall of Fame inducted her five years later. Raggedy Andy was inducted five years after that, in 2007. Then came the 100th anniversary of the beloved dolls in 2015. However, to anyone who has ever owned Raggedy Ann and Andy items, they have always been iconic. That's why so many people still collect Raggedy Ann and Andy items today.
The Value of Raggedy Ann and Andy Dolls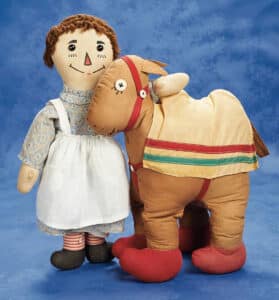 When it comes to the value of the dolls, there are actually two values to consider. Those are the monetary value and the sentimental value. If you just want to collect them because they are fun reminders of your youth, you can find plenty of inexpensive dolls in shops throughout the country.
On the other hand, you may be looking specifically for the dolls worth the most money. If so, you should know a few important things. Raggedy Andy dolls are often worth comparatively more because fewer Andy dolls were produced. Matching Raggedy Ann and Andy dolls are also quite sought after. Additionally, you need to look at the condition and whether or not the fabric used for their shirts is the same or similar to the original fabric.
Another important issue that may impact value is any unique traits certain dolls have. For example, a pair of Raggedy Ann and Andy dolls produced by Georgene Novelties recently sold for $995 on eBay. One thing that made them unusual is that the dolls often have red and white striped legs. However, that pair had blue and white checkered legs.
Exploring Other Raggedy Ann and Andy Collectibles
If the dolls themselves don't tickle your fancy or you want to also collect other items to go along with them, there are many options. Some of the Raggedy Ann and Andy items that have recently sold for the most on eBay include cookie jars, alarm clocks, and lunch boxes. In general, you can expect to pay roughly $25-$350 for the vast majority of Raggedy Ann collectibles. However, some sell for more, and others may only cost you a few dollars. If you don't have a Raggedy Ann collection yet, the wide variety of items and prices makes it a perfect collection to start, regardless of your budget.