Spider-Man Meets Spawn to Celebrate Overstreet's 50th
by J.C. Vaughn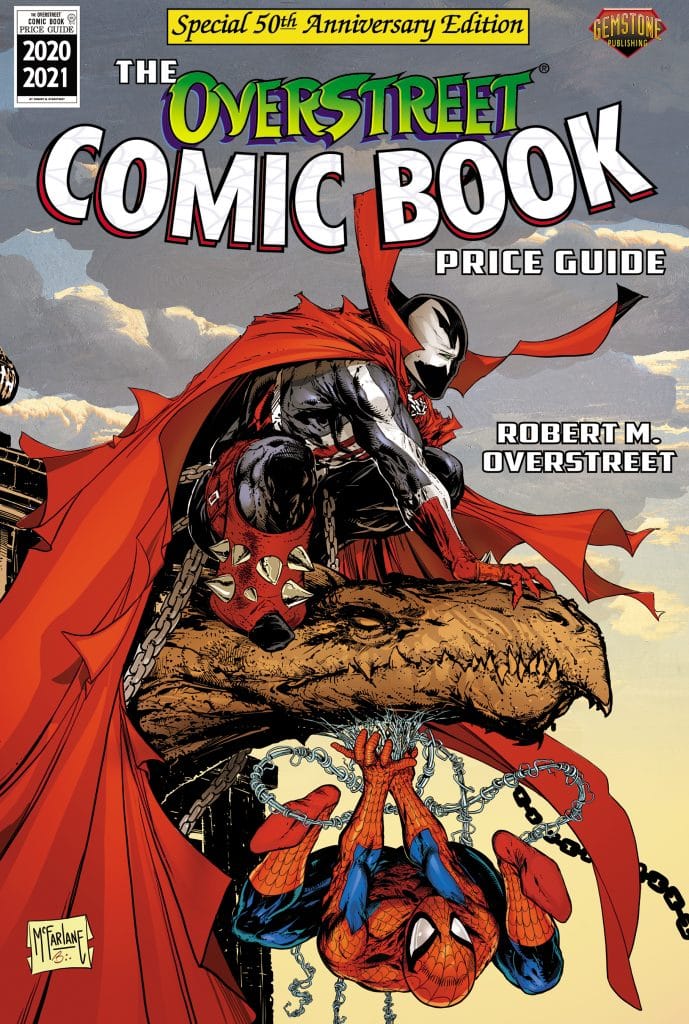 It has been mentioned more than once
in this space that 2020 marks the 50th anniversary of
The Overstreet Comic Book Price Guide.
It's a rather singular event in the history of price guides simply because its founder, author, and publisher Robert M. "Bob" Overstreet has been handling the pricing duties the whole time.
As the person on the Gemstone Publishing staff with the next longest tenure—my 25th anniversary with the company will happen shortly before you read this—one of my great challenges comes each year when trying to pick the cover artists for the annual book.
Doing a
Guide
cover is considered by many comic book artists to be a "bucket list" goal for their careers. There's a good reason for this. Bob's first four covers that featured original art were by popular Batman artist Don Newton (
The Overstreet Comic Book Price Guide
#4), the incredible artist and teacher Joe Kubert, creator of the Spirit and advocate for graphic novels Will Eisner (#6), and the legendary Disney artist Carl Barks (#7).
To say that this was a gauntlet thrown down for those who would follow is a magnificent understatement. Kubert's Tarzan on #5 won a poll of favorite
Guide covers as recently as 10 years ago and is still the single-most commented-upon cover we hear about in conversations at conventions.
As much as we all want others to not judge a book by its cover, there's simply no denying that more people will get to the pricing, articles, market reports, and other material that we work so hard to put together if there's an appealing cover wrapped around it. To that end, Bob and those of us who followed him in this particular responsibility have worked hard to live up to that challenge.
EC Comics great Wally Wood provided one, and Timely (Marvel's original name) artist Alex Schomburg did two. DC Silver Age artist Murphy Anderson, one of the true art legends and whose career spanned decades, contributed the most covers, followed by modern artist John K. Snyder III, most recently known for successfully adapting Lawrence Block's
Eight Million Ways To Die.
The roster over the years of those who brought their A-game and top characters to the covers included
New Teen Titans
and
Avengers
artist George Pérez,
Star Wars
illustrator and former DC Comics senior art director Mark Chiarello, the highly popular
Harley Quinn
artist Amanda Conner, Marvel's definitive Thor artist Walter Simonson, and many others.
And no matter how great or well-received last year's cover was or this year's cover is, our thoughts always drift to one simple thought: How are we going to top this?
Enter Todd McFarlane
Following stints illustrating back-up stories in Coyote for Marvel's Epic line, a run on DC's Infinity, Inc., a pivotal Batman story in Detective Comics, and a stint on Incredible Hulk, Todd McFarlane took over the art duties on Marvel's Amazing Spider-Man beginning with #298. During his tenure, he co-created the popular character Venom. He would stay on that title through #328, departing for a new title, Spider-Man, which he would both write and draw.
Spider-Man #1 (after the two main titles, Amazing Spider-Man and Spectacular Spider-Man, fans dubbed it "adjectiveless" Spider-Man), cover dated August 1990 sold 2.5 million copies on the powerful combination of McFarlane's storytelling and the chance to be in on a new Spider-Man #1.
Riding his success, McFarlane left Marvel after Spider-Man #16, departing with fellow artists Rob Liefeld, Jim Lee (now publisher of DC Comics), Jim Valentino, Marc Silvestri, Erik Larsen, and Whilce Portacio to form Image Comics.
His first issue, Spawn #1 (May 1992) sold a reported 1.7 million copies – still the record for a creator-owned comic. It would not be his last record.
In recent months, McFarlane's Spawn #301 got him cited by the Guinness Book of World Records for the longest-running creator-owned comic book ever. In between those first and three-hundred-and-first issues, he established both his own comic studio, Todd McFarlane Productions, and the prolific manufacturer of detailed action figures, McFarlane Toys.
So, for the Guide, he certainly more than had the credentials to be up there with Captain America co-creator Joe Simon, Robin and Joker co-creator Jerry Robinson, Captain Marvel/Shazam co-creator C.C. Beck, and the others.
But we had a big ask. He hadn't returned to Marvel's Spider-Man, at least professionally, in 27 years. And he'd never teamed up his own character, Spawn, with Spidey. Would he put the two of them together for the Guide's golden anniversary?
Indeed he would. And after Marvel agreed to the cover crossover, he went to work. Both he and colorist Brian Haberlin absolutely delivered magic.
"I've been in this business for 35 years, and this piece of art is historic because I have never, ever put these two characters on the same piece of paper before. So, what you are seeing on this cover is a first-time look at two characters that have never shared the same space," McFarlane said. "I wanted to do something that nobody had ever seen from me before, and you're looking at it."
The Overstreet Comic Book Price Guide #50 goes on sale in comic shops on Wednesday, July 22, 2020, in both softcover ($29.95 SRP) and hardcover ($37.50 SRP) editions. The softcover edition will be available in bookstores on August 4 or at gemstonepub.com.
Now we'll just sit and wonder how long until the thought occurs once again: How are we going to top this?