Despite the Virus, Heritage Scores Impressive Total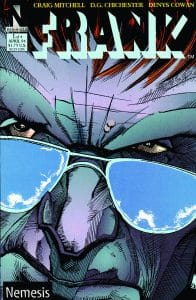 An eclectic mix of original art by some of the most influential artists and major keys in superhero comics
was offered on the first day of Heritage's Comics & Comic Art Auction. Their significance and prestige pushed the first day total to $5.1 million and underscored a three-day tally of $9,099,710 for their April 30-May 3, 2020 event.
While nothing proves that the Coronavirus and the resulting economic conditions didn't dampen that total, it certainly suggests that many collectors are still seeing compelling opportunities in these tumultuous times.
"The bidding was as deep and as active as we've ever seen in one of our Platinum Sessions," said Todd Hignite, Vice President of Heritage. "Prices were strong across the board, and there were a handful of lots that nearly doubled our pre-auction estimates."
Frank Frazetta's
The Serpent
original painting for the 1967 paperback novel hammered for $300,000. The sale was doubly significant because Frazetta wouldn't part with it while he was alive, according to Heritage Comics & Comic Art Director Joe Mannarino.
Bernie Wrightson's front endpapers for Mary Wollstonecraft Shelley's
Frankenstein
realized $240,000. This is the highest price that Heritage has achieved for a piece of Wrightson's art.
On the Disney side, Carl Barks' 1994
Surprise Party at Memory Pond
painting cleared $156,000. This piece was specially done to celebrate Donald Duck's 60th anniversary.
Marvel original art and comic sales were led by John Romita Sr. and Mike Esposito's
Amazing Spider-Man
#41 splash page of Spidey and the Rhino that snagged $180,000. The web-spinner's first appearance in
Amazing Fantasy
#15 CGC 8.0 also grabbed $180,000. The cover for
X-Men
#55 by Barry Windsor-Smith, that features Havok pushed its way to $132,000. Bill Everett's complete 10-page story "Into the Dimension of Death" from
Strange Tales
#152 conjured $78,000.
DC sales were led by the Caped Crusader when
Batman
#1 CGC 1.5 brought $78,000. Joining that Batman sale was
The Dark Knight Returns
#4 page 24 original art that closed at $66,000. Another of DC's gritty titles was also a top seller as Dave Gibbons'
Watchmen
#10 page 10 original art of Nite Owl and Rorschach sold for $31,200.
Staying at Home: A Time for Research and Re-Reading
The silver lining of the Corona virus-driven shutdown of the new comics industry in the U.S. is that it's driven a lot of us to our bookshelves, back issue boxes, and storage areas. This horrible situation has actually been a superb springboard for thinking about things that otherwise might be forgotten.
For my part, I've been doing a lot of reading of and research on Milestone Media's revolutionary 1990s comics line. Formed by Dwayne McDuffie, Denys Cowan, Derick T. Dingle, and Michael Davis, Milestone was a concerted effort on the part of its founders to create a superhero universe largely comprised of characters of color.
Up until that point, comics had certainly made strides over earlier decades, but the effect was limited. Sure, there were characters such as Luke Cage and The Falcon, but a significant number of black comic characters had the word "black" as part of their name: Black Panther, Black Lightning, Black Goliath, and so on.
This was different. Milestone introduced Static, Hardware, Icon, Blood Syndicate, The Shadow Cabinet, and others, and they did so forming a publishing alliance with DC Comics, which guaranteed them a shot at
bigger audiences than they would have had on their own.
Static, by the way, became Static Shock, and scored a well-received and fondly remembered animated series before Milestone came to an end with the near-implosion of the new comic book market in the mid-'90s.
Like many comics from that period, the supply of back issues is plentiful, and the prices are generally low, but slowly folks are discovering or rediscovering the adventures of these characters.
Key issues and end-of-run issues are beginning to climb in price, particularly in high grade. Studying and
re-exploring their efforts has been some of my most fun research in years.
This, in turn, led me to remember one of my favorite almost-unknowns from that time, Nemesis Comics' Frank.
In terms of tone and approach, this modern take on Frankenstein actually would have fit in nicely with most of Milestone's output. There's a good reason for that: Written by D.G. Chichester (Long Hot Summer)
from a treatment by Craig Mitchell, penciled by Denys Cown (Hardware), inked by a variety of artists
including Mike Manley, J.J. Birch, and Jimmy Palmiotti, and edited by Dwayne McDuffie (Static), it was just about entirely produced by the folks who would create and define Milestone.
Only it wasn't actually a Milestone project.
During the time family-friendly publisher Harvey Comics (best known for Casper and Richie Rich) was owned by publisher Jeffrey A. Montgomery, Harvey Comics Entertainment published mainly reprints. In 1993, though, the company created two imprints, Nemesis Comics and Ultracomics. In addition to Frank, they also published Seaquest DSV (based on the TV series from Steven Spielberg) and Ultraman (based on the giant monster-fighting Japanese TV character).
Beginning with the striking cover on Frank #1, this clever moderni-zation rolls through its four issues at almost breakneck speed, but it still manages to weave a sophisticated, atmospheric crime comics take on Mary Shelly's classic novel and the many films it has inspired.
Chichester's script and Cowan's art are, as you'd probably expect if you're familiar with them, solid and really fitting for the material.
There were two formats for each issue. The standard format retailed for $1.75 each, while the more upscale format was $2.50 and included cardstock covers. Both versions of each issue featured the same art, though the monsters' sunglasses were done as a reflective foil on the deluxe version of Frank #1, and the effect really worked.
An interesting note for veteran Frankenstein fans: The ads (which appeared in Ultraman) for these series gave the copyright as Universal, but the comics themselves note only Nemesis Comics. The reason this is worth noting is that the monster clearly has the Universal-inspired bolts on the sides of his neck, which originated with the 1931 feature film.

J.C. Vaughn is the Vice-President of Publishing for Gemstone Publishing.
Gemstone's Amanda Sheriff also contributed to this piece.