Forgotten and Unknown Star Trek
By J.C. Vaughn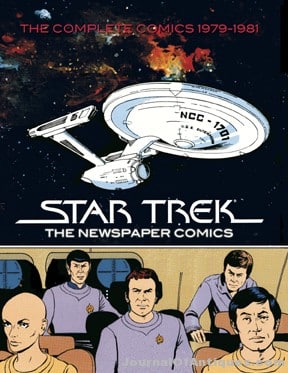 With Star Trek Into Darkness in movie theaters and recent record prices paid for Star Trek TV props, it seems like a great time to delve into two of the historic franchise's lesser known iterations, the Star Trek comic strip and the ill-fated second Star Trek television series you never saw.
As one of the most successful and therefore most documented properties in media history, it's hard to call anything to do with Star Trek "forgotten" – one might wish to include Star Trek: Voyager in that, but no such luck. If there is a forgotten chapter of Star Trek history, surely one nominee for the title must be the Star Trek newspaper strip.
IDW Publishing's imprint The Library of American Comics (LOAC), however, has recently put an end to that with the publication of Star Trek: The Newspaper Strips – Volume 1 ($49.95, hardcover).
Unlike many of the LOAC series (such as Terry and the Pirates or Little Orphan Annie, for instance), the art and story in these strips are not all of uniform quality, and the the source material for the book is simply not as good as some of their projects, but for Star Trek fans this is a chance to discover some stories that many never knew existed.
And surprisingly, it seems clear that many of them had an impact on the creators behind Star Trek: The Next Generation, the sequel TV series that did make it on the air after the original series' cast returned in feature films.
Launched with the Star Trek: The Motion Picture revival of the franchise, the strip beat Marvel's comic books into print and showed us what further adventures of that iteration of the crew might have been like. With stories by writer and illustrator Thomas Warkentin, followed by writer Sharman DiVono and artist Ron Harris, the Star Trek strip gave us a proto-Borg species years ahead of Star Trek: The Next Generation, as well as some tales that were just genuinely good Star Trek.
The strip only ran for a few years (the second volume in this series will complete the collection of the entire run), but for Trek fans it is definitely a bit of semi-forgotten lore, one that should be acknowledged.
Star Trek: Phase II
To Trek fans and even many non-fans alike, Star Trek II means Star Trek II: The Wrath of Khan, the second and generally most loved movie of the original Star Trek film series. That wasn't how it was supposed to be, though.
After the original series was canceled by NBC in 1969, they had missed the boat by just a year for the A.C. Nielsen Company's first true foray into the demographics of TV ratings. Prior to that, ratings were ratings and that was that. After 1970, though, ratings were also broken down into demographic groups. Star Trek, as it became clear in syndication, owned young adult male viewers.
The Emmy-winning Star Trek cartoon, too, lasted only from 1973 to 1974, but Star Trek creator Gene Roddenberry was lured back to Paramount Pictures in 1975 to begin work on what was scheduled to be the first Star Trek feature film. Star Trek: Planet of Titans, one of the attempts, and others never made it past the development stage, though.
In June 1977, Paramount announced that they were going to form a fourth broadcast network. At the time, of course, it would have been fourth, prior to Fox and years before Paramount's eventual fifth network, UPN, and sixth, The WB (and their joint successor, The CW). The Paramount network's first show was going to be Star Trek II (alternately called Star Trek Phase II), and it was slated to debut in 1978 with a two-hour TV movie followed by a weekly series.
William Shatner was signed as Kirk, and most of the other cast members were slated to return, but Leonard Nimoy didn't want any part of it. It was going to be Star Trek without Spock. In his place would be a full-blooded, emotionless Vulcan science officer, Lt. Xon, and a new executive officer, Will Decker. There was also a new female navigator, Lt. Ilia.
If some of this sounds familiar, it's because Alan Dean Foster's treatment for an episode called "In Thy Image" became the basis for Star Trek: The Motion Picture.
David Gautreaux had been cast as Xon and Persis Khambata was hired for the role of Ilia. Decker, who was eventually portrayed by Stephen Collins (whose career included more than a decade on 7th Heaven), was not cast until the movie version was readied.
Gautreaux's Lt. Xon became another Vulcan who died in the transporter accident near the beginning of Star Trek: The Motion Picture. Ilia and Decker "evolved" right out of further appearances in the film as well.
The Trek movie also killed Paramount's network idea for many years until they launched UPN, sadly enough, with Star Trek: Voyager.
Many elements of Xon were later incorporated into the character Data on Star Trek: The Next Generation, as were character traits of Ilia into Deanna Troi and Decker into Will Riker, some even with positive results.
The "Director's Cut" DVD for Star Trek: The Motion Picture has some great background material for Star Trek Phase II, and Judith and Garfield Reeves-Stevens authored an excellent book on the ill-fated second five year mission of the starship Enterprise in 1997. Star Trek Phase II: The Lost Series, published by Pocket Books, is still widely available.
J.C. Vaughn is Vice-President of Publishing for Gemstone Publishing. He was, he reluctantly admits, a pitching writer for the Star Trek: Voyager TV series.