Cartier pendulette clock, $174,000, Skinner, Inc.
Gavels 'n' Paddles
Recent Auction Results From Near & Far
By Ken Hall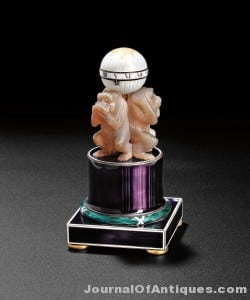 An early 20th century fine Edwardian carved agate and enamel pendulette clock by Cartier sold for $174,000 at a Fine Jewelry Auction held Mar. 12 by Skinner, Inc., in Boston, Mass. Also, a natural pearl necklace hammered for $120,000; a gray natural pearl and diamond pendant made $78,000; an emerald intaglio and Burma sapphire brooch went for $50,400; a 6.04-carat diamond solitaire fetched $49,200; and a colored diamond and diamond pendant with old European-cut colored diamonds (7.20 carats) hit $36,000. Prices include an 18.5 percent buyer's premium.