Ken's Korner: Book expected to fetch $30 million
News & Views From the World of Antiques & Collectibles
By Ken Hall
On Nov. 26, Sotheby's will auction one of the finest surviving copies of the Bay Psalm Book – the first book printed in what is now the United States. The Congregationalist Puritans who emigrated to Massachusetts Bay in search of religious freedom quickly set about to translate and produce a version of the Book of Psalms that was a closer paraphrase of the Hebrew original than the one they had carried from England. The first edition of the resulting Bay Psalm Book was printed in Cambridge, Mass., sometime in 1640.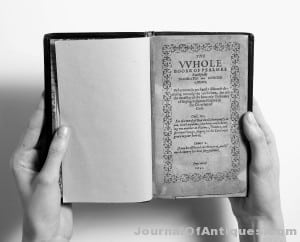 Only 11 copies of the book have survived the passage of time. The one being sold comes from the Old South Church in Boston. Sotheby's has assigned it a pre-sale estimate of  between $15 million and $30 million which, if it does reach that dizzying height, would make it the most valuable book ever sold at auction – more than even the Gutenberg Bible, Shakespeare's First Folio and James J. Audubon's Birds of America. Proceeds from the sale of Bay Psalm Book will benefit Old South Church's mission and ministry.