Eastern Plains knife club, $180,000, Cowan's, Inc.
Gavels 'n' Paddles
Recent Auction Results From Near & Far
By Ken Hall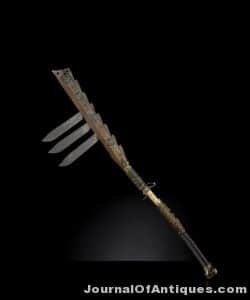 An Eastern Plains three-bladed knife club sold for $180,000 at an American Indian and Western Art Auction held Apr. 5 by Cowan's Auctions, Inc., in Cincinnati, Oh. Also, a Metis quilled hide knife sheath with Dag knife went for $90,000; a Central Plains bear claw necklace slipped around a new neck for $60,000; an Eastern Sioux painted and tacked gun stock club also realized $60,000; a Southern Cheyenne pictorial pipe tomahawk fetched $40,800; and a Cheyenne beaded buffalo hide cradle also made $48,000. Prices include a 17.5 percent buyer's premium.