Ken's Korner: Lincoln's pocket watch carried a secret message
News & Views From the World of Antiques & Collectibles
By Ken Hall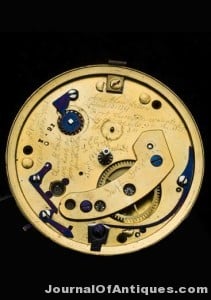 Abraham Lincoln's pocket watch had a secret message engraved on the inside and the President wasn't even aware of it. It seems that on the day Fort Sumter was fired upon, a jeweler named Jonathan Dillon was doing some repair work on Lincoln's gold pocket watch. Dillon, upon hearing the news, unscrewed the dial and engraved an inscription into the brass underside of the movement: "Jonathan Dillon, April 13, 1861, Fort Sumpter (sic) was attacked by the rebels on the above date. Thank god we have a government."
The inscription only recently came to light when Dillon's great-great-grandson, attorney Doug Stiles from Waukegan, Ill., contacted the American History Museum, where the pocket watch is housed, and told them about the inscription being family lore, but he had no proof of its veracity. Museum officials were intrigued, and figured the only way to find out was to bring in a watch expert to open it up. That's exactly what jeweler George Thomas of the Towson Watch Company did, as an eager and breathless media looked on.