by Kary Pardy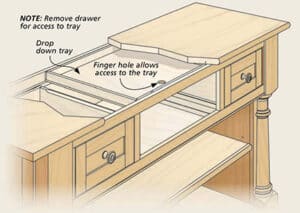 Consider the humble blanket chest: a piece of furniture that might travel with its owners across an ocean or a country. Such a solid, practical item seems like the last place for surprising features, but without fancy safe deposit boxes or other high-end precautions, the average person needed a place to hide their treasures, no matter what shape they might take. Enter: furniture with hidden storage.
When it came to hiding important ephemera tied to history, these compartments performed their duty as added security to keep secrets away from any who may wish to "explore" an office of an adversary or "get lost" into areas of a home or building where they should not be exploring. Keeping personal and public secrets safe is something that continues to plague each of us today despite the current tools at our disposal to use in-person and online. Many of the original examples enclosed within beautiful pieces of utilitarian and not-so-utilitarian furniture can still be used today, and many are incorporated into contemporary furniture for the same reasons they were created originally – keeping secrets.
As these pieces of furniture were being created, some examples demonstrated a cabinet maker's crafting and engineering skills or entertained with their frivolity. Most were useful, offering hiding places at a time when advanced security, or space, wasn't available. In this article, we'll explore the many forms concealment took in antique furniture through the years, and where to look on the pieces you may come across in your collection.
Early Renditions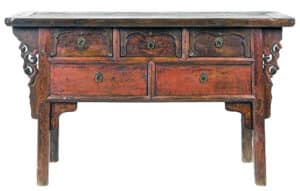 Italian cabinetmakers popularized multi-purpose furniture in the late 16th and 17th centuries, and the handy trend made its way around Europe and to the western world in the 18th century. That same blanket chest mentioned before likely traveled with an immigrant to America and hid his or her secret documents or valuables from prying eyes. Blanket chests often open to reveal storage, such as a box compartment built into the side. A careful inspection might reveal that the obvious bottom of this storage compartment is not the true bottom of the box. In fact, abrasions on the wall of the chest may indicate to a careful collector that the front of the compartment slides up and reveals a secret area at the compartment's base.
These all illustrate a central rule when dealing with hidden compartments in furniture, best stated by the Chief of Police in Edgar Allan Poe's The Purloined Letter: "Any man is a dolt who permits a 'secret' to escape him in a search of this kind. The thing is so plain. There is a certain amount of bulk of space to be accounted for in every cabinet." If a drawer looks too shallow for the space it occupies and doesn't quite make sense, further investigation might be in order.
The Secretary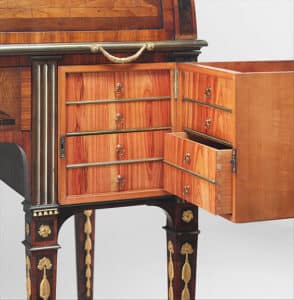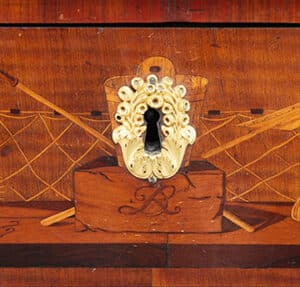 The kings of the secret compartment game and the place where you will most commonly find hidden storage is within the intricate details of secretary desks. Coming onto the scene in the 18th century, secretaries were a status symbol and writing desk wrapped into one, and were ideal for storing valuables. Their fronts opened to reveal a desk space with lots of storage, and all those pigeon holes and drawers presented prime opportunities for cabinet makers to strut their stuff and build secret spaces into an already intricate layout of storage compartments.
When approaching an antique secretary, look first for a central cabinet. Sometimes flanked by pilasters, this cabinet's sides could pull out, or it could be removed entirely to display secret drawers. Cabinet makers would also create false bottoms, backs, or moveable boards behind existing drawers – some so thin that only a fingernail or knife could dislodge them. At times shallow hiding places were all you needed for a secret document. The space in between the upper and lower sections of a secretary could masquerade as decorative trim, but hide a gap perfect for currency, documents, or treasure maps. Springs were another trick; if pressed in the right place, a hinge would release to reveal a secret compartment.
Secretaries could also play host to compartments hiding in plain sight. Don't discount compartments only accessible from the back, or cleverly disguised as a collection of old books in the front. Those tricky volumes may actually be a door to a secret space or even a hidden bar. Some intricate pieces even had a set of stairs that folded down to allow the owner to access items hidden in the uppermost parts of the cabinet. To see an example of a sneaky secretary desk in person, be sure to check out the Roetgens Berlin Secretary Cabinet at the Metropolitan Museum of Art in New York.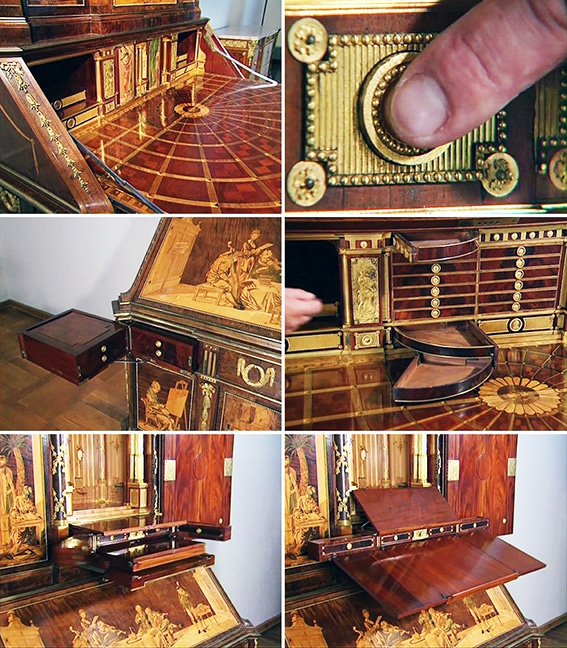 Other Furniture
While secretary desks may be the most visually impressive, collectors can also find hidden treasures in sideboards, bookcases, or nightstands. Sideboards may hide secret drawers with false backs, originally used for storing valuables like silver utensils. Bookcases, chests, or side tables could also hide compartments in a false bottom or behind a drawer.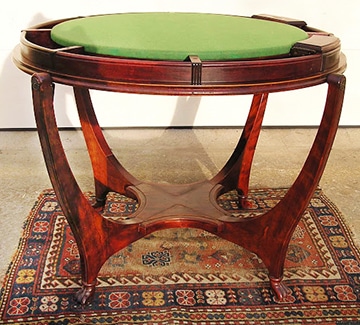 When you're inspecting a piece of antique furniture, examine the grooves and surfaces of a piece. Is anything loose or does anything slide when touched? Look for scratch marks on interior surfaces or marks that emanate from someplace distinct. Over time, the rubbing of a sliding secret part may have left its mark. Lastly, keep an eye on painted pieces. German cabinet makers in particular would paint woodwork to camouflage a concealed compartment or moveable end.
Later Uses for Concealment
Beyond concealing items for secrecy or security, furniture moving into the later 19th and 20th century also concealed for storage reasons. The "folding beds" of the 1880s and 90s paved the way for the Murphy Bed and folded into decorative cabinets or a chest of drawers with a mirror. Be on the lookout for folding beds from Hale & Kilburn, Stickley-Brandt, or Samuels.
If you'd prefer a convertible table, in 1894 George Hunzinger patented an oak or mahogany table that had a pivoting top. In some models, the plain top could pivot to a fabric-covered poker surface. They also came in checkerboard or backgammon board models and would be a fun addition to any game room. The multipurpose furniture trend also produced flip top tables or low cabinets that expanded to be full dining tables with leaves, and the "Ta-Bed," which looked like a dining table but could be flipped to become a single bed complete with a headboard.
Whether for storage or concealment, these examples show that we cannot always take our vintage finds at face value. It may be time to do a little investigating and determine if we have any purloined letters hidden in cabinets, or want to add any secret storage to our decor.