by Jessica Kosinski
When talking about a modern parlor or living room, there are certain items that immediately come to mind. As I am typing this, I am in fact sitting in my own parlor. In it are a couch, a television, and a side table. It's the latter that many of us take for granted. We just assume side tables have always existed for parlor use. Yet, the tradition of using side tables in parlors started off in the Tudor times (16th century), when tables were designed specifically for placement along the wall, aka "along the side of the room." According to FineWoodworking.com, "Console tables (made with brackets and no back legs), pier tables (so-named because they were originally designed to occupy the wall space between windows), side tables, and hall tables are all examples of this type."
Today, they are absolutely indispensable and highly desirable pieces of furniture. Why are side tables popular today? How did the modern use of these start? Are some side tables more desirable than others? Let's try to answer those questions and more as we take a peek at what makes parlor side tables so appealing.
The Modern Popularity of Parlor Side Tables
The reason side tables are so popular today is also one of the top reasons they have been around for such a long time. As rooms for formal get-togethers became more popular, the side table became more important in the parlor. That reason is the necessity for an organized storage place that could be out of the way but still within the confines of the parlor. They tended to be smaller in size and "silent" in that they could hold items that were meant to be placed or removed by a servant, or hold items that was meant to be used during the conversation with a friend or confidant. Items like a datebook or a place to rest a pair of glasses or a hearing device would often be put handily within arms' reach.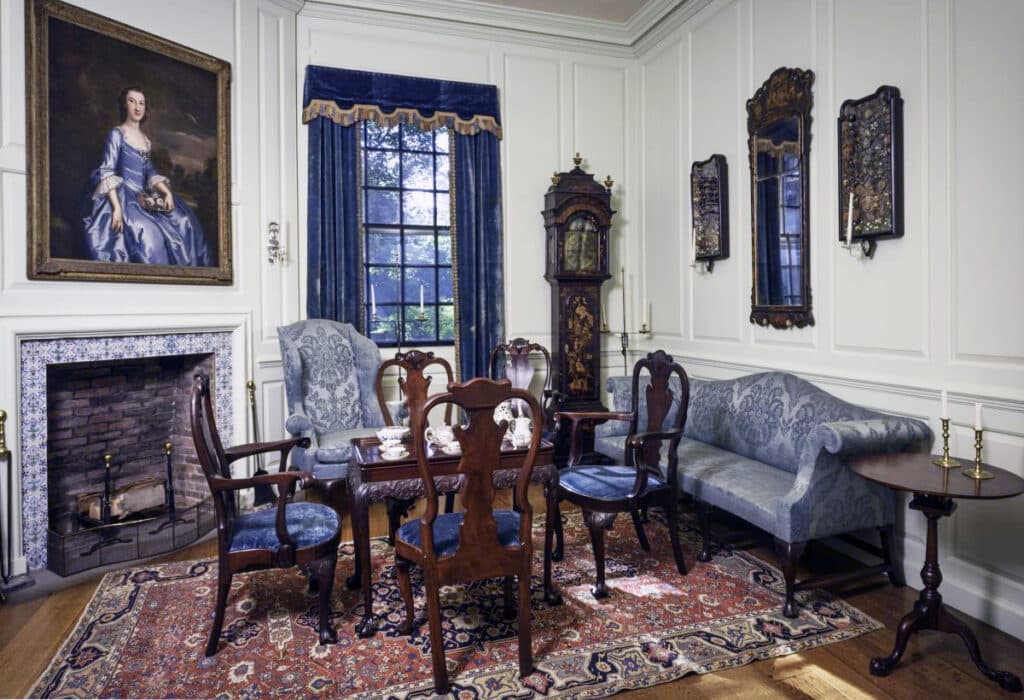 Compared to today, people did not have as many items they needed to stay on top of like a cell phone or other devices while relaxing in their parlors. Even books weren't as readily available to the general public as they are today. Thus, books and magazines were not present in most parlors until the 1800s. These tended to be out of the sticky hands of visitors. Today they are now proudly displayed in today's parlors or our living rooms.
Another reason side tables are so popular today is that many people have living arrangements requiring smaller, more utilitarian furniture, and these fit the space perfectly. For example, those living in small apartments may not have room for large coffee tables. The same is true of students living in college dorms or sharing apartments with fellow students. It is simply convenient to be able to tuck needed items away either in or on a small piece of furniture that does not take up much space.
How Parlor Side Tables Originated (Most Likely)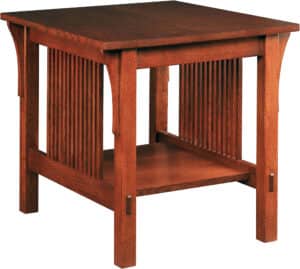 The transition of these tables to the parlor may have come from their usefulness in the bedroom. Bedside tables date back much further than the parlor because they had far different purposes than those most of us still use today. For example, Georgian bedside tables often had washstands built into them. Some also had cupboard doors used to hide chamber pots before the days of modern bathrooms. It seems early furniture makers simply adapted that idea to create parlor side tables for other utilitarian purposes as time passed. They saw the need and filled it.
There are some differences between antique parlor side tables and bedside tables. The biggest is that many bedside tables had multiple drawers or cupboard-style doors. Tables made specifically for parlor use often had only one small drawer near the tabletop or no drawers at all, just open shelves.
Producers of Parlor Side Tables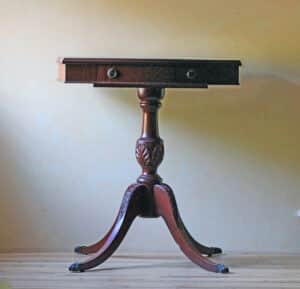 In some cases, early parlor side tables were made by known furniture makers, and those furniture makers can still be identified today. For example, Duncan Phyfe was a well-known Scottish furniture maker who moved with his family to the United States in 1784. They settled in New York, where Mr. Phyfe and other furniture makers under his employ made many different types of furniture still highly prized by collectors today, including side tables.
Edward William Godwin is another furniture maker known for his unique designs, which often incorporated Japanese influences. Records and images exist today of many of his pieces, including side tables. In fact, he is known for creating a particular side table for his wife that is also considered an iconic example of the furniture of the British Aesthetic movement. That movement took place from 1860 to 1880.
Learning About Early Parlor Side Tables Before You Shop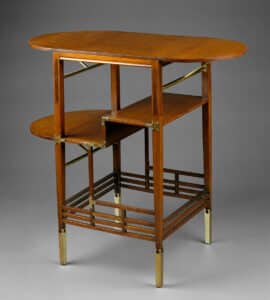 When shopping for antique side tables for your parlor, it is important to know its traits so you can learn to spot reproductions easier. The traits can also teach a lot about where your antique side tables originated.
In many instances, furniture makers either did not mark their early pieces or the markings used cannot be traced back to certain makers, but knowing makers' signature styles helps.
Even if you find a parlor side table you like with no markings or markings you cannot interpret, the style of the piece can say a lot about when and where it was made. For example, Irish side tables and British side tables often seem similar at a glance. However, paw feet and elongated C scrolls on the legs were much more common in Ireland than in Britain in the mid-1700s. Every region and period had certain popular furniture making styles. Familiarizing yourself with those can help you to more easily date many types of furniture, not just parlor side tables.
Duncan Phyfe and certain other furniture makers were so popular that their works have been copied many times over. Therefore, you need to have eagle eyes when searching for originals. Some things to look for when inspecting a parlor side table include wood used, construction methods, and general condition. Certain woods come from specific regions, allowing you to pinpoint the likely place a side table was made. As for the construction method, some tools were not available, or at least not commonly used during some periods. For example, square-headed nails were used in the 1880s and earlier. Thus, their presence could indicate a side table is an original, not a reproduction. Certain saw marks and uneven dovetail marks on the insides of side tables that have drawers can also be clear signs of age.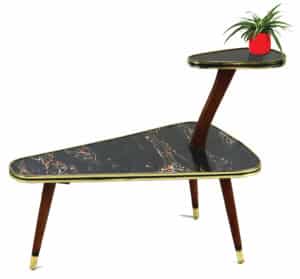 Modern Side Tables
For those seeking a more modern approach to side tables in their living room, Mid-Century Modern is certainly one way to go. Makers to look for include Haywood Wakefield, Eames, and the style-setting Danish imports. And while your "parlor" may today be a more relaxed living room, having a pair of stylish mid-century "silent" side tables certainly makes a statement when having guests over.
---
Jessica Kosinski has been a freelance writer specializing in writing short articles for 15 years. She is also an avid collector of both antique books and Star Wars memorabilia. Although she is not in the antiques industry professionally, she has learned a lot about antiques over the years by periodically helping out at her mom's antiques shop in Greenville, NH. She currently balances maintaining the antiques shop's Facebook page, www.facebook.com/MallofNE, and working on various freelance writing assignments. She can be reached at dementorskiss77@yahoo.com.