Comic Book Characters and Collectibles
By J.C. Vaughn
It's 11:52 p.m. on cold January Saturday night in Rivesville, West Virginia on the set of Feast of the Seven Fishes, and director Robert Tinnell is about to lose his mind.
The previous night's shoot went late, so he's concerned about having gone over budget. He's not getting what he really wants out of the particular scene he's trying to film at the moment. And the set-he's filming in what was his grandparents' actual home-is truly small for the cast, crew and equipment involved, so everyone's on edge. A crew member walks by carrying a prop for an upcoming scene and mutters, "Maybe we could get a smaller house and get like 10 more people in it."
As the next take ends and Tinnell yells "Cut!" Frustration is more than just creeping into his voice, it's taking up residence. It sounds like it's about to bloom into something, let's say, far more colorful.
Only something stops him.
He turns away from the action, looks around, and takes in the tiny living room for a moment. As fast as it arrived, the flare of loud irritation morphs into small, reserved, knowing smile.
"This is exactly where I imagined this scene taking place," he says quietly. "And this will probably be the last time I'm in my grandparents' house." His expression is both happy and wistful. After looking around him for another half minute, he moves to the kitchen and begins to confer with actors Paul Ben-Victor (In Plain Sight) and Lynn Cohen (Munich). As they huddle in one corner, the camera and lighting crews work around each other to move their set-ups in the cramped space. The cooking ingredients on the table are refreshed for the next take.
Shuffling prop Christmas presents out of the way, actors Ray Abruzzo (Transparent) and Joe Pantoliano (The Fugitive), both veterans of The Sopranos, sit on a sofa, chatting with stand-ins, a regional dialogue coach, and visitors to the set. Abruzzo is quick with smiles and jokes, including a few humorous complaints about his part being too small.
The blocking of the next scene worked out, Tinnell returns to the living room to view things from his monitor – the house really is small and the there's no way for the monitor to be in the kitchen, where the cameras are stationed. He takes his seat. Camera and sound are ready, and he yells "Action!"
Much to his surprise, Bob Tinnell is living his dream.


The Comic Strip
Tinnell has produced, written and directed features before. He did so many music videos in their heyday that – to his friends' amusement – he sometimes has trouble remembering which ones he directed. He segued into graphic novels before turning to a comic strip.
This particular dream started almost a decade and a half before that night in Rivesville. When the Feast comic strip debuted on Labor Day 2004, Tinnell already knew what he wanted to with it.
A very human story of ins and outs of relationships and family during the holidays, it has won praise from traditional comics fans and new readers alike. With its rough edges, flawed characters, and dysfunctional family dynamics, it would have needed a couple of spa weeks to end up on the Hallmark Channel, but it is nonetheless is a Christmas tale rooted in his Italian heritage, something that deeply colored his upbringing in West Virginia.
Any protracted conversation with Tinnell is likely to include discourse on his home state with digressions into genealogy, history, and food (always food!) in equal measure. Viewed in the abstract, it's almost as if his whole life to this point was leading up to writing and directing this movie.
"Tonight we're gonna party like it's 1983," reads the original 2004 teaser for the daily comic strip. He's kept the tagline for the film as well.
The Book, The Festival, and The Film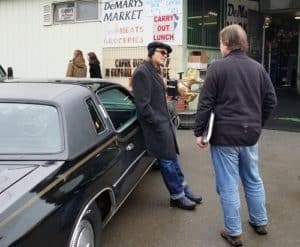 When it came time to collect the online comic strip version of Feast of the Seven Fishes, Tinnell produced a small hardcover edition that was half strip reprint book and half cookbook. His wife, Shannon, contributed her recipes for the dishes in the story and others associated with the feast.
In 2006, they took it a step further by staging a festival in Fairmont, WV. From fairly modest beginnings, it has turned into an acclaimed annual event with thousands in attendance. Their local PBS affiliate has even showcased it on its own TV special.
Tinnell always wanted Feast to end up as a feature film. While developing it and seeking funding, he's taught filmmaking, shot commercials, filmed sports and outdoors shows, and built a team that combines his current and former students with seasoned professionals.
Toward the end of summer 2017, things started to come together. When he and his producer brother Jeff Tinnell finally secured financing the make the movie, they moved quickly.
Based on the strength of Tinell's script, they landed a recognizable cast that includes Skyler Gisondo (Night at the Museum: Secret of the Tomb), Madison Iseman (Jumanji: Welcome To The Jungle), Addison Timlin (StartUp), and Josh Helman (X-Men: Days of Future Past), in addition to the aforementioned Ben-Victor, Cohn, Abruzzo, and Pantoliano.
The three-week principle shoot concluded on January 29 and the film has moved into the editing and post-production stage. Feast of the Seven Fishes will go out to film festivals and then Tinnell expects it to get at least a small theatrical release in the U.S.
There will, no doubt, be food involved.
J.C. Vaughn is Vice-President of Publishing for Gemstone Publishing.
Feast of the Seven Fishes: From Comic Strip to Movie