High End Comic Sales Continue Despite Economy
Comic Character Collectibles
By J.C. Vaughn
One of the interesting things about the market for vintage, rare, high grade comics is that there has been no end to the record prices paid even with the prolonged negative economy. While dealers or collectors offering mid-grade have had to get creative in their efforts to move individual issues or whole collections, the market for the top material has remained almost robust.
The last few years, of course, have seen the first five comics sell for $1 million or more, and they have also seen a slow, steady expansion of the number of issues that regularly attract five-figure and six-figure sales.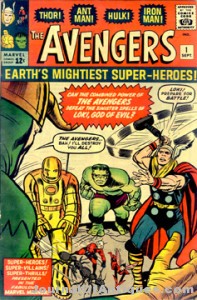 A CGC-certified 9.4 copy of Avengers #1 has been sold for a record price of $185,000 by Pedigree Comics, the company reported in October.
The subject 9.4 comes from the Northland Collection pedigree and is one of only eight copies on the CGC census to grade in 9.4, with only three higher (all in 9.6). Only seven copies have been certified to date in 9.2.
According to Pedigree, the issue is characterized by remarkable newsstand freshness and cover gloss, tight staples, sharp edges and corners and white pages. It stands as the fourth-best known copy and one of the only high grade ones to have white page quality (neither any of the 9.6 copies nor the other 9.4 copies do).
"Featuring the origin and first appearance of the Avengers, Avengers #1 is one of the most popular and valuable early Silver Age keys, ranked as #9 in the most recent edition of The Overstreet Comic Book Price Guide (#42)," said Doug Schmell, President and CEO of Pedigree Comics. "As far as recent CGC-graded sales, Avengers #1 is in the top five most valuable comic books from the Silver Age, along with Amazing Fantasy #15, Fantastic Four #1, Incredible Hulk #1 and Journey Into Mystery #83. It is also one of the most difficult Silver Age Marvel keys to find in ultra high grade, due to the bright red and green cover borders."
Cover dated September 1963, the same month as the debut of X-Men #1, Avengers #1 has seen strong demand with record sales in a number of grades.  The Pacific Coast 9.6 copy from Schmell's personal collection sold at auction in July 2012 for $274,850 (beating the only other sale of a 9.6 copy, $250,000 in October 2011).
The previous high sale of a 9.4 copy was in a private transaction in February 2011 for $100,000 and the high public sale of a 9.4 was for $65,100 at auction in November 2009 Mound City copy. Pedigree Comics recently sold a 9.2 example for a record price of $60,000, matching the standard set of a sale from August 2011.
The buyer, a Silver Age Marvel collector who focuses on keys and first appearance issues, originally saw the Avengers #1 in Pedigree's March 2012 Grand Auction. He was the highest bidder (at $137,500) but the book did not meet its reserve.     He bided his time and then made a major push for the book after seeing the Pacific Coast 9.6 copy sell in late July.
Schmell said the buyer called him to see if the issue was still available, and at that point Schmell contacted the consignor, who still had it. After negotiations, the price of $185,000 was finally agreed upon.
It was not the only record-setter in October.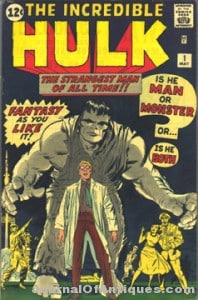 A CGC 9.0 example of Incredible Hulk #1 has sold on ComicLink for a record $120,000. This 1962 premiere issue that introduced the Hulk and launched one of the largest superhero franchises in history is not only one of the most desirable of the Silver Age Marvel first issues, but also considered to be among the toughest to locate in the higher grades.  It is one of only 14 certified to date in this grade.
"This is a substantial record for an Incredible Hulk #1 in this condition, and in fact, it is 60% higher than the last 9.0 sale price of $74,000, which was realized by another firm in 2011. Incredible Hulk #1 is notoriously difficult to locate in such high grade, so it was very exciting to have one come available. We have many serious buyers looking for comics like this and this record sale is a great example of just how aggressive they can be when the right material comes available on ComicLink," said Josh Nathanson, President of ComicLink.
Nathanson said the buyer was cognizant of the last sale price, but he was concerned that if the item went to a ComicLink Auction, as was being contemplated by the seller, he might get outbid. Rather than have that be a possibility, he decided to lock it in for himself at a price agreeable at an outright sale to both himself and the consignor seller.
"After starring in over four decades of comic books, a popular 1970s TV series, animated cartoons, video games, and movies there is hardly a person born in America, Canada, the UK, or the rest of the developed world that has not heard of the Hulk," said ComicLink Consignment Director, Douglas Gillock. "The Hulk arguably stole the show in the recent Avengers feature film as well, reinvigorating the career of this household name hero. With the Avengers sequel on its way, the future seems extremely bright for high quality examples of his earliest appearances."
J.C. Vaughn is the Associate Publisher & Executive Editor of Gemstone Publishing. Thanks to Douglas Gillock of ComicLink and Doug Schmell of Pedigree Comics for their information.