By Paul Norton
Trunks and travel articles tell a story of adventure and intrigue. The impulse to travel—into town or overseas—required bringing along one's necessities. As 18th and 19th century travel evolved from the horse, stagecoach, and boat to train, clipper ship, and the appearance of the ocean liner, changes in the style, size, and material used in the making of bags, satchels, and travel trunks were adjusted to best suit travelers and their belongings.
The American Travel Trunk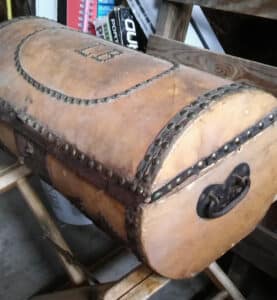 The American travel trunk began as a smaller saddle trunk shaped like a bedroll. This would be strapped to the saddle carrying just enough for overnight trips when traveling by horse. Most late-18th century saddle trunks were manufactured by military garb, saddle, and harness makers. Any decoration was minimal with a simple printed label inside with the maker's name and location. Measuring about 7 to 10 inches in diameter, the sizes were regulated, as the story goes, not to impede passage.
Early 19th century trunks evolved into larger, round carriage or wagon trunks about 10-14 inches in diameter. The larger examples did have some decoration on the exterior as makers customized the trunks using 3/8 to 1/2 inch brass tacks holding down a fancy trim surrounding the owner's monogrammed initials. Steel tacks used along the wood frame held down a hide cover commonly made of rough cow, pony, deer, and hair-on. Calfskin was more refined.
Evolving Trunk Dimensions and Structure
The 1830s-style trunks took on a boxier shape with a gently arched top to provide more storage for open wagon travel. They had the added benefit of providing a handy seat. Some had a "pass-through" compartment under the heavy leather lid where clothing could be placed to take advantage of the added domed space.
Wood frames were hand-planed pine and poplar, native to New England. Handles were typically made from leather or wrought pig iron, the bases had flat steel cut in the shape of hearts.
Interior home use chests shared the same hand-wrought lock and hasp sets and handle designs mostly with dovetailed construction. The decoration used for the lining differed to suit the owner. Home use trunks had a fancy painted or graining to the exterior. By the 1840s, larger travel articles were required. Hair or hide trunks were falling out of favor with leisure users.
Larger size trunks always ran the risk of damage. Imagine a Concord stagecoach being loaded on the top rack with heavy baggage. As better wagons were built, strong front-to-back straps originally used on saddle trunks reappeared to secure the trunk to the rack. Still, the trunk sizes increased, ranging to over 30 inches across and 18 inches high, yet were limited somewhat due to the size of the carriage rack space made to typically hold two trunks across.
A Touch of Style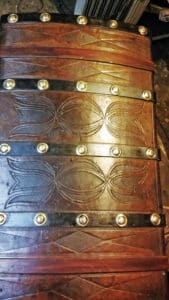 Both changes to fashion and an increase in travel dictated a finer level of finish and materials. More finished leather—sometimes painted black, green, or red—was tooled with pinwheel or geometric folky patterns. Most importantly, the rolled steel banding or strapping now covered edges and middles, held in place with larger more decorative brass buttons sized 5/8 to 1 inch. More expensive trunks had rolled brass over the iron straps. Clinch nails were cinched on the insides before the interior finish was applied. Sometimes wagon trunks are found with sewing through the wood frame showing off harness makers' work.
Locks & Hardware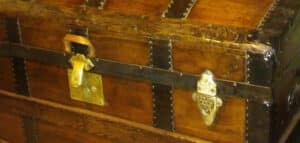 Most locks made up until 1820 were English made and stamped with "Patent" or a stylized crown. American-made blackened iron locks emerged during the 1830s, with a small escutcheon or leather flap to keep dirt and elements out. A decade later, the refinement of brass supplied the market with cast lock plates. New designs for trick keyhole covers included mythical animals, figureheads, dolphin tails, and lion designs among others accented for higher grade trunks. Predominant trunk lock makers of the day were Eagle Lock in Terryville, Connecticut, and Star Lock in Philadelphia.
Customization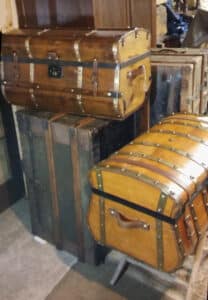 Wealthier patrons wanted function, design, and most importantly individuality. Jenny Lind "hourglass" shapes were similar to a keyhole or loaf of bread viewed from the side, commonly 26 to 30 inches across. Jenny carriage trunks were named after the famous European opera star Jenny Lind. She arrived in America in 1850 and toured extensively for PT Barnum.
Patent trunks became popular during the 1850s because of the increased use of patented hardware available to trunk makers from private firms. Various companies used similar corner wheels, hinges, corners, and handle ends required on large trunks.
The Next Level
With the change in travel destinations from carriage and rail to ocean travel for completing a "Grand Tour," boxier and smaller carriage trunks gave way to a dome top design popular until about 1890. Also referred to as barrel tops and camelbacks, these larger travel trunks were designed with metal hardware trim to protect the trunk's contents from damage. During the 1900s, Connecticut makers such as Stanley Works in New Britain, Eagle in Terryville, Corbin in New Britain, and Yale in Stamford, provided the hardware and locks for this next generation of larger and more durable and ornate travel trunks, including The Saratoga.
The Saratoga
Starting around 1850, elite New Yorkers and those traveling through New England came to the Saratoga's Spa City in upstate New York by train and carriage for a weekend or arrived to stay for "the season." An entire summer away from home meant hauling a whole summer wardrobe. And in the days before shorts and slip dresses, 19th century vacationers needed some serious luggage. Fashionable balls and overnight stays required day and night outfits with separate hats for both men and women. Ladies were required to travel with countless hats and gowns. Never mind the myriad of undergarments required. The grand Saratoga trunk, synonymous with high quality, met that need.
Saratoga trunks started out smaller in size for transport by carriage. During the 1860s, with the expansion of more direct railroad service, sturdy and elaborate custom interiors were designed to hold the latest fashionable dresses and personal effects. These popular trunks were spectacular on the outside with their dome tops, leather straps, custom locks, and collapsible handles that also allowed for easier handling and stacking. On the inside, personalization and beauty collided with linen or cloth linings and personal touches such as wooden compartments to hold hoop skirts, corsets, and other required outfits, and safe places to store valuables. Papers, calling cards, and letters sent and received at destination stops along the journey were typically affixed to the upper compartment lid in a letter pouch or with French crisscrossed cloth binding. One myth tells that dome tops were developed because wealthy baggage owners wanted an unstackable type on the top of the pile for easy retrieval. Domes were fancier and held various compartments easily.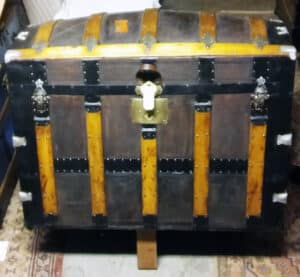 Traveling into the 20th Century
In the lead-up to the Victorian heyday, rail and ship travel became more popular. During the second half of the 19th century, demand increased for custom-made, functional, sturdy trunks designed to meet the needs of the wealthy traveler away for an extended stay.
Durability was key. Freight companies handling baggage to and from travel points and the stacking of trunks for transport could easily result in cave-ins and damage to lighter grade trunks. Imagine three or four levels of loaded trunks stacked in a ship's hold or a railroad baggage car. American travelers were on the move and needed their belongings to arrive safely. Updated designs included cast lid levelers and heavier closures and locks to prevent lids from opening. Rivets put through the wood frame to hold hardware on is a sure sign of an overbuilt trunk. Later, Sample quality types used as many as 300 rivets for a single trunk.
Well-made custom trunks were considered a display of status and success. Packing space for the latest fashions saw interiors become lighter with carded tray covers decorated in flashy colors with stamped and gilded trim. Linen rather than a basic paper lining was more desirable and finely completed by accomplished craftsmen.
A standard layout included a long narrow compartment towards the back of the tray for a cane or parasol and a removable, typically 10 x 12-inch hatbox to keep the hat fresh and accessible for the local rides to the final destination.
Customers could provide trunk makers with illustrations they wanted to use to decorate their trunks. Trade Cards, Currier and Ives, and hand-colored Godey fashion prints were popular. Selected from a book of trunk prints, images of sleigh and wagon rides with nostalgic pastoral scenes could also grace interiors. Historically, this practice began during the 1840s with stenciled silhouettes of loved ones applied to interiors. By the 1850s, stencil work was being replaced due to the advent of photography. Studios honed their craft towards providing customers with decorative cutouts of intricate designs applied to Jenny interiors on either side of the letter pouch. Popular colors included purple, red, pink, and lime green.
Legacy Trunks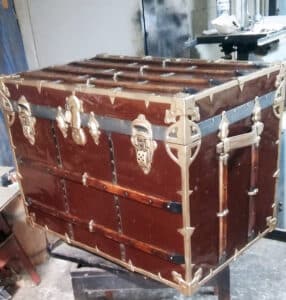 By the turn of the century, makers, and trunk firms that began in the 1840s, were developing new materials. Design changes were once again influenced by changes in fashion – this time in ladies' hats, to accommodate the larger Edwardian hat. Ladies required a flat boxy carrier for multiple hats.
Trunk makers also began offering commercial-grade sample trunks with fitted cases and canvas coverings; circus and theater-quality trunks that could withstand rigorous and continual use. Companies began branding their products and locks with custom in-house hardware to take advantage of this interest in high-end, custom trunks.
Trunks for All
Some personal use travelers were looking for lighter items with less reliance on freight companies. Steamship liner travel saw immigrant, steerage, and third-class travelers reusing out-of-fashion trunks from an earlier time.
Most American trunks made after 1900 were low grade and inexpensive, catering to a more economical and student traveler; however, the heaviest Sample grade trunks were used primarily by salesmen for various product demonstrations well into the 20th Century.
Today, finding, restoring, and repurposing vintage travel trunks is popular and fun. Before getting started, learn to recognize a heavier grade candidate for restoration.
---
Paul is celebrating 40 years in the antiques trade. He started out by salvaging a family trunk when he was 9 years old, and today collects Sample trunks and overbuilt industrial age examples made from 1880 to 1910 made by east coast legacy trunk firms including Crouch and Fitzgerald, H C Faber, and Letheroid. He recently supplied over 30 19th century trunks to an HBO miniseries. Paul specializes in trunk hardware and locks and restoring trunks for himself and the public. To contact Paul, you can phone and text him at 860-402-4791 or email pjnorton2004@yahoo.com