by Judy Gonyeau, managing editor

In 1889, the Industrial Revolution was up and running thanks to the practice of mechanical engineering and manufacturing. Just picture metal, grease, gears, and various forms of automation used to create iron horses and satisfy the expanding needs of the transportation, agricultural, and energy industries around the world.
Those who worked on the front lines of industrial work needed clothing that could survive a variety of extreme and dangerous working conditions. Regular working attire could not quite handle the caustic elements and equipment facing the industrial worker in this age. Hamilton Carhartt saw this as his opportunity to make a difference as the Industrial Revolution took off.
Carhartt workwear was designed and built for the American worker and, it turns out, for the American "Fashionista" decades later. As reporter Tonya Riley put it, the secret to the company's success is "about 128 years of hard work and good luck."
Here is how this story unfolds.
Carhartt Clothing for the Industrial Age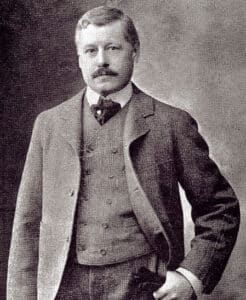 Hamilton Brakeman Carhartt began his namesake company with just two sewing machines and five workers, and established a clothing company built on the slogan "Honest value for an honest dollar."
Hamilton Carhartt was born on August 27, 1855, in Macedon Lock, New York before moving to Michigan and then Wisconsin. The Carhartt family tended to keep to highly-ranked professional positions—his father, Dr. George Carhartt, was a physician and surgeon—but "Ham" was more interested in breaking that trend by getting involved in manufacturing. Carhartt quit his academic life and went to work in the furniture-making business. He transitioned into making furnishings but was not very successful when he struck out on his own. It was because of conversations he had with a few railroad workers that changed his direction and secured his success.
Finding the right kind of clothing to work on the railroad was difficult and often would not hold up to the rigors of the long working day. Thanks to his experience working with tough fabrics when making furnishings, Carhartt invested in 100% cotton duck and created the heavy-duty Carhartt Bib Overall – establishing the new standard for quality workwear. In 1899, the Hamilton Carhartt & Co. was established: the first workwear manufacturer in the U.S.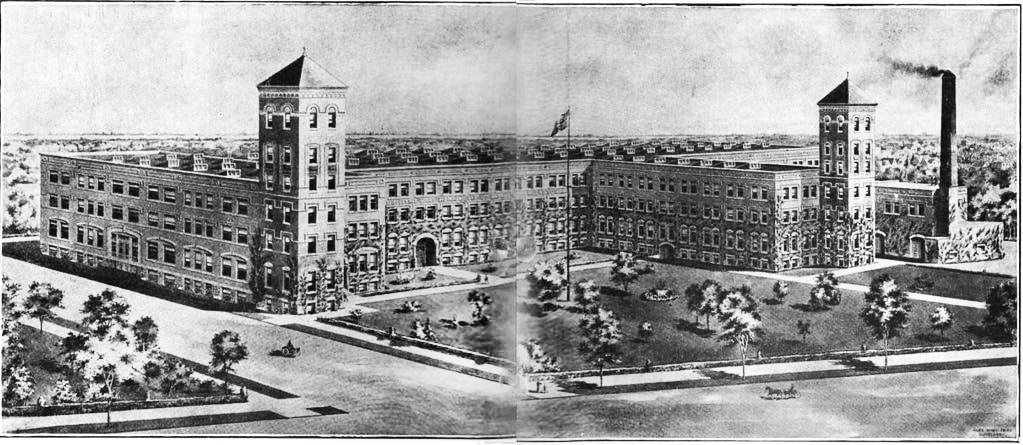 Expanding, and Fast
Carhartt quickly established multiple manufacturing locations and added cotton mills and other essential companies to his portfolio, leading to the company being incorporated as Hamilton Carhartt Cotton Mills in 1910. Just 11 years in, Carhartt had built plants in Atlanta, Dallas, Detroit, and San Francisco here in the U.S.; British Columbia, Ontario, Vancouver, and Walkerville, Ontario, Canada; and Liverpool, England. At this point, they expanded their product line to include jackets and coats with hoods.
Once the U.S. entered World War I (1917-1918), Carhartt offered seven of its facilities to the government for the making of uniforms. Soon thereafter in 1925, Carhartt opened a plant in Paris, France, and maintained an office and warehouse in New York City. A "Hamilton Carhartt Junior" line of clothing for younger workers was established in Los Angeles and Philadelphia, and a third cotton mill was now up and running in Alabama. But a rollercoaster ride was about to begin.
The Great Depression brought many changes to the company, decisions were made in order to survive. The company downsized to just three plants: Detroit, Atlanta, and Dallas. During this time Hamilton worked closely with his son and heir apparent, Wylie, to weather the storm. Together, they were able to reinstate their fast-forward determination to serve the working public.
In 1932, Carhartt was once again able to regain some of its losses as a new factory came online in Irvine, Kentucky as part of its "Back to the Land" campaign. This focused on providing workers with better working conditions out in the country vs. the large industrial towns filled with thousands of unemployed people resulting from the Great Depression. According to workwear-blog.com, "Using the motto 'from mills to millions,' Carhartt enjoyed a great deal of prosperity after the Depression, growing to establish some seventeen plants and mills throughout the U.S.A., Canada, and Europe. From denim mills to cotton production, the company was at the forefront of blue-collar work clothing for the masses." The Irvine plant survives to this day, serving as Carhartt's administrative and operations headquarters.
A Change of Hands
In 1937, Hamilton and his wife Anette "Nettie" Welling were tragically killed in a car crash. He was 82 and Nettie was 77. There was an investigation into the cause of the crash and the other party involved. His son Wylie became president of the company.
When World War II began, Carhartt produced their signature coveralls for soldiers and support personnel, their new camo jungle suits for Marines serving in the Pacific, and workwear for women entering the workforce on the home front.
Wylie continued the Carhartt mission to produce the strongest, longest-lasting work gear for every worker. However, he had his eye on supplying clothes to men working, hunting, and fishing in the Great Outdoors – something that would play a strong role in its future as the All-American maker of quality gear into the Mid-Century, when Wylie's daughter's husband took over the company.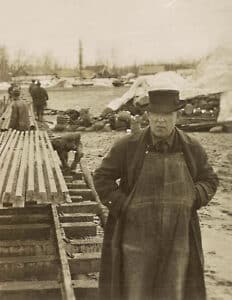 Jumping ahead to the 1970s, Carhart surged once again thanks to the massive orders placed in Alaska as they constructed the Alaska Pipeline. In an article at esquire.com, "No place is more emblematic of Carhartt's working-class golden age than Alaska, a state where the love of the brand runs so deep you'd think it was invented there. Each year in the city of Talkeetna, residents dress up in their finest shades of brown, brown, and more brown for the 'Carhartt Ball.' The Alaska State Fair even hosts a Carhartt fashion show."
The company was also providing private-label goods for stores that included J.C. Penney, Sears, and Montgomery Ward. Subsidiaries of Carhartt were created to handle different divisions within the company structure. Carhartt South, Inc., was established in 1971 to produce jeans. In 1976, Carhartt Midwest, Inc. was founded after the purchase of Shane Manufacturing Co., known for making military canvas carbine carry cases.
Keeping Up Production & Meeting their New Fan Base
All this differentiation lead the corporation to look at marketing Carhartt as a total supplier for the hard-working man and outdoorsman.
In 1980 Carhartt launched its first national advertising campaign as a sign of strength. The corporation combined subsidiaries
to create divisions and built a new distribution center and a new sewing plant in Madisonville, Kentucky. The Brand was being built stronger than ever. The tagline? "Rugged as the men who wear them."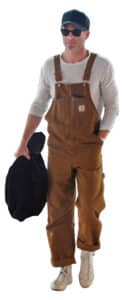 By 1990, Carhartt had record sales totaling $92 million. With the money, they—you guessed it—expanded. The company had started selling its clothing as "fashion" and was doing very well in Japan. For the first time, Carhartt participated in fashion shows in New York in 1991. Revenue jumped to $120 million in just three years. By that point, they had purchased an additional 80,000- square-foot sewing plant in Tennessee along with another 70,000-square-foot sewing plant being built in Kentucky as they raced to keep up – so much so that it had to turn down accounts from department and specialty store chains because it did not have the capacity to meet the demand.
Another important trend was occurring during the 1990s: rap and hip-hop groups were embracing Carhartt clothing. Suddenly the clothes were appearing on the pages of Vogue and Harper's Bazaar. The more popular Carhartt became among the music and urban markets—thanks to the boxy, oversized cut to their designs—the more they grew exponentially. Carhartt's designated licensee in the United Kingdom began its own promotion of Carhartt in England and Ireland, bringing in $8 million in sales in its first year.
And finally, in 1998, Carhartt introduced a women's line, rolling out workwear for women at over 100 stores where orders exceeded expectations.
1994: The Work in Progress (WIP) Streetwear Line
In 1989—Carhartt's 100th Anniversary—Germans Edwin and Salomée Faeh, designers specializing in denim, visited the U.S. and wound up having a discussion with the company about representing Carhartt in Europe. They were granted the license, and then in 1994, given permission to create their own lines of clothing under the name Carhartt Work In Progress (WIP). WIP became a streetwear version of the Carhartt brand.
According to an article at i-d.vice.com, "At a certain point, I realized that the cutting-edge crowd was wearing brown canvas," said Edwin Faeh, Founder of Carhartt WIP, in the opening text of the Rizzoli-published trans-Atlantic stroll through Carhartt's rich and colorful history. "That point was the mid-80s, a time in which textiles rather than brands captured the imagination, and people longed for an alternative to denim." After first catching sight of Carhartt's brown duck work coats at a flea market in Paris, Faeh watched with interest and intrigue as the workwear garments rose to streetwear prominence. He experimented with the idea of an "All America Concept" and supplemented his own brand, Big Star, with a few big C workwear staples. "It's here where The Carhartt WIP Archives story starts."
The WIP brand, based in London, exudes street style. So much so that during the London riots of August 2011, the Carhartt WIP Outlet store that was located just north of London in Hackney was broken into, and thousands of dollars of clothing were stolen. What to do?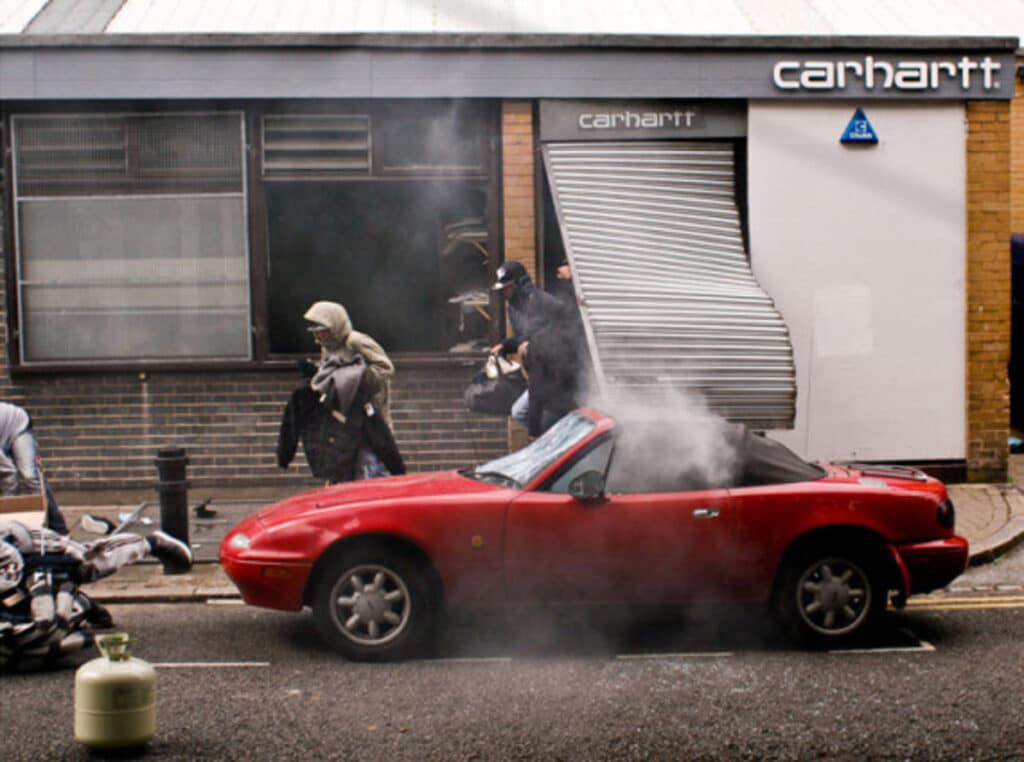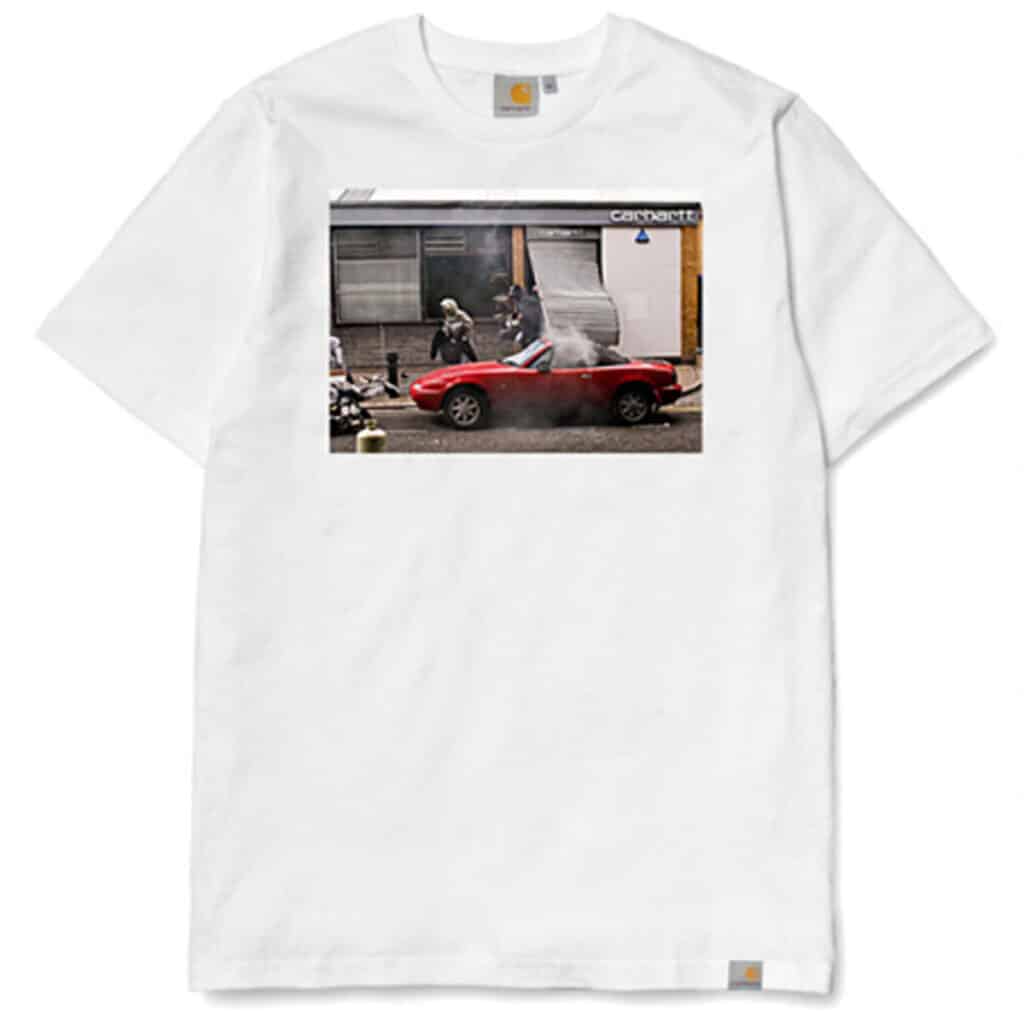 The brand used an image taken during the looting on a t-shirt with the intended message that Carhartt was so hot, it was well worth stealing.
Marketing efforts for the line focused on the lifestyle of the wearer. Rappers, BMXers, graffiti artists, and skaters are seen in their environment sending a message that the clothes are rugged, street-worthy, authentic, and fitting right in as a symbol of their culture.
"I've always said that Carhartt didn't choose the culture, the culture chose the brand," Michel Lebugle, co-editor of the brand's history, Carhartt WIP Archives, told Dazed in 2016.
The 2000s
Carhartt continues its success across another century with no end in sight. And while the manufacturing facilities continue to expand, the basic aesthetic of the clothing tends to stay true to its first mission to provide "honest value for an honest dollar" for those who work hard and live hard.
Carhartt is still the leading American producer of workwear today. While the company has moved some manufacturing abroad and is considered a worldwide business, the core product group—overalls, jeans, coveralls, jackets, jeans, and cotton duck items—are made in the U.S. This year the company unveiled its "Made in America" line that is represented by these products.\
Buying these goods comes at a higher price, but many feel the quality is worth it.
"Rather than follow trends, our goal is to always design and manufacture premium work-worthy apparel at a price that respects our consumer's hard-earned dollar," Carhartt Vice President of Marketing, Tony Ambroza, told brandchannel when asked about the new line's timing. When asked any Carhartt chose now to stress its "Made in America" bona-fides, Ambroza said, "Our Made in the USA line of apparel was created in response to consumer feedback; they told us they wanted to know exactly which products we make and source in the U.S. We were able to shift some product to other manufacturing facilities in order to accommodate greater production of these popular styles."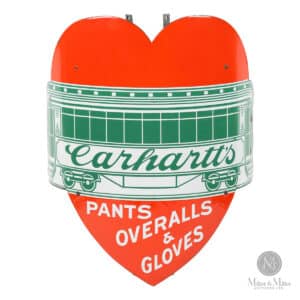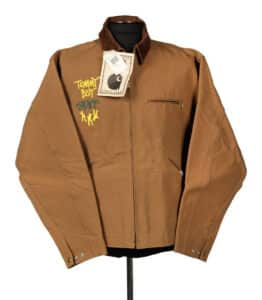 As Carhartt products become more collectible, results at recent auctions have been performing well. A circa 1905 Carhartt's Overalls single-sided porcelain corner sign, graded 9, 22 inches by 18 inches, gaveled for $20,300 at Miller and Miller in Ontario, Canada. A 1992 Tommy Boy Carhartt jacket sold for $3,780 at Sotheby's. Values are on the climb and are looking to keep moving in that same direction for the foreseeable future.