No Matter Which Direction the Wind Blows,
We Still Love American Weathervanes
By Kary Pardy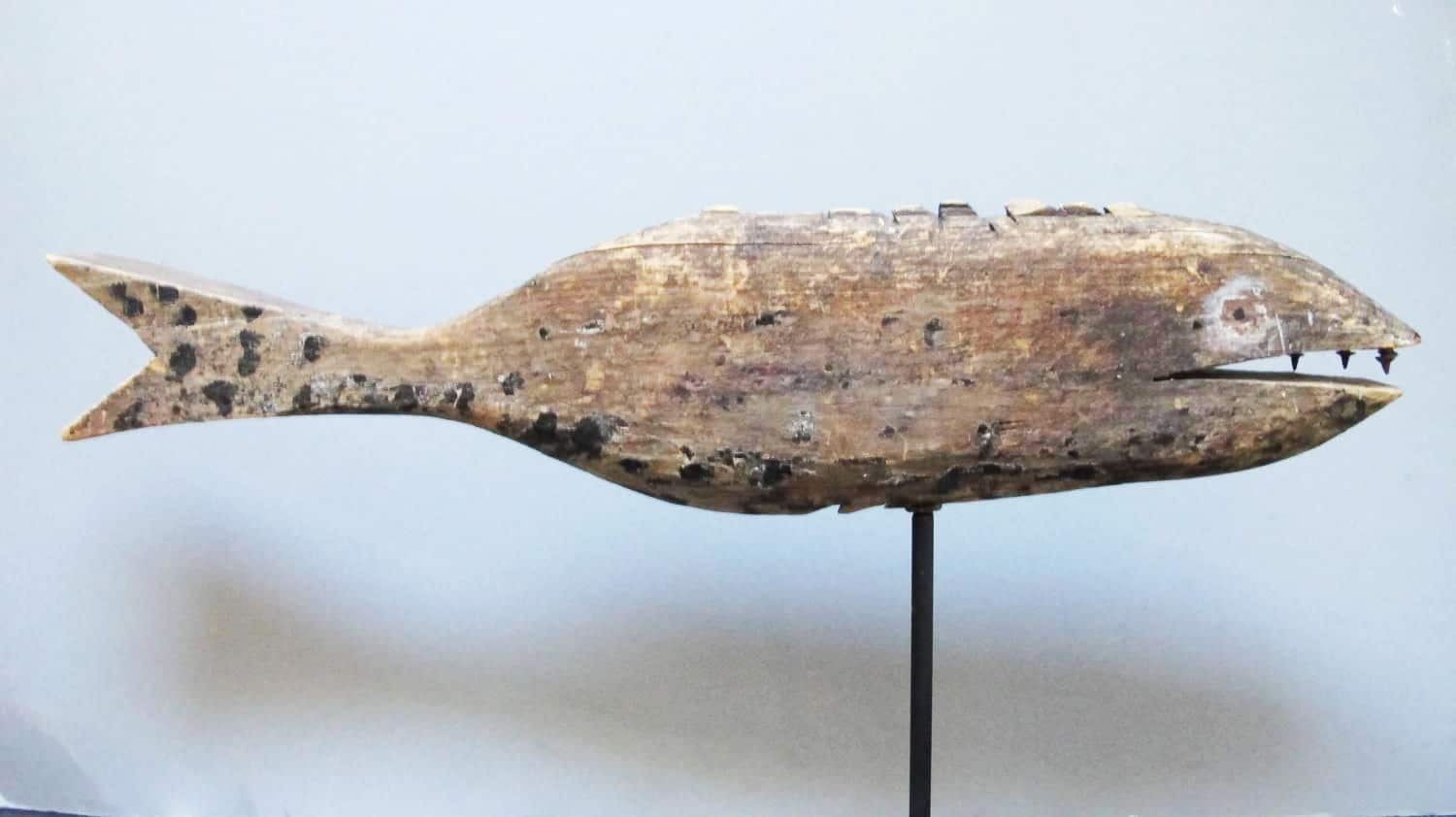 This ca. 1890-1899 wood fish weathervane sold on 1stdibs.com and was listed in good condition. The description read, "One of a kind carved wood fish weathervane from Maine. The fish has an open mouth with metal screw teeth and remains of old paint on the worn surface. Most wooden weathervanes did not survive the elements and this one was probably taken down at some time. This survivor comes with a metal table stand as well as a bracket to float out from a wall."

If you are an Americana collector
, you are likely familiar with the gold (or copper) standard for American folk art. Handmade American weathervanes are the celebrities of Americana auctions, racking in significantly higher amounts than their wooden and iron
contemporaries. This popularity is bestowed upon a collectible that is quite tricky to pin down. Few weathervanes were signed and though connoisseurs can identify top makers, the most desirable were not mass-produced, adding in an element of surprise because beautiful and unique pieces might still be out there, uncatalogued.
The American Direction
Weathervanes had been used in Europe for centuries, but they came into their own in America. Europeans kept to relatively standard shapes (roosters, crosses, banners, and others), but Americans branched out over the years and personalized them. In many cases, weathervanes were necessary – they alerted owners of shifts in wind direction and the associated shifts in weather. Thus, they adorned the tops of most barns and featured prominently with fishermen and seafarers. With such popularity, it wasn't long before weathervanes became status symbols, advertising tools, or reflections of their owner's personalities and social climates. The weathervane craze has allowed scholars to view them over the span of several regions and through time, helping to illustrate some interesting trends.
The popular themes of early 18th century weathervanes were understandable – fish in coastal areas, Native Americans, arrows, and roosters. American makers were just starting out, so the best examples came from Europe. The earliest documented American weathervane maker is Shem Drowne, whose creations grace some of Boston's most famous historical landmarks, such as his grasshopper atop Boston's Faneuil Hall (ca. 1742), a swallowtail banner above the Old North Church (ca. 1740), and a rooster now on the First Church of Cambridge (ca. 1721). The latter half of the century brought more varieties of forms, such as woodland animals, horses, and angels. Coastal communities expanded their repertoire with sailing ships, whales and seagulls. Paul Revere's shop in Boston was on trend with its wooden codfish studded with copper nails.
The American Revolution also showed up on the skyline. Patriotic figures like the Goddess of Liberty swayed in the wind following the war, and George Washington famously commissioned a Dove of Peace vane for Mount Vernon in 1787. Though similarly patriotic, the Federal eagle form did not gain traction until the 19th century.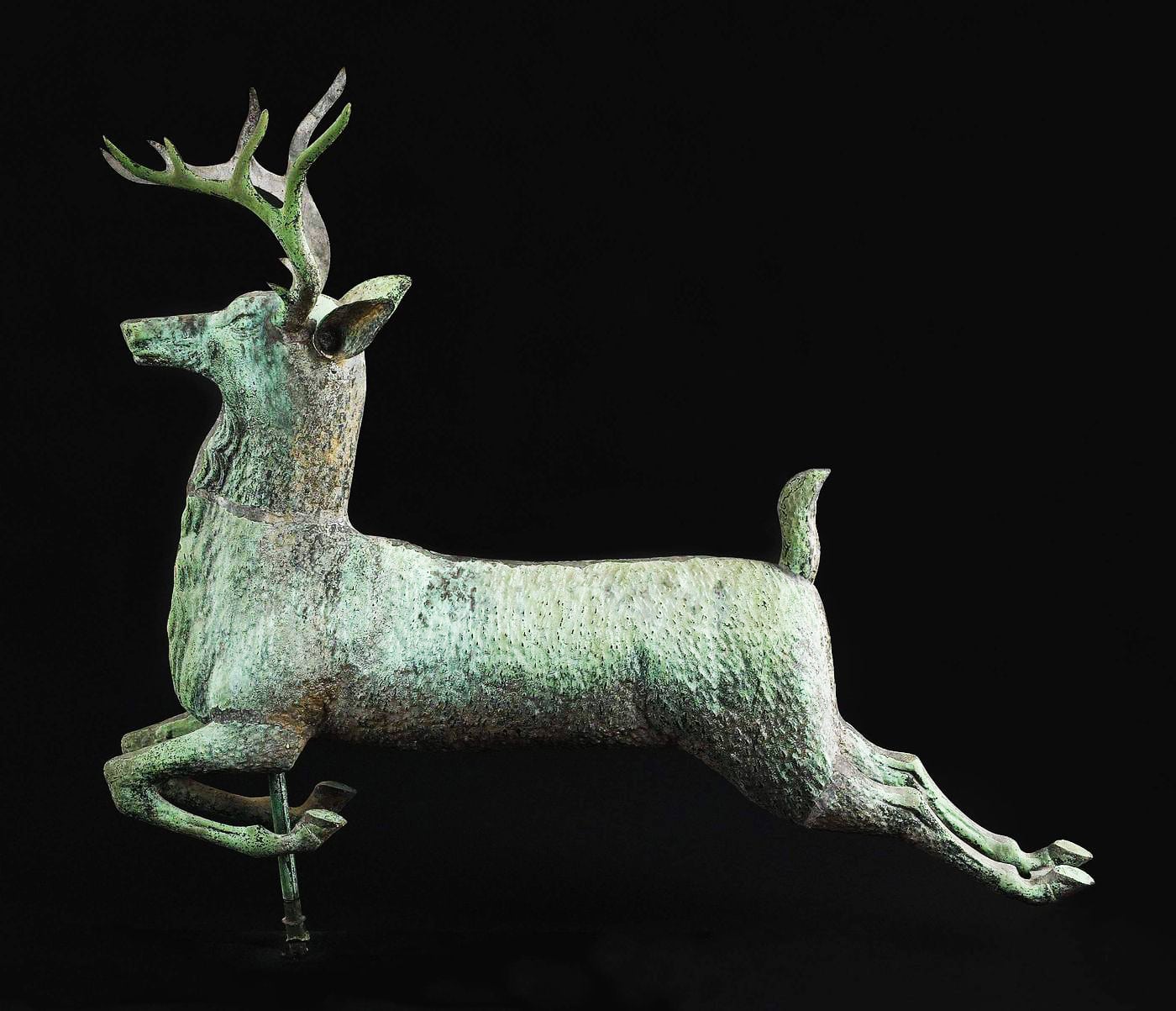 Pook: "Verdigris" is the bright blue-green crust or patina that forms over copper or brass surfaces when they oxidize from prolonged exposure to the elements. Once as heinous as rust, verdigris is now highly desirable for weathervanes. Note the pleasing green color of this example, which sold at Pook & Pook in 2012. photo: Pook & Pook and the Philadelphia Inquirer</i

The Makings of the Weathervane
If you lived beyond the scope of urban weathervanes, you might have one forecasting from the top of your barn. These might be improvised out of wood, tin or iron, or they could have been commissioned from the local blacksmith, who might have personalized it for the farmer, or created something simple and functional.
In the early and mid-19th century, horses, in particular, captured the American imagination. Similar to supporting modern professional athletes, early Americans promoted racehorses as their sports heroes and modeled vanes after winning horses or horses from popular art, like prints from Currier and Ives.
By the mid-19th century, American weathervanes had branched out, with makers in every city producing a wide array of designs, largely in copper and often covered with thin gold leaf. Just as we would see a rusty car as lacking, weathervane buyers preferred to see the warmth and fresh gilded shine glittering from the top of their building or barn. Famous names include J. W. Fiske, L. W. Cushing, A. L. Jewell & Co., and E. G. Washburne & Co.; and despite being "factory" produced, there was still a lot of handmade heart that went into the pieces. Shops employed multiple craftsmen who continued to work on vanes by hand; despite generating more weathervanes than before, it was still a one-at-a-time operation for each skilled craftsman, who would hammer sheets of copper over wooden or cast-iron molds. From there, two sides would be matched together and soldered at the seams, creating a "swell-bodied" weathervane. Early vanes were more likely sheet metal and two-dimensional silhouettes as opposed to three-dimensional models.
Real factory production began in the Victorian era, along with ornate metalwork that swirled over every piece of available trim. Weathervanes took on scroll details and swirling pendants, which are popular today with those looking to refurbish their period homes.

The real desirable pieces, however, are examples from the 18th and 19th centuries that have survived the elements and happen to have quality craftsmanship and pleasing verdigris. If they have these things and the period is right, "manufactured" isn't really a downfall. Top-notch provenance helps as well, though with few signed examples, identifying a weathervane's maker can be a challenge, particularly with several makers copying each other's designs. Weathervanes can also lose value if they have been cleaned or re-gilded. Bullet holes may pose an additional problem. Though it may come as a surprise to some, many weathervanes appear on the market with a few bullet holes across their surface. Weathervanes made great practice targets and a bullet hole or two is not uncommon.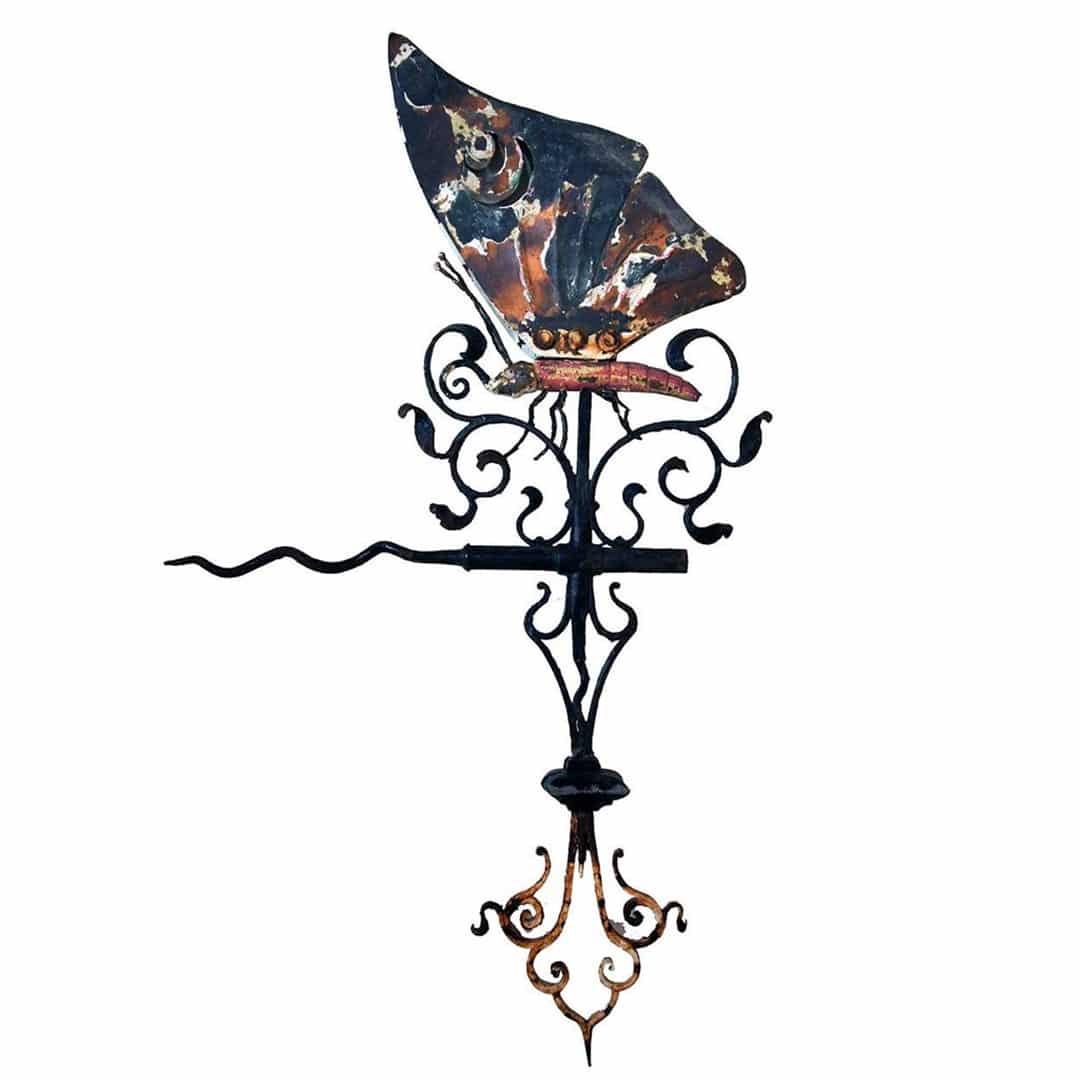 Victorian Weathervane: Victorian weathervanes sometimes featured surprises hidden inside the designs. Makers hid copper pennies from the year the vane was crafted in the design as a good luck token. Another option was to put a brass plaque or memento inside the sculpture for extra whimsy. photo: Eron Johnson Antiques.

Value and Demand
What can you expect from weathervanes at auction? Sotheby's sold a circa 1900, 5'2″ molded Chieftain weathervane attributed to J. L. Mott Iron Works for a record-breaking $5.84 million in 2006, and while the market is no longer booming, weathervanes still have the power to bring bidders to the table. In 2018, Morphy Auctions purportedly sold a Goddess of Liberty copper weathervane with desirable condition and coloring for $32,500. New Haven Auctions sold an example by J. W. Fiske in 2019 for $32,000, of note because of its unique elephant form. While these are exceptional examples, weathervanes of moderate form and condition still bring thousands.
With such high demand, it is no wonder that collectors have to keep their wits about them when considering a piece. Forgery is all around. Modern weathervanes are shaped and pressed in machines and are much thinner than the real thing, but that alone is not enough. Weather-beaten examples would also thin over time. An experienced smith could tell an antique vs. a doctored example, but what about a budding collector? Experts say to look at the solder. Lead and tin solder will show evidence of erosion because they react with the copper over time. The finish is also a clue, but look deeper. Skilled forgers can apply gold leaf and then burnish it off. Add the right chemicals and you can get the worn, green color. Prospective collectors should study the form of vanes. Authentic Americana has a special look to it that can be harder to replicate, and that signature style is one of the reasons we seek it out so many years later.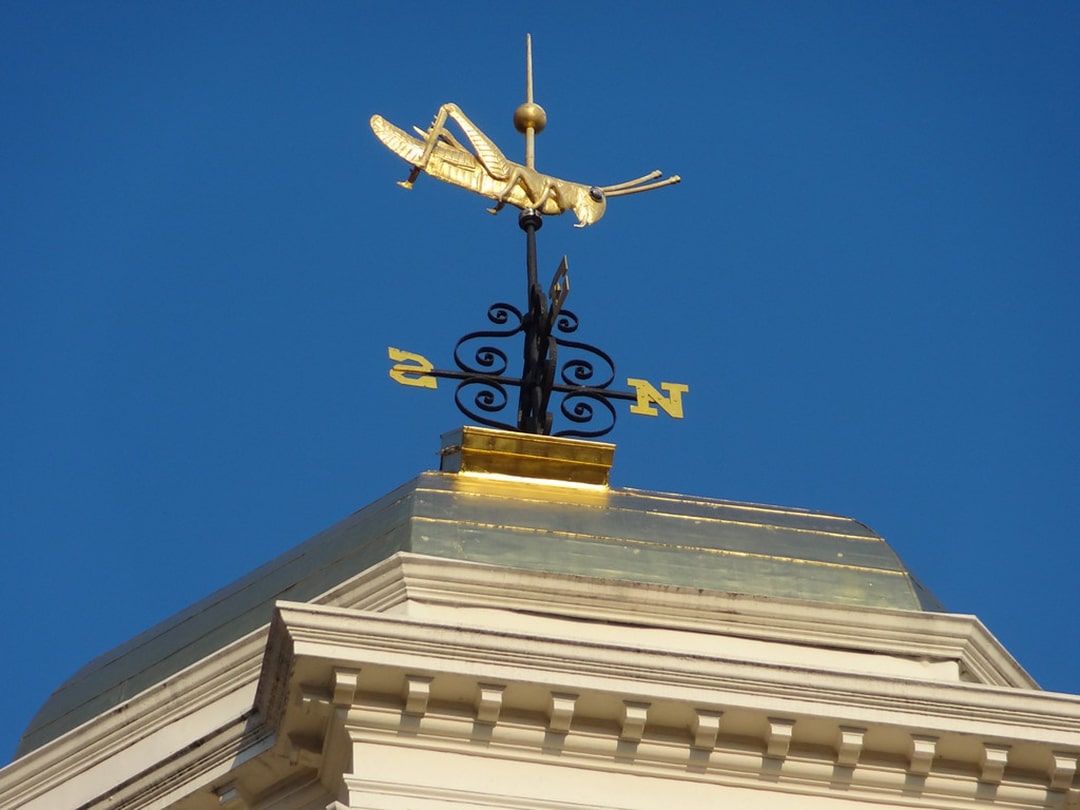 Shem Drowne of Kittery, ME moved to Boston when he was young and later established his metalworking shop on Anne St. He became Deacon of the First Baptist Church in 1721. Although he was primarily a tin worker, Drowne's legacy is in the four grand weathervanes of Boston, and one in particular, a grasshopper that adorns Faneuil Hall that has had some adventures of its own. In 1974, the gilded grasshopper was stolen, and Paul Revere Carroll, a direct descendant of Paul Revere (to Boston's delight) was the detective in charge of getting it back. According to the New England Historical Society, a man was arrested in Plymouth County on drug charges, and he confessed to stealing the vane to get a plea bargain. The grasshopper came back in a paper bag, minus some of its gold leaf. It has since been fixed up and restored to its former glory. Courtesy of the Massachusetts Historical Society.
photo: of IWalked Audio Tours.