by Kary Pardy

Have you ever wanted to pack everything up and hit the open road? Embrace a minimalist lifestyle and go on an adventure in the process? With all of the buzz that surrounded the recent tiny house boom, it is important to remember that these feelings are not new, and an American company has been making mobile lifestyles stylish for almost a century. Airstreams, the silver bullets of travel trailers, do not come cheaply, but they are built to last ñ and several have. With its characteristic unpainted ìaircraft gradeî aluminum body, an anti-rot frame, and a chic, elegant look, these trailers can take to the roads for 30 or 40 years and more, becoming an heirloom that can appeal to all generations.
To find out more about this American classic, weíll have to travel back to the 1930s. Airstream founder Wally Byam was born in Oregon and worked for his uncle on a sheep farm, where he lived in a donkey-towed wooden wagon that was equipped with a stove and a bed. This sort of compact living reappeared in his love of camping, though his first wife Marion did not share his excitement about sleeping in a tent. Wally had a solution, and in 1929 he built a tent enclosure on top of a Model T chassis. Though mobile, his contraption was not comfortable, and he went back to the drawing board, replacing the tent with a Masonite tear-drop shaped shelter and adding a stove and ice chest.
The new trailer was so popular that Wally decided to get into the business of making them, and made it easy for others to follow his lead. Wally published a DIY guide in Popular Mechanics, and then in 1931 set up a small factory, and in 1936 the "Airstream Clipper" was born. Named because of the aluminum alloy exterior and the resemblance to the Spirit of Saint Louis, the Clipper is the characteristic airstream model we think of today. It slept four, had electric lights, its own water supply, and cost around $1,200, which is equivalent to about $20,000 today.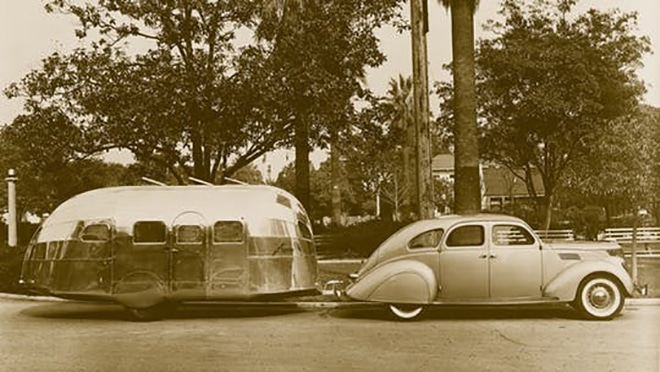 Wally introduced the first riveted aluminum, semi-monocoque Airstream known as the Clipper in 1936. the Clipper had more streamlined curves, insulated walls, an interior with luxurious wood finishes, and customizable floor plans.
---
photo and information: airstream.com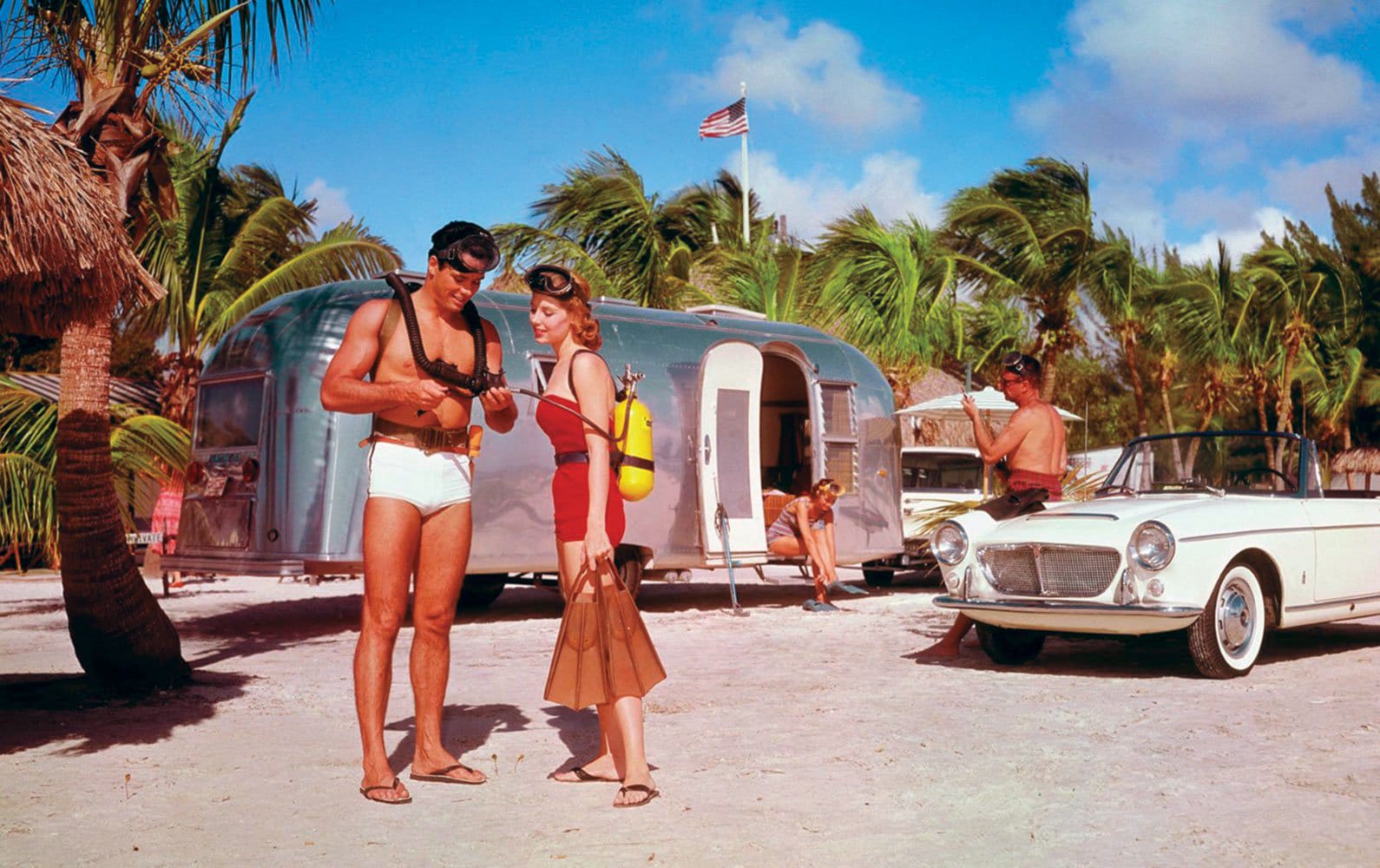 Can't get enough of vintage appeal?
Airstream, the Silver RV,
by Tara Cox came out in 2013 and is filled with great photos, history and fun facts, like how more that 65% of all Airstreams are still on the road today.
---
photo: Parade and Airstream Inc.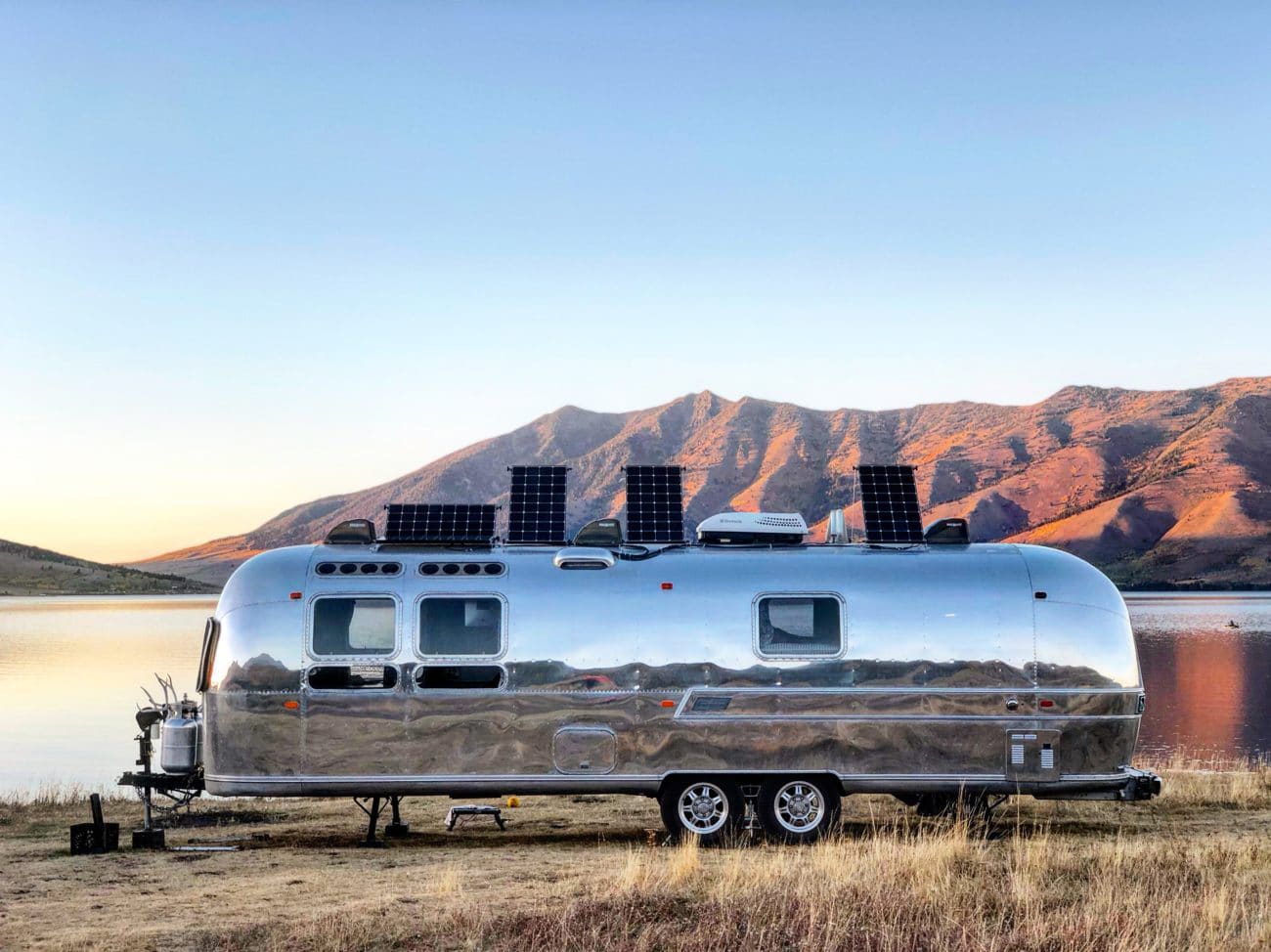 Wally (Wallace) Byam helped spark the imaginations of thousands of intrepid road warriors. he said it best: "Adventure is where you find it, any place, every place, except at home in the rocking chair."
---
photo: Tiny Shiny Home, credit Tara Cox, 2013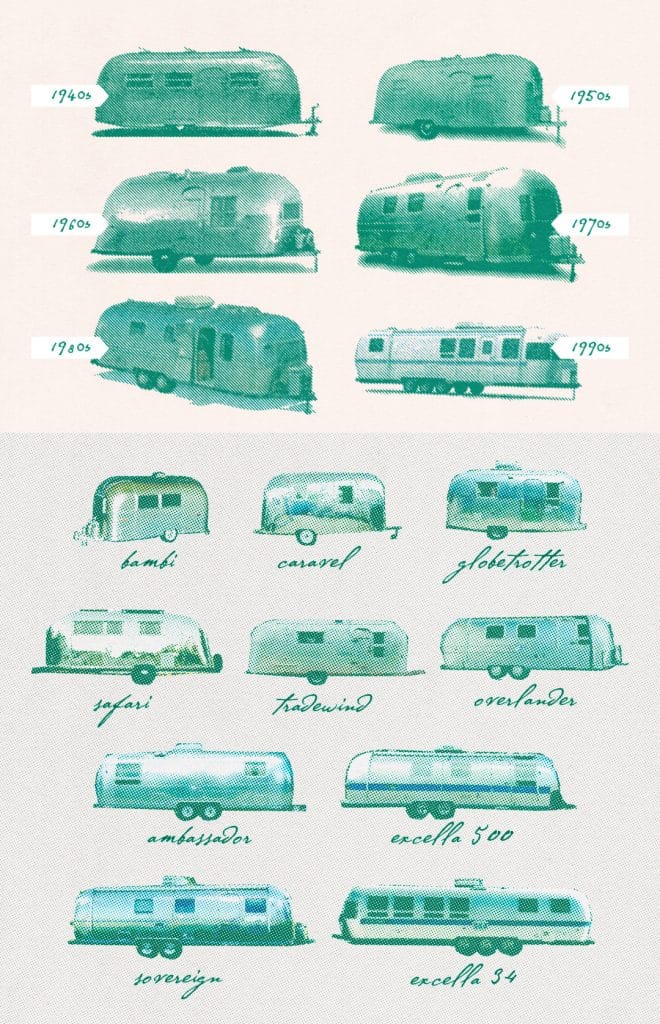 Your Airstream can be what you make it, but be realistic. Dreamers need to take into account that they'll be working with curved ceilings and that while you may want to tile your bathroom, you have to make the interior work with the bumps and shifts of the road. There is no shame in calling in a professional, particularly for electrical concerns, and be prepared for a renovation to cost $10K and up. For many, however, the trials are worth it, and several resources are only a few clicks away for those looking to get moving.
---
photo: The Lonely Planet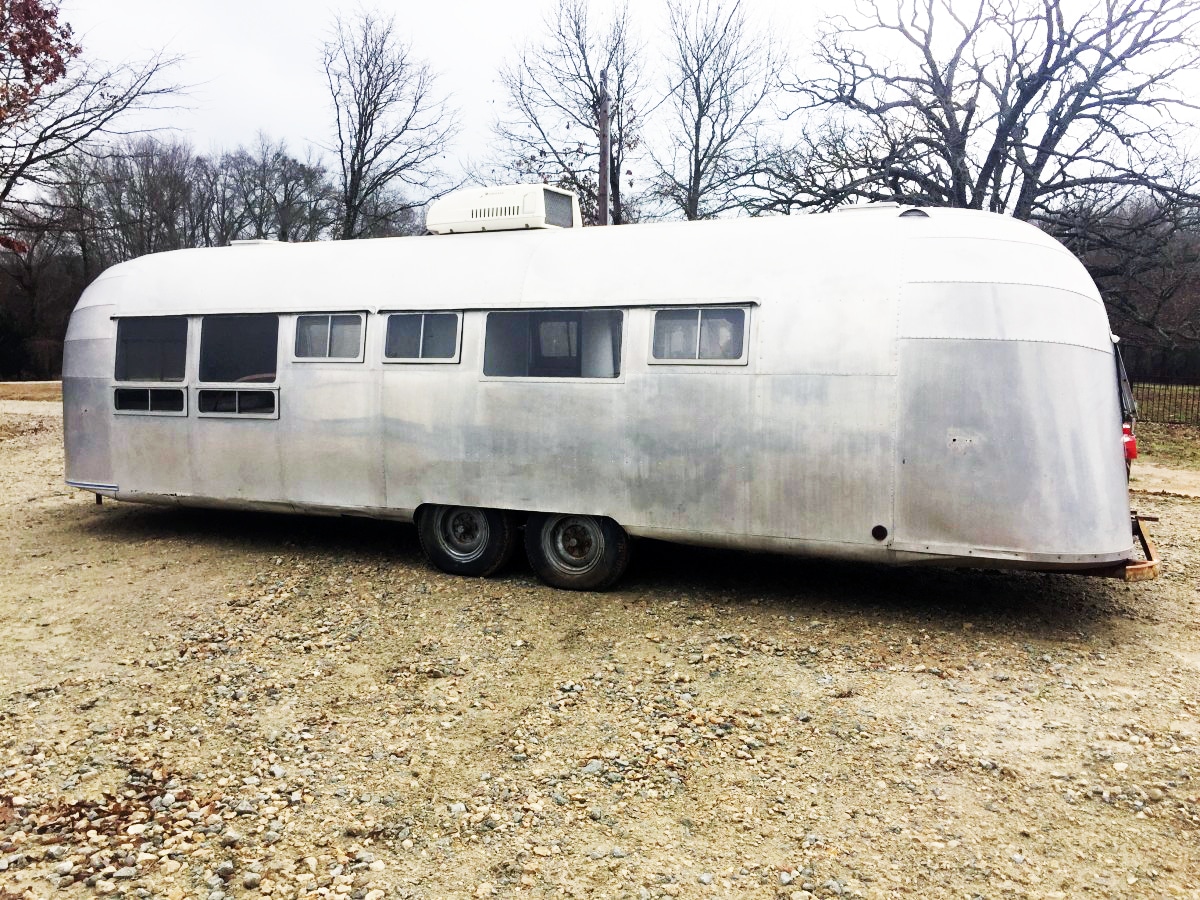 The Sovereign of the Road (1950s) was a larger line of Airstream travel trailers–30 feet and up–designed for extended travel. Inside, the Sovereign had a dedicated livingroom space, a spacious kitchen and closet storage, and a bedroom and bath. The 1950s style was everywhere you looked, from the shag carpets to the floral benches. Today's Classic Travel Trailers carry on the spacious, long-term travel appeal that the Sovereign started, with expansive lounge, kitchen, and bathroom space and private bedrooms. This photo shows a modification for today's traveler: air conditioning.
---
information: airstream.com~ photo: airstreamclassifieds.com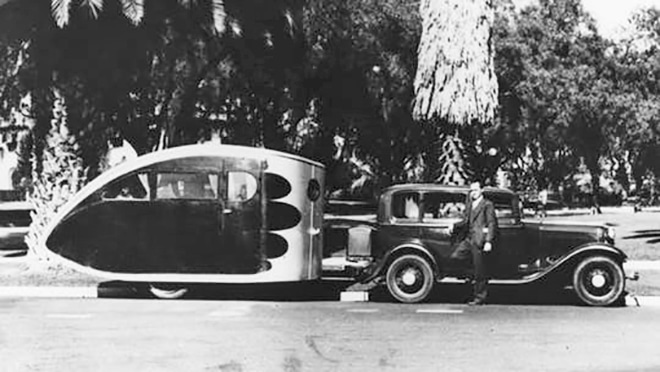 In 1931, Wally Byam opened a factory to produce the Torpedo Car Cruiser, a tear-drop-shaped trailer which he had previously been making for friends as well as selling kits so that others could build the model themselves. This model, made of plywood, was advertised for its streamlined design, and a floor plan with plenty of "walking space" a stove, sink, icebox, and storage.
---
photo and information: airstream.com

Off to a great start, but . . .
Airstream was well-loved and iconic, and its quality and reputation helped it to be the only travel trailer (of 400 or so brands) to survive the Great Depression. The victory was short-lived, however, because the demand for aluminum during WWII meant that trailers could only be produced to assist the war effort. Wally Byam closed up shop and joined the team at Curtis Wright Industries, where he manufactured a Clipper similar to his original. In 1947, Wally left Curtis Wright with his new manufacturing experience and re-started Airstream with the new Airstream Liner. The business moved forward in an economy eager for new travel opportunities. Over the years, Airstream added innovations like the first-ever hot water heater in a trailer in 1954, and in their first motorhome, the Argosy (1974), which quickly took on a design mimicking their successful trailer.
Today, Airstreams are just as popular as ever, though in the trailer market they are considered a luxury item, priced at the high end of the spectrum. Fans are still devoted, and there are more than a dozen Airstream parks around the country and several enthusiast clubs. The American government also relies on Airstreams to travel around the world. According to a 2007 article in the Chicago Tribune, the trailers are strapped down inside military cargo planes for as a private haven and feature luxuries such leather seats, air conditioning, televisions, and surround sound.
But how do you determine which Airstream is right for you? Condition is the first concern, but beyond that, factor in maintenance. Airstreams may be hardy, but if something should happen, you will have much more trouble finding parts for models before 1970. Size is also a factor. A few extra inches can make a big difference.
1968 and earlier: 7'interior width
1969-1993 (some 1994s): 7 1/2'interior width
1995 (some 1994s) and later: 8'interior width
It is worth knowing that with most Airstreams, the model name reflects the length (ie: Bambi 19 = 19′). Models also change mid-year, so be aware if you are looking for a specific size or look. For more windows, stick with models post 1950, with 1960-68 having some of the largest windows until modern units. Wait a little longer though and some models post 1969 have skylights, known as "vista view." It all comes down to personal preference and affordability.
Earlier models in good condition or rare early models sell for around $30,000, but you could find a fixer-upper for under $10,000. There are a plethora of sites online to begin the hunt, including Airstream's website, airstream.com, which has several resources for enthusiasts. Also, check out airstreamclassifieds.com or try looking into a collector's group like the VAC (Vintage Airstream Club). Bloggers also write about their experiences, and you may learn a lot about life on the road from following their adventures in Airstreams and then maybe create some of your own.
Vintage trailers of all types can be seen and appreciated at oldtrailer.com where trailers ranging from Decoliner to Holiday House trailers reflect the modern approach to living on the road.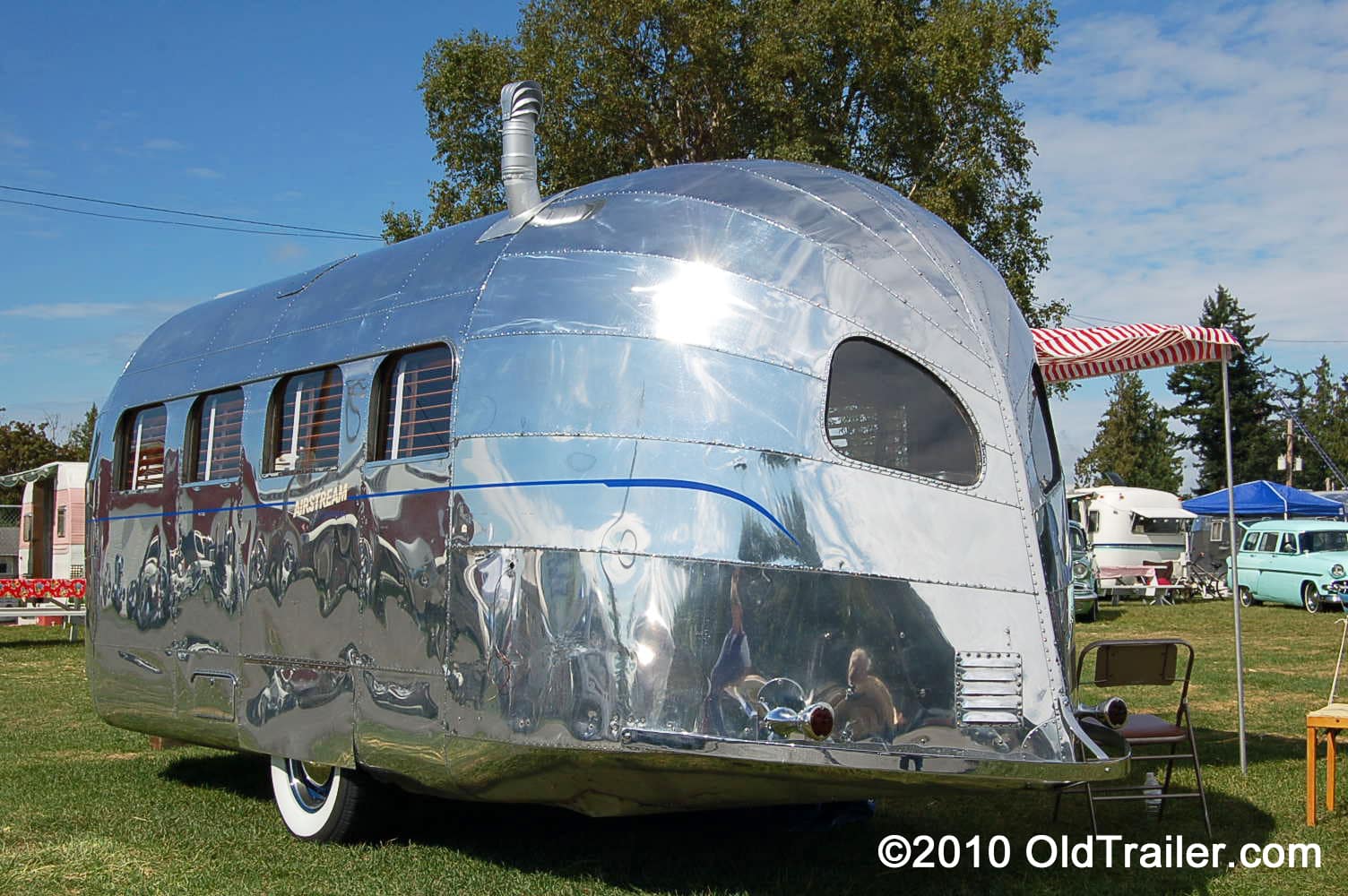 According to oldtrailer.com, these early trailers were based on contemporary aircraft engineering and designs. Here is a view of the rear of a 1936 Airstream Clipper from the rear (above) and the interior (below).