English glass decanters, $46,215, Kaminski Auc.
Gavels 'n' Paddles
Recent Auction Results From Near & Far
By Ken Hall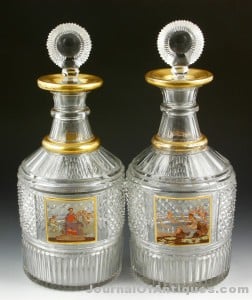 A pair of 19th century English decanters, depicting the continents of America and Europe, sold for $46,215 at an auction held November 24 by Kaminski Auctions in Beverly, Mass. The decanters boasted sunburst stoppers and a very large ground pontil (characteristic of Baccarat), with transparent enameling of classical women on each (for the continents). They were probably the work of William Collins, a London glass maker (circa 1810-1820) who held the patent for the enameling technique in the U.K. The price includes a 17 percent buyer's premium.